Medical expert of the article
New publications
Preparations

х
All iLive content is medically reviewed or fact checked to ensure as much factual accuracy as possible.
We have strict sourcing guidelines and only link to reputable media sites, academic research institutions and, whenever possible, medically peer reviewed studies. Note that the numbers in parentheses ([1], [2], etc.) are clickable links to these studies.
If you feel that any of our content is inaccurate, out-of-date, or otherwise questionable, please select it and press Ctrl + Enter.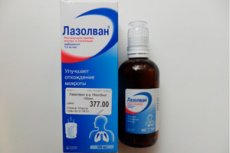 The numerous pharmacological group of expectorants - secretolytics and stimulants of respiratory motility - includes the muco-regulating drug Lazolvan for cough (ATX code - R05CB06).
Indications Lazolvana
Indications for the use of Lazolvan include: ARVI and ARI, acute and chronic forms of bronchitis, asthmatic bronchitis, pneumonia (pneumonia), bronchiectasis and chronic obstructive pulmonary disease. [1], [2]
Answering the question - Lazolvan from what cough is prescribed? - experts emphasize its effectiveness in productive cough, that is, accompanied by the production of bronchopulmonary surfactant (secretion or sputum), which, due to its viscosity, clears up with difficulty. Thus, to liquefy thick sputum and facilitate its removal, Lasolvan should be used for a wet cough.
Lazolvan is not indicated for allergic cough, as well as for dry cough: first, it is recommended to use the  remedies for dry cough  - so that the cough becomes productive.
Release form
Pharmaceutical companies produce: Lazolvan cough syrup (in 100 ml vials; concentration for adults - 30 mg / 5 ml, for children - 15 mg / 5 ml); Lazolvan cough tablets, 30 mg (in blisters of 10 pieces); Lazolvan cough lozenges (for absorption in the mouth); solution for infusion (in ampoules of 2 ml with a concentration of 7.5 mg / ml).
Lazolvan solution is also used for inhalations for coughing with difficult sputum, read -  Lazolvan for inhalations for coughing ;
Lazolvan cough medicine is not produced.
Pharmacokinetics
All the details are in the instructions for the drug Lazolvan.
Use Lazolvana during pregnancy
According to the instructions, it is not recommended to use Lasolvan in the first trimester of pregnancy.
Contraindications
Lazolvan is not used for individual hypersensitivity to ambroxol hydrochloride, in patients with renal failure and during lactation.
Side effects Lazolvana
Possible side effects of Lazolvan are manifested in the form of an allergic reaction (including on the skin), heartburn and stomach pains, as well as nausea and vomiting.
Dosing and administration
Lazolvan tablets (inside, one tablet three times a day) are prescribed for adult patients and children after 12 years of age.
For the same category of patients, Lazolvan pastilles are intended (for the first two days, dissolve one lozenge no more than six times a day, then no more than four times).
Lazolvan syrup is taken by adults and adolescents in a single dose of 10 ml (two to three times during the day). Children 6-12 years old take 5 ml of syrup, and children 2-5 years old - 2.5 ml up to three times a day; the same amount of syrup (1/2 teaspoon) is given to children under two years old, but twice a day.
The maximum duration of use of Lazolvan is five days. [5]
How to use a nebulizer with Lazolvan for cough, read -  Inhalation for bronchitis with a nebulizer .
Application for children
For children under the age of six, Lasolvan is intended in the form of a syrup. Tablets and lozenges are allowed to be used only after six years.
In cases of respiratory failure in newborns and premature infants, Lazolvan solution is used for infusion - in order to increase the synthesis of surfactant lining the alveoli of the lungs.
Overdose
In cases of exceeding the dose of the drug, nausea, vomiting and diarrhea occur. It is necessary to flush the stomach within the first two hours after the onset of these symptoms. In the future, symptomatic treatment is carried out.
Interactions with other drugs
You can not take Lazolvan at the same time as drugs that suppress the cough reflex.
It should also be borne in mind that ambroxol hydrochloride contributes to the concentration in the secretion of the bronchi of a number of antibiotics (Erythromycin, drugs of the tetracycline and penicillin group).
Storage conditions
Optimal storage conditions for Lazolvan syrup and solution for inhalation are at a temperature of + 10-25 ° C; solution for infusion - at a temperature of + 10-18 ° C; tablets and lozenges - up to + 28 ° C.
Shelf life
The shelf life of tablets, lozenges and solutions is five years; syrup - no more than three years.
Frequently asked questions
Can Lazolvan make coughing worse? If the cough has intensified from Lazolvan, then the reason is most often associated with a violation of the motor function of the ciliated epithelium of the bronchi.
Is the absence of the therapeutic effect of Lazolvan possible? If Lazolvan does not help with cough, then, obviously, the drug is used for dry cough - when phlegm is not formed, or the cough is reflex.
What is better for cough Ambrobene or Lazolvan? Ambrobene and Lazolvan are synonyms, these are different trade names for products based on the same active substance (ambroxol hydrochloride). With this substance, drugs with trade names are produced: Ambroxol, Ambrohexal, Ambrosan, Ambrolitic, Bronchopront, Bronchoxol, Viscomcil, Linloxil, Mucosol, Mucosan, Mukofar, Medox, Flavamed, Fluixol, Halixol.
Lazolvan or Erespal - which is better for cough? Erespal, which contains the antihistamine and bronchodilator fenspiride hydrochloride, is not an expectorant. Erespal reduces the synthesis of bronchial secretions in case of bronchial spasm, respiratory failure in chronic bronchitis and cough associated with bronchial asthma.
What can replace Lazolvan? Analogs Lasolvan - different composition  of medicine for cough , phlegm. For more details see -  Effective expectorants for bronchitis .
Attention!
To simplify the perception of information, this instruction for use of the drug "Lazolvan for cough" translated and presented in a special form on the basis of the official instructions for medical use of the drug. Before use read the annotation that came directly to medicines.
Description provided for informational purposes and is not a guide to self-healing. The need for this drug, the purpose of the treatment regimen, methods and dose of the drug is determined solely by the attending physician. Self-medication is dangerous for your health.