Medical expert of the article
New publications
Preparations
Biseptol for cystitis in women and men: how to take?

х
All iLive content is medically reviewed or fact checked to ensure as much factual accuracy as possible.
We have strict sourcing guidelines and only link to reputable media sites, academic research institutions and, whenever possible, medically peer reviewed studies. Note that the numbers in parentheses ([1], [2], etc.) are clickable links to these studies.
If you feel that any of our content is inaccurate, out-of-date, or otherwise questionable, please select it and press Ctrl + Enter.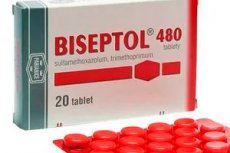 With cystitis, the main means of treatment should be those that stop the inflammatory process and have a detrimental effect on bacteria - pathogens. These requirements are fully met by the complex medication Biseptol, consisting of two important components: sulfamethoxazole and trimethoprim. Biseptolum with cystitis acts gently and effectively, inhibiting the development of microbes and accelerating recovery. Trimethoprim-sulfamethoxazole has long been considered the standard treatment for acute and recurrent urinary tract infections due to its activity against the most common uropathogens and its low cost and tolerance. The synergistic combination of trimethoprim and sulfamethoxazole works in two separate stages of bacterial folate metabolism, which leads to inhibition of DNA synthesis.[1]
Is Biseptol possible with cystitis?
Cystitis is a frequent and extremely unpleasant disease that affects mainly women, due to the anatomical features. But men are not immune from the development of cystitis. What does a person experience during an illness? Pain when urinating, painful and frequent urges, discomfort in the lower abdomen and groin. The inflammatory process extremely negatively affects the quality of life and ability to work. To eliminate the problem, Biseptol often becomes the drug of choice.
This medication is quite powerful, albeit inexpensive. It has a large number of side effects, so only a doctor can prescribe and calculate its dosage.
If the bacteria that provoked the development of the disease are sensitive to sulfamethoxazole and trimethoprim, then Biseptol with cystitis will really help. The drug will destroy bacteria, stop the inflammatory process and cleanse the urinary system. Self-medication can provide a "bear service": incorrect doses of the medication can only euthanize microbes, which will soon wake up again in the form of a relapse of cystitis. Therefore, trust the doctor and go through the entire necessary treatment course to get rid of the problem for a long time.
Indications Biseptol for cystitis
Biseptol is prescribed not only for cystitis. The drug is indicated for the treatment of infectious diseases if microbes are sensitive to Biseptolum:
with acute and chronic form of bronchitis, bronchiectasis, pneumonia, pharyngitis, tonsillitis, sinusitis, otitis media;
in acute and chronic forms of cystitis, pyelonephritis, urethritis or prostatitis;
with typhoid fever and paratyphoid, with intestinal upset;
in acute and chronic form of osteomyelitis, with brucellosis, actinomycosis, toxoplasmosis, nocardiosis.
Biseptolum is usually taken only for medicinal purposes. For prevention, the medication is not used.
Cystitis is an inflammatory process that is accompanied by irritation and damage to the internal tissues of the bladder. It is no secret that the disease is found mainly among female patients. So, every three women out of ten at least once suffered from inflammation of the bladder.
Biseptol for cystitis in women is prescribed according to indications, and its use is not uncommon.
Men are prone to a disease such as cystitis, much fewer women. Only one out of ten men has ever had or is ill with this disease. Most often we are talking about patients aged 45 years.
Such marked differences in the incidence rate in representatives of different sexes can be explained by significant anatomical and physiological features of the structure of the genitourinary system. The male urethra is longer and more sinuous than the female, and the hole for urination is relatively far from the anus, which eliminates the entry of pathogens from the anus into the urinary system. Female anatomy provides more opportunities for infection to get into the urethra - for example, with the banal non-observance of personal hygiene.
Biseptol for cystitis in men is prescribed only for the bacterial form of the disease. Fungal cystitis is treated with other appropriate drugs.
Release form
The main dosage form of Biseptil is considered to be tablet: tablets are round, white or slightly yellowish in color, with clear edges and a line for dosage.
Biseptol tablets are available in 100 mg and 400 mg.
The blister plate contains 14 or 20 tablets. Each blister is packed in a cardboard box. A full container contains 1000 packaged tablets.
Pharmacodynamics
Biseptol is a complex bactericidal agent, the effect of which is based on the properties of sulfamethoxazole, a sulfanilamide component of medium long-term exposure. Sulfamethoxazole inhibits folic acid production by competitive antagonism with para-aminobenzoic acid. Another active ingredient is trimethoprim, a substance that inhibits the microbial reductase of dehydrofolic acid, which is responsible for the production of bioactive tetrahydrofolic acid. A combination of these components, pharmacologists call co-trimoxazole.
The components of Biseptol act on one chain of biochemical processes, cause a synergy of antimicrobial confrontation.
Biseptol is active against colic Escherichia, Proteus, Morganella, Klebsiella, Enterobacteria, Haemophilus influenzae, Streptococcus, Shigella, Neysheria, Pneumocystis.
Pharmacokinetics
The active ingredients of Biseptol are well absorbed and pass into the blood through the walls of the digestive system. The maximum content of the combination of active substances is detected 1-4 hours after ingestion of the tablet. The binding of trimethoprim to plasma albumin reaches 70%, and sulfamethoxazole - approximately 44-62%.
The distribution of active substances is not the same. Trimethoprim is found in all body fluids, and sulfamethoxazole - only in the intercellular space.
High concentrations are recorded in the secretions of the bronchi, prostate gland and bile. Both compounds in therapeutic quantities are present in sputum, vaginal secretion and in the middle ear fluid.
If we talk about the volume of distribution, then for sulfamethoxazole it is equal to 0.36 liters / kg, and for trimethoprim - 2 liters / kg.
Metabolism occurs in the liver by oxidation, hydroxylation, acetylation and glucuronic acid binding.
Excretion of the drug is carried out by the kidneys, by filtration.
The concentration of active compounds in the urinary fluid significantly exceeds that in the blood, which allows the successful use of Biseptolum for cystitis.
The drug enters the milk of a lactating woman and overcomes the placental barrier.
Use Biseptol for cystitis during pregnancy
Since most often in pregnant women, immunity weakens a little, the risk of developing infectious diseases increases. Therefore, cystitis during pregnancy, unfortunately, is a frequent "guest". And often, expectant mothers choose known and time-tested medicines for treatment, for example, Biseptol. However, through clinical trials, it was proved that the active ingredients of this drug cross the placental barrier without problems, appearing in the baby's blood and tissues, therefore they can cause significant damage to his health and development.
Doctors warn: do not choose Biseptolum for cystitis if the patient is pregnant. As a result of such a choice, the development of the child may be impaired, the likelihood of premature termination of pregnancy or premature birth will increase. [2]
The disease can be cured by taking other, safer drugs. They will be prescribed by a doctor during an individual consultation.
The lactation period is another contraindication to the treatment of cystitis with Biseptol. The drug passes into breast milk, and then into the body of the baby, which is unacceptable.
Contraindications
Not in all cases, Biseptolum can be prescribed for cystitis. As with other medicines, there are certain contraindications for the use of Biseptolum:
hypersensitivity to the components of the drug, as well as sulfonamide drugs, antidiabetic drugs based on sulfonylurea;
acute inflammation of the liver tissue, serious hepatic pathology, porphyria;
blood diseases, impaired hematopoiesis, megaloblastic anemia, threatening conditions for the development of hemolysis;
severe kidney disease;
combination with a course of chemotherapy;
combination with dofetilide.
Do not prescribe Biseptolum for cystitis in pregnant and lactating patients.
Side effects Biseptol for cystitis
The most common side effects that occur in 3-5% of patients are skin rash, nausea, and vomiting. More serious side effects, such as anemia and Stevens-Johnson syndrome, are rare, but patients should always be monitored for their occurrence. Trimethoprim-sulfamethoxazole should be used with caution in patients with glucose-6-phosphate dehydrogenase deficiency or renal and hepatic insufficiency. Trimethoprim-sulfamethoxazole may enhance a decrease in serum sulfonylurea glucose (such as glipizide). Since the use of trimethoprim-sulfamethoxazole may increase the risk of bleeding in patients taking warfarin sodium, co-administration of these agents should be carefully monitored.[3]
Most often, treatment of cystitis with Biseptol is accompanied by undesirable reactions from the digestive system (nausea, impaired appetite), or skin allergic manifestations (rash, redness, itching).
Significantly less severe symptoms are observed, such as Stevens-Johnson syndrome, toxic epidermal necrolysis, acute hepatic necrosis.
With prolonged treatment, activation of a fungal infection (in particular candidiasis) is possible.
In general, unwanted symptoms may be:
anemia, eosinophilia, leukopenia, thrombocytopenia, agranulocytosis;
fever, light phobia, allergic vasculitis or myocarditis, general dermatological reactions, dermatitis;
hypersensitivity of the conjunctiva and sclera;
diarrhea, abdominal pain, enterocolitis, pancreatitis, stomatitis, increased bilirubin levels;
increased levels of aminotransferases, inflammation of the liver tissue;
an increase in the amount of urine, crystalluria, disorders of the kidneys;
hypoglycemia, weight loss;
development of depressive states, psychoses in senile patients;
joint pain, cramps, neuropathy, myopathy;
cough, weakness, sleep disturbances.
The development of side effects is directly affected by the duration of the drug and its dosage. In order to prevent negative moments, it is necessary to adhere to the cystitis treatment regimen prescribed by the doctor.
Dosing and administration
For adult patients, the initial amount of Biseptolum for cystitis is 2 tablets of 400 mg each twice a day after meals, with water. It is allowed to increase the dosage to 3 tablets twice a day. As a rule, treatment lasts 10-14 days, depending on the severity of the disease.
The American Society of Infectious Diseases Society Guide also concluded that 3-day treatment regimens with trimethoprim, trimethoprim-sulfamethoxazole and fluoroquinolones were more effective than single-dose regimens, and that one-day or three-day regimens were better tolerated than longer-term regimens ( 7-10 days). Patients who may require 7 days of therapy include pregnant women, patients with diabetes mellitus, and those with symptoms lasting more than 1 week. [4]In uncomplicated cystitis, treatment with trimethoprim-sulfamethoxazole, trimethoprim or fluoroquinolones within 3 days should lead to an eradication rate of more than 90% with a low incidence of side effects.
10-day Biseptol therapy for acute uncomplicated cystitis caused by Escherichia coli is more effective than single-dose therapy (four tablets). Both regimens were well tolerated. However, serious adverse reactions were less in patients receiving a single dose (8.5%) than in patients receiving treatment for 10 days (15%).[5]
Biseptol for cystitis in a child 6-12 years old is prescribed in the amount of one tablet 400 mg twice a day. For children under six years of age, there is a special children's form of the drug - in the form of a suspension. The dosage of the suspension is calculated individually, depending on the age and body weight of the child.
With cystitis, it is advisable to take Biseptolum in the morning and in the evening, at regular intervals (for example, at nine in the morning and at nine in the evening), with a large cup of water. Tablets are drunk continuously for at least five days: optimally - until the disappearance of painful symptoms, plus another 2-3 days.
If you have any allergies or other side effects, you should consult your doctor.
Application for children
In childhood, Biseptol is used in the form of a suspension, because the baby will not be able to swallow a large, moreover, tasteless pill. Caution should be exercised when prescribing this drug to a child: if you are prone to allergies or diathesis, Biseptol should be replaced with other, safer drugs. If a rash or itching of the skin appears during treatment, the drug is canceled.
Suspension for children is usually prescribed in such quantities:
for infants 3-6 months - 2.5 ml twice a day;
for babies from seven months to three years - 3-5 ml twice a day;
for children 4-6 years old - 5-8 ml twice a day;
for children from seven years - 10 ml in the morning and evening.
If treatment is still prescribed, it is necessary to ensure that the baby receives a sufficient amount of fluid during the day (prevention of crystalluria and urolithiasis). It is also important to regularly evaluate the picture of peripheral blood.
Overdose
With excessive use of Biseptolum with cystitis, the following symptoms may develop:
loss of appetite;
abdominal pain and pain;
nausea with vomiting;
diarrhea, loose stools;
dizziness, headaches;
drowsiness, loss of consciousness.
Perhaps the appearance of crystalluria, hematuria, inhibition of bone marrow function, the development of hepatitis.
During an acute overdose, it is necessary to cleanse and rinse the stomach. With preserved renal function, a large volume of fluid should be given to the patient. Additionally, blood parameters, electrolyte state are monitored. Hemodialysis and peritoneal dialysis are ineffective, or ineffective at all.
Interactions with other drugs
You should not combine Biseptol for cystitis with non-steroidal anti-inflammatory drugs, antidiabetic agents based on sulfonylureas, as well as with diphenin, indirect anticoagulants, and barbiturates.
With the simultaneous intake of vitamin C, the likelihood of developing salt diathesis increases.
Biseptolum can increase the toxic properties of methotrexate, enhance the effect of hypoglycemic agents.
With the combined use of Biseptol and anticoagulants (for example, Warfarin), an increase in prothrombin time is possible. Therefore, it is very important during the treatment to regularly determine the quality and duration of blood coagulation.
The combined use of Biseptol with Indomethacin, Amantadine, thiazides, digitalis preparations, tricyclic antidepressants, Phenytoin, Piremetamine is undesirable.
Concomitant use with oral contraceptives reduces their effectiveness, which can lead to an unplanned pregnancy.
Such a combination as Biseptol and Dofetilide is forbidden: as a result, serious ventricular arrhythmia develops.
Trichopolum and Biseptolum for cystitis are often prescribed together: it is believed that Biseptolum strengthens and complements the action of Metronidazole.
Storage conditions
What is the best way to store Biseptolum in tablets? It is optimal to allocate a separate cabinet or closed shelf for medicines, away from heating appliances and direct sunlight. The storage room should not be damp (the bathroom is not suitable), nor too hot, since the optimum temperature for the preservation of the tablets is from +18 to + 25 ° C.
You should limit access to the place of storage of medicines to children, mentally unstable people, as well as old people with poor eyesight and memory who, by mistake, can take the wrong medication.
There is no need to put the drug in the refrigerator. In an extreme case (for example, if the room is very hot), Biseptol packaging can be placed on the refrigerator door, on the farthest shelf from the freezer. You can't freeze the medicine, otherwise it will lose its healing properties.
Shelf life
The storage period of Biseptolum is usually indicated on the packaging and on the blister plate. The term preservation is defined by five years.
Analogs of Biseptol for cystitis
Sometimes the question arises as to how to replace Biseptol for cystitis - for example, during pregnancy, or in the presence of other contraindications, or in the absence of such a drug in a pharmacy. There is nothing wrong with such a replacement, but it is necessary to discuss this point with the doctor.
Consultation with a doctor about replacing a medication is an adequate and even necessary measure. Self-treatment does not always lead to a positive effect, and during pregnancy it completely threatens with unfavorable and hardly predictable results.
Often, Biseptol for cystitis is replaced with such similar drugs:
Bactrim;
Biseptrim;
Bi-sept;
Oriprim;
Raseptol;
Sumetrolim;
Triseptol;
Soluseptol;
Co-trimoxazole;
Groseptol;
Biseptazole.
These medicines are complete analogues of Biseptolum and can be used to treat urological infections.
It is possible to use drugs that have a completely different composition. For example, a doctor may recommend taking antibiotics (Ampicillin, Amoxicillin , Azithromycin, Erythromycin, Norbactin , Nitroxoline , Fitolizin , Nolitsin , Furangin ), uroseptics, diuretics, etc.
Ofloxacin from 3 to 7 days is as safe and effective as Biseptolum for the treatment of uncomplicated cystitis in women. [6]
A 5-day course of nitrofurantoin is clinically and microbiologically equivalent to a 3-day course of trimethoprim-sulfamethoxazole and should be considered as an effective alternative to fluoroquinolone for the treatment of acute cystitis in women. [7]
Ciprofloxacin had similar efficacy when using Biseptol for 3 days to treat acute, symptomatic, uncomplicated lower urinary tract infections in women. [8]
Reviews about Biseptol for cystitis
Biseptol tablets, known and time-tested by everyone, have many admirers, both on the part of patients and by doctors. In the eighties of the last century, this medication was prescribed for almost any inflammatory pathology - in therapy, pediatrics, urology. To date, pharmacies have replenished with new powerful and effective means, but Biseptol is clearly not going to give up its positions - its active use continues today.
Any disease, of course, adds a person problems and worries. But you need to understand that you should never engage in self-medication, even if the drug is obviously effective and proven. It is better if a medical specialist appoints Biseptol for cystitis - nevertheless, there is a high probability of side effects, and there are a lot of contraindications to taking the medication. The attending physician must answer any of the questions that arose during treatment: this is the only way to completely eliminate the disease.
Attention!
To simplify the perception of information, this instruction for use of the drug "Biseptol for cystitis in women and men: how to take?" translated and presented in a special form on the basis of the official instructions for medical use of the drug. Before use read the annotation that came directly to medicines.
Description provided for informational purposes and is not a guide to self-healing. The need for this drug, the purpose of the treatment regimen, methods and dose of the drug is determined solely by the attending physician. Self-medication is dangerous for your health.