Medical expert of the article
New publications
Preparations

х
All iLive content is medically reviewed or fact checked to ensure as much factual accuracy as possible.
We have strict sourcing guidelines and only link to reputable media sites, academic research institutions and, whenever possible, medically peer reviewed studies. Note that the numbers in parentheses ([1], [2], etc.) are clickable links to these studies.
If you feel that any of our content is inaccurate, out-of-date, or otherwise questionable, please select it and press Ctrl + Enter.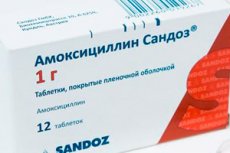 No matter how wary we are about antibiotics, it is often possible to overcome the inflammatory processes in the body caused by various infections only with their help. In the pharmaceutical industry, many antibacterial drugs are produced and amoxicillin is considered one of the most effective. Can it be used for cystitis and will it help to overcome inflammation of the bladder mucosa?
Indications Amoxicillin in cysts
The action of amoxicillin is aimed at infections, the bacteria of which are susceptible to destruction under the influence of the active substance. Indications for its use are the following pathologies, affecting:
urinary and genital organs (urethritis, cystitis, pyelonephritis, prostatitis, gonorrhea, etc.);
lower respiratory tract (bronchitis, pneumonia);
upper (tonsillitis, tonsillitis, pharyngitis, sinusitis, otitis media);
ducts that transport bile (cholangitis, cholecystitis);
joints
bones;
epidermis, soft tissues.
Amoxicillin is approved by the FDA for the treatment of urinary tract infections, ear, nose and throat infections, lower respiratory tract infections, Helicobacter pylori infections, pharyngitis, tonsillitis and infections of the skin and skin structure. Recommended as a first-line treatment by the American Society for Infectious Diseases (IDSA), for the treatment of acute bacterial rhinosinusitis, and as a treatment for community-acquired pneumonia. [1]
Release form
The drug is produced in:
granules that are converted to a liquid consistency;
pills
capsules.
The last two types of drugs have a dosage of 250 and 500 mg of the active substance. To obtain 5 ml of suspension, 250 mg of amoxicillin and auxiliary components, including sucrose, fruit and berry flavorings, are used.
Depending on the manufacturer, the drug has other trade names, but one active substance is amoxicillin. Among them: amotite, amoxon, amoxicar, gonoform, cuxacillin, ranoxyl, hiconcil, flemoxin.
Pharmacodynamics
This antibacterial agent belongs to semisynthetic antibiotics from the class of penicillins with a wide spectrum of influence, when a bacterial strain is used as a basis for building a drug molecule and chemical methods are used. Both gram-positive and gram-negative aerobic microorganisms (Listeria monocytogenes and Enterococcus, Haemophilus influenzae, some Escherichia coli, Actinomyces, Clostridial, Salmonella, Shigella and Corynebacteria) fall under it. It kills some enzymes present in the cells of bacteria, and without which they die. [2]
Due to the presence of hydroxyls, the drug has a high bioavailability when taken orally, and is resistant to the action of gastric juice.
Pharmacokinetics
When ingested, amoxicillin is easily absorbed, reaching a maximum concentration in the blood after 1-2 hours. The liver is practically not converted. It is excreted to a greater extent with urine, partly through the liver.
Use Amoxicillin in cysts during pregnancy
The United States Food and Drug Administration (FDA) prescribes amoxicillin pregnancy category B (animal reproduction studies have not demonstrated fetal risk, and there are no adequate and well-controlled studies in pregnant women). The use of amoxicillin in early pregnancy may be associated with an increased risk of oral splitting. [3]
During pregnancy, it is best to avoid taking amoxicillin, like any other antibiotic, because it penetrates the placental barrier and can harm the fetus. If, with a real threat to health, it cannot be avoided, then the justification for this lies in the priority of a woman's life.
Limited information indicates that amoxicillin is excreted in breast milk at low levels, which are not expected to cause side effects in breast-fed babies. Occasionally, rashes and disturbances in the infant's gastrointestinal flora have been reported, leading to diarrhea or thrush, but these effects have not been adequately evaluated. Amoxicillin is acceptable for nursing mothers.
After a single oral administration of 1 gram of amoxicillin in 6 women, peak levels of amoxicillin in milk were observed 4-5 hours after dosing. Average milk levels were 0.69 mg / L (in the range of 0.46 to 0.88 mg / L) after 4 hours and 0.81 mg / L (in the range of 0.39 to 1.3 mg / L) 5 hours after dosing. [4] Using these data, it can be expected that an infant who is exclusively breastfed will receive a maximum daily dose of amoxicillin of about 0.1 mg / kg at a dose of 500 mg three times a day for the mother. This is from 0.25 to 0.5% of the usual dose of amoxicillin for children. [5]
Contraindications
Amoxicillin is contraindicated in allergies to antibiotics (penicillins and cephalosparins), diseases such as lymphocytic leukemia and infectious mononucleosis. There are age restrictions that have already been mentioned, as well as for pregnant and lactating women.
Side effects Amoxicillin in cysts
Of the adverse reactions caused by taking the drug, allergic manifestations are possible: skin rashes, urticaria, itching; nausea, diarrhea, colitis, increased liver function values, reversible changes in blood counts, headaches, sleep disturbances. The suspension contains sucrose and may cause a jump in blood glucose.
Another important complication to be aware of is hypersensitivity reactions. Amoxicillin can lead to type I, II, III, or IV reactions. It is important to distinguish between a hypersensitivity reaction of type I and type IV, since one of them may be more dangerous than the other. A type I reaction is an IgE-mediated hypersensitivity to a sensitized patient that causes widespread histamine release, resulting in urticaria similar to an itchy rash, or even more serious systemic symptoms such as anaphylaxis. The type IV hypersensitivity reaction is not mediated by the release of histamine, is more papular or morbilly-like in nature and often does not itch. Experts suggest that almost all patients who accidentally receive amoxicillin with infectious mononucleosis develop a maculopapular rash caused by a type IV hypersensitivity reaction.
How to cope with side effects? What to do, if:
feeling nauseous - follow simple meals and do not eat fatty or spicy foods. Take amoxicillin after meals.
diarrhea - drink plenty of fluids to avoid dehydration. Signs of dehydration include less urination. Do not take any other medicine to treat diarrhea without talking to your pharmacist or doctor. [6]
Dosing and administration
How to take amoxicillin for cystitis? 
Women are much more likely than men to undergo urological pathologies, especially cystitis. This is explained by the anatomical structure of their urethra: it is shorter and wider than the male, moreover, it is located in close proximity to the vagina and anus, which increases the risk of infection.
Amoxicillin is used to treat women with acute and chronic bladder inflammation.
Currently, urinary tract infections (UTIs), such as cystitis, are treated with either a three-day short course of antibiotics or a longer course (five days or more). Studies have shown that three days of treatment is usually enough to relieve symptoms in women with uncomplicated cystitis. Long-term use of antibiotics did not improve symptom relief, but led to side effects such as gastrointestinal problems or a rash. When deciding which antibiotics should be taken, women and men should consider what is more important for them: to prevent the return of cystitis or to avoid side effects. Patients who want to be absolutely sure that the infection has passed may prefer to use antibiotics that are taken for five or more days. Patients who prefer to avoid side effects may instead choose a three-day treatment.[7]
The doctor determines the dose and duration of the course of treatment individually (on average, it is 5-14 days). The instruction for solid forms of the drug recommends it according to this scheme: for children from 5 to 10 years old, 250 mg three times a day; older and adults - 500mg.
Application for children
Amoxicillin can be prescribed to children, but with reservations and a special dosage, taking into account their age. So, take tablets from 6 years old, the suspension is suitable for babies from birth, and capsules are intended only from 5 years old due to their rapid absorption.
A suspension is prepared by adding purified water to a bottle of granular powder to the level of the mark on it. Babies up to 2 years old (body weight does not exceed 10 kg) are given half a measured spoon, 2-5 years (10-20 kg) - 0.5-1 l., 5-10 years - 1-2 l., Adults two full 3 times a day.
Interactions with other drugs
The simultaneous administration of amoxicillin with antacids reduces its absorption, with allopurinol (an antigout) increases the risk of allergic manifestations, probenecid (the same action) increases its concentration in the blood.
The drug is not prescribed together with tetracycline and chloramphenicol - antibiotics with a complex cyclic structure, because they reduce its effectiveness.
Amoxicillin can increase bleeding time when treated with anticoagulants that slow down blood clotting and prevent blood clots.
Storage conditions
The drug is stored at a temperature not exceeding + 25ºС, in a darkened place, inaccessible to children.
Shelf life
Tablets and capsules are suitable for use for 4 years, granules - three. The finished suspension should be used within 2 weeks.
Analogs
Amoxicillin analogues are such agents: amoxil DT, amofax, B-mox, graximol, osmapox, flemoxin solutab, ampiox, ampicillin.
Recent studies have shown that a three-day regimen of amoxicillin-clavulanate is not as effective as ciprofloxacin for the treatment of acute uncomplicated cystitis, even in women infected with sensitive strains. This difference may be due to the low ability of amoxicillin-clavulanate to destroy vaginal Escherichia coli, contributing to early re-infection. [8]
Reviews
The drug is very safe, but it is always important to get a proper allergy history before prescribing the drug. [9],  [10] About the drug positive reviews prevail. Its effectiveness in the treatment of cystitis and other urological problems, an affordable price, is noted. Among the shortcomings is the appearance of adverse reactions, sometimes allergies, sometimes dysbiosis, but all antibiotics "sin" this. To avoid negative effects on the digestive tract, it is recommended that you take probiotics. 
Attention!
To simplify the perception of information, this instruction for use of the drug "Amoxicillin in cysts" translated and presented in a special form on the basis of the official instructions for medical use of the drug. Before use read the annotation that came directly to medicines.
Description provided for informational purposes and is not a guide to self-healing. The need for this drug, the purpose of the treatment regimen, methods and dose of the drug is determined solely by the attending physician. Self-medication is dangerous for your health.