Honey with lemon from cough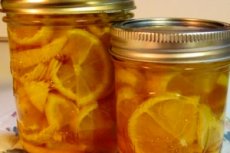 Traditional medicine, which has long been used to treat coughs, bronchitis, inflammation of the throat and nasopharynx, is honey and lemon. This medicine was used by doctors of antiquity: Avicenna, Hippocrates, prescribed to their patients potions and elixirs prepared on the basis of these components. In the Middle Ages, they saved themselves from numerous epidemics, introducing these components into the composition of medicines. Tea with lemon and honey was treated by soldiers during the Great Patriotic War. Do not ignore honey and lemon and modern pharmaceutical companies: they produce cough syrups, candies, tablets and medicines containing honey and lemon in their composition.
How to make a lemon with honey?
A drink that has medicinal properties can be prepared at home on its own. It will take a lemon, honey. The easiest way is tea. You need to make tea, heat it and add honey. Then cut off a slice of lemon, and also put it in tea. Thoroughly mix, drink in small sips. It is advisable to drink all the funds from a cough, lying in bed. Quickly cure cough is only possible by keeping bed rest.
You can also use milk, cream or juice instead of tea. The main thing is to warm and drink in a hot state.
You can use another recipe. It is necessary to prepare this remedy in the morning, since it is intended for one day of treatment. One large lemon (along with the peel) is passed through a meat grinder, or a tinder on a grater. The juice is squeezed out from the mixture. Separate the mashed potatoes from the juice. Puree is cleaned in the refrigerator. In the lemon juice add 1 tablespoon of honey, mix thoroughly until completely dissolved. I drink in small portions throughout the day. You need to distribute the product in such a way that it is enough for a whole day, until evening.
In the evening they take out the mashed potatoes from the fridge, warm it in a water bath until it is warm. Then add 1 tablespoon of honey. Stir thoroughly. Separately, prepare tea or herbal decoction. Add honey to taste. Lying in bed, eating the resulting puree, then washed down with pre-cooked tea. Tea for this time should not be cooled. Go to bed. In the morning the procedure is repeated. You should start with hot tea.
Medical expert editor
Portnov Alexey Alexandrovich
Education: Kiev National Medical University. A.A. Bogomolets, Specialty - "General Medicine"
Other articles on the topic

Patients with gastritis are very meticulous about nutrition. Any dish they assess for the way it will respond to the stomach - calm or protest?

Butter has a softening effect, perfectly restores after wounds and scars, eliminates the remnants of inflammatory and stagnant phenomena, starts the process of self-renewal of cells.

Mustard has proven itself as a remedy that actively stimulates receptors, mucous membranes, causes flushing and improves local circulation. As a result, swelling is quickly eliminated, and inflammation is removed.
The latest research relating Honey with lemon from cough

Honey is known to be a useful and valuable product and has long been used to treat various diseases.

Honey, which has long established itself as one of the most effective means of healing wounds, also has the ability to combat the resistance of pathogens to antibiotics
Attention!
To simplify the perception of information, this instruction for use of the drug "Honey with lemon from cough" translated and presented in a special form on the basis of the official instructions for medical use of the drug. Before use read the annotation that came directly to medicines.
Description provided for informational purposes and is not a guide to self-healing. The need for this drug, the purpose of the treatment regimen, methods and dose of the drug is determined solely by the attending physician. Self-medication is dangerous for your health.