Medical expert of the article
Teraflu for the treatment and prevention of cold and flu

х
All iLive content is medically reviewed or fact checked to ensure as much factual accuracy as possible.
We have strict sourcing guidelines and only link to reputable media sites, academic research institutions and, whenever possible, medically peer reviewed studies. Note that the numbers in parentheses ([1], [2], etc.) are clickable links to these studies.
If you feel that any of our content is inaccurate, out-of-date, or otherwise questionable, please select it and press Ctrl + Enter.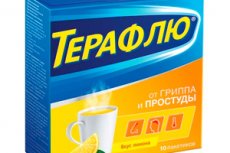 Symptoms of a combination of non-prescription remedies include theraflu from cold and flu (manufactured by multinational GSK Consumer Healthcare).
Indications Teraflu
This remedy is intended for the symptomatic treatment of the acute form of respiratory diseases, including those caused by the influenza virus. Taking teraflu at the first sign of a cold can reduce fever and reduce fever; relieve headaches and body aches; reduce swelling and itching of the nasal mucosa, sneezing and nasal congestion, as well as relieve rhinitis.
[1], [2]
Release form
Theraflu is available in powder form, packaged in bags (each bag is a single dose to be dissolved in water).
[3]
Pharmacodynamics
Theraflu contains such pharmacologically active components:
analgesic and antipyretic paracetamol (325 mg in one dose), which has a weak anti-inflammatory effect. Its pharmacodynamics is due to the overwhelming effect on the thermoregulation center in the brain, as well as blocking of COX and inhibition of the production of prostaglandins;
sympathomimetic phenylephrine hydrochloride (10 mg) - narrows the blood vessels of the nasal mucosa, stimulating endothelial α-adrenergic receptors;
the antihistamine of pheniramine maleate (20 mg) blocks the mediator receptors of allergic reactions of histamine;
ascorbic acid (vitamin C) - an antioxidant, increases the body's resistance to oxidative stress.
Pharmacokinetics
Paracetamol in the composition of Theraflu, getting into the gastrointestinal tract, is rapidly absorbed, reaching the maximum concentration in the blood in 30-45 minutes (no more than a quarter of the dose is bound to plasma proteins). Transformation occurs in the liver (cytochrome P450 system), within 24 hours conjugated metabolites are excreted by the kidneys.
Absorption and bioavailability of phenylephrine hydrochloride is low, so its metabolism occurs not only in the liver, but also in the digestive tract; splitting products are excreted in the urine.
Pheniramine maleate is absorbed in the stomach; after 60-80 minutes, the highest plasma level of the drug is noted; no more than 25-30% of the dose is split; elimination through the kidneys.
Use Teraflu during pregnancy
The use of teraflu for flu and colds in pregnant and lactating women is contraindicated.
Contraindications
Contraindications to the use of teraflu relate to: functional insufficiency of the liver and kidneys (paracetamol is distinguished by particular nephrotoxicity); increased blood pressure; cardiac arrhythmias (bradycardia) and hypertrophic heart pathologies; inflammation / ulcers of the stomach or duodenum; accompanied by dysuria prostatic hyperplasia; lung diseases; bronchial asthma.
Theraflu should not be given to children under the age of 14.
Side effects Teraflu
The most frequent side effects that each component of this drug causes include: dizziness and headache, urticaria, nausea and vomiting, constipation or diarrhea, increased dryness of the mucous membranes, problems with urination, changes in the cardiovascular system (arterial hypertension, impaired heart rate ), insomnia or drowsiness.
[16], [17]
Dosing and administration
Powder for cold Theraflu is used no more than three times a day: one packet is diluted with 200 ml of hot water and taken orally.
Duration of use - no more than five days.
Interactions with other drugs
With the simultaneous use of teraflu with NSAIDs, more side effects occur.
Antibiotics increase the negative effects of paracetamol on the liver, and anesthetic agents can lead to severe arrhythmias.
Taking anticoagulants together in teraflu reduces their therapeutic effect.
It should be borne in mind that due to the presence of pheniramine maleate, this tool is incompatible with antidepressants, MAO inhibitors, hormonal contraceptives.
Analogs of Theraflu for Colds
A number of theraflu analogs are available:
Coldrex or Fervex  (without phenylephrine); at the same time, Coldrex Hotrem does not contain an antihistamine component, and the amount of paracetamol in one package is half the permissible single dose;
means Antiflu, Gripaut, Astratsitron, Farmatsitron forte - with the same components but paracetamol content is also higher than in Terflu;
Antigrippin (also without phenylephrine, chlorphenamine is used as a histamine receptor blocker).
Reviews
Some reviews of the tool Theraflu relate to its constituent excipients - flavors, synthetic flavors, stabilizers and dyes. Most often there are concerns about titanium dioxide - the food additive E17, in whose safety many doubt, since it has not been fully elucidated.
[32], [33]
Attention!
To simplify the perception of information, this instruction for use of the drug "Teraflu for the treatment and prevention of cold and flu" translated and presented in a special form on the basis of the official instructions for medical use of the drug. Before use read the annotation that came directly to medicines.
Description provided for informational purposes and is not a guide to self-healing. The need for this drug, the purpose of the treatment regimen, methods and dose of the drug is determined solely by the attending physician. Self-medication is dangerous for your health.