Stinging Nettle from coughing with bronchitis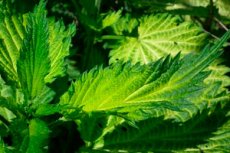 Nettle is a popular plant, which many fear as a fire for its burning properties and traces of painful blisters on the skin. Yes, this is the side effect of close communication with this herbal plant. But after all, the benefits of it are incredible, and not only in cosmetology. For example, with colds and bronchitis, various parts of the plant can be used as an anti-inflammatory and expectorant against cough.
Contraindications
Despite its burning properties of nettles as a whole a harmless plant, if taken with contraindications and in the recommended dosages. It is not recommended to take funds from the nettle in the first trimester of pregnancy, with atherosclerosis of blood vessels and pathologies, in which blood has a high viscosity and there is a tendency to thrombosis, with severe kidney pathologies, arterial hypertension, all kinds of bleeding in neoplasms.
Dosing and administration
If someone managed to pick up the disease in the warm season, you can use a fresh juice of the plant, prepared from young shoots with leaves, with the help of a juicer, to treat a cough. Fresh juice of the plant has anti-inflammatory, expectorant, antipyretic effect, stimulates metabolism and tissue regeneration. Cough juice should be taken three times a day. Single dose - 1 tsp.
Its freshly prepared nettle juice retains its properties for no more than 24 hours provided it is stored in the refrigerator. But the juice can be safely replaced with a drug extract, taking it 35-35 drops at a time.
To treat a chronic cough, you can use a syrup from the roots of the nettle. Finely chopped fresh roots of the plant are soaked in cold water for 10-15 minutes, then mixed with sugar syrup and cooked for 5 minutes. 100 g of fresh roots are taken 100 g of water and 3 tbsp. Sahara.
Sometimes, instead of sugar, it is advised to take honey, which is not entirely correct, because when boiling, honey not only loses most of its properties, but even becomes harmful to the body due to carcinogenic action.
Ready syrup should be taken three times a day for 1 tablespoon. This remedy is effective even with the most persistent cough.
From cough, you can drink tea from dried nettle flowers. A glass of boiling water take 1 tsp. Crushed dry raw materials. Insist composition of 20-25 minutes. There is no restriction in the use of such a drink.
Storage conditions
Many believe that it is necessary to collect nettle leaves in the spring, when the plants have just begun to revive and the leaves are tender and light. In fact, the preparation of nettle should be done in the summer from June to August, when the plant blooms. It is necessary to cut off the leaves at the tops of twigs or cut off shoots, and then after drying, thresh them.
The roots of nettle harvested in spring or autumn, seeds - after flowering.
Dry the raw materials in the shade, spreading a layer no more than 4 cm and shaking it regularly, so as not to prejudge. In the sun, the nettle can not be dried, as this will lose vitamins. In the dryer it is also undesirable to dry the raw material, and if it is necessary, the temperature should not exceed 35 degrees.
Keep the nettle in paper, wooden or carton boxes for no more than 2 years. Grinded nettle leaf can be stored in a glass container, but the shelf life in this case will be only 1 month.
It is important to know!
Bronchitis is a disease manifested by acutely occurring inflammation of the mucous membrane of the tracheobronchial tree. Consequently, all physiotherapeutic effects should be pathogenetic, primarily anti-inflammatory.
Read more..
Attention!
To simplify the perception of information, this instruction for use of the drug "Stinging Nettle from coughing with bronchitis" translated and presented in a special form on the basis of the official instructions for medical use of the drug. Before use read the annotation that came directly to medicines.
Description provided for informational purposes and is not a guide to self-healing. The need for this drug, the purpose of the treatment regimen, methods and dose of the drug is determined solely by the attending physician. Self-medication is dangerous for your health.