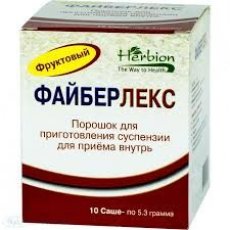 The plant preparation Fayberlex is available in the form of powder and refers to purgative drugs.
Produced in Pakistan by the pharmaceutical company Herbion.
Indications Fiberleks
Indications for use Fiberchleus serve:
acute or chronic form of constipation;
period after surgery in the area of the anus and rectum (to facilitate the act of defecation).
Release form
Fiberlex is a powdered substance intended for internal use. The preparation consists of light crushed elements of the seed layer of the plant Oval plantain. Elements can have different shapes and sizes from one and a half to three millimeters.
The active substance of the preparation is the outer seed layer of the plantain oval. One dose contains 5 g of dry plantain seed.
Among the additional substances are: aspartame, various flavors (orange or fruit).
In a cardboard box are packed 10 sachets of triple foil, the weight of one sachet is 5.3 g.
Pharmacodynamics
The laxative effect of phytopreparation Fiberlex is explained by mechanical stimulation of intestinal receptors by fibrous mucus-forming water-absorbing plant elements. Due to the properties of the drug, the intestinal function is normalized, the compaction of the fecal masses is prevented and their movement along the intestine is facilitated.
Contraindications
The drug Fiberlex is not prescribed:
with mechanical and spastic obstruction of the intestine;
with other pathological narrowing of the digestive tract;
during pregnancy and breastfeeding;
in childhood (less than 18 years);
with a tendency to allergy to any of the components of the drug.
Side effects Fiberleks
Among the side effects most often noted allergic reactions to the components of Fiberlex.
If the laxative is used improperly (if the drinking regime is disturbed or if the powder is used without adding liquid to it), irritation of the digestive tract may occur, especially in elderly patients.
Dosing and administration
Laxative means Fayberlex take one sachet for half an hour before meals. Mix the powder from one sachet in a glass of cool (not hot) water. Drink with slow sips.
Duration of therapy with acute form of constipation - from 1 to 2 days, before the normalization of the stool.
In chronic form of constipation, treatment can last up to 1 month, and after 7 days it is allowed to repeat the therapeutic course.
With hemorrhoidal nodes and fissures of the anus, the therapy is performed up to 1 month, until the sensations normalize during defecation. After 7 days, the course is allowed to be repeated.
After surgery in the anus zone, the treatment period is evaluated by the treating doctor.
Important: when using Faybureks should drink enough liquid - at least a half to two liters.
Interactions with other drugs
Laxative means Fiberlex has some absorbing properties. Given this ability, as well as the function to accelerate intestinal motility, it can be assumed that the absorption or absorption in the digestive tract of other drugs that were taken at the same time is lowered or disturbed.