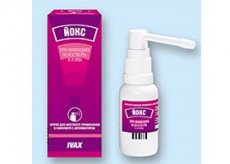 Antiseptic in the form of a spray for irrigation of the cavity of the oropharynx.
The effective components of the preparation are polyvidone-iodine (2.550 g) and allantoin (0.030 g), diluted in distilled water with the addition of levomenthol, antioxidant E330, sodium hydrogencate, ethyl alcohol 96%, propylene glycol up to 30 ml.
Appearance: reddish-brown liquid, mixed with water without restriction.
Pharmacodynamics
A comprehensive remedy for sanitisation of the oropharyngeal cavity. In contact with skin and mucous membranes, iodine is released, which shows bactericidal, fungicidal, antiviral, antiparasitic and light immunomodulatory effects. It liquefies phlegm, thereby facilitating its excretion, has the ability to break down proteins.
Polyvidon promotes the rapid delivery of iodine into the cells, ensuring there its significant concentration after a short period of time after irrigation. Absorbed, iodine affects the metabolic processes in the body, promotes the production of the hormone T4.
Allantoin has an emollient, healing-restoring, inflammatory effect, catalyzing the properties of polyvidone-iodine.
Aerosol Yoks is easily applied to the mucous membranes of the respiratory tract due to the applicator nozzle, penetrates deep into their epithelial layers, has antiviral speed in ARVI and influenza, is effective in both acute and chronic conditions. 
Pharmacokinetics
When irrigation, polyvidone-iodine is more strongly absorbed by the mucous membranes and damaged, and not healthy skin surface. In the process of metabolism iodide salts are formed, which tend to concentrate in the thyroid gland.
Excreted mostly kidneys, a small amount - the intestines, skin and saliva.
Iodine salts easily overcome placental protection, are found in breast milk, so it is not recommended to use pregnant and lactating women.
Dosing and administration
Remove the cap, put on the applicator nozzle. Two or three times to send the drug to the spray gun, having set the spraying mode. Introduce the applicator nozzle approximately three centimeters inside the oropharyngeal cavity, covering your mouth and holding your breath, watering the pharyngeal mucosa to the right and left two or three times.
Aerosol is used two to four times a day, maximum - up to six times (every 4 hours). Before and after use, the applicator nozzle is rinsed with hot water.
Attention!
To simplify the perception of information, this instruction for use of the drug "Yoks" translated and presented in a special form on the basis of the official instructions for medical use of the drug. Before use read the annotation that came directly to medicines.
Description provided for informational purposes and is not a guide to self-healing. The need for this drug, the purpose of the treatment regimen, methods and dose of the drug is determined solely by the attending physician. Self-medication is dangerous for your health.