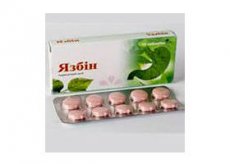 Drug Yazbin is referred to astringent, anti-acid and enveloping medications.
 Encoding ATC: A02X.
Release form
Yazbin is produced in the form of round, convex tablets of a pinkish hue, covered with a protective coating.
The composition of tablets is presented:
ground mollusc shell;
an extract of Indian neem;
the extraction of a medicinal embryo;
dry extract of the heart thisto spore.
Tablets are packed in 10 pcs. In a blister plate, 5 plates each in a cardboard box.
Pharmacodynamics
Combined herbal preparation Yazbin has the following abilities:
protects tissues and cellular structures;
eliminates the inflammatory process;
neutralizes the negative effect of hydrochloric acid;
improves the course of digestive processes.
Ingredients of the drug help to heal ulcers and erosion, strengthen immunity, protect mucous tissues from mechanical and chemical damage, destroy the pathogenic flora.