Medical expert of the article

х
All iLive content is medically reviewed or fact checked to ensure as much factual accuracy as possible.
We have strict sourcing guidelines and only link to reputable media sites, academic research institutions and, whenever possible, medically peer reviewed studies. Note that the numbers in parentheses ([1], [2], etc.) are clickable links to these studies.
If you feel that any of our content is inaccurate, out-of-date, or otherwise questionable, please select it and press Ctrl + Enter.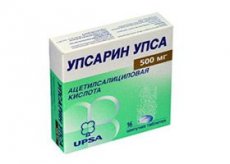 Nonsteroidal anti-inflammatory drug in a convenient effervescent form - Uppsin Oopsa - has the ATC encoding N02BA01.
Indications of the uppsarin Oopsa
Uppsarin Oopsa is appointed in the following cases:
with minor or moderate pain of a different nature (with pain in the head, in the teeth, with migraine, neuritis, myositis, arthritis and arthrosis, with painful menstruation);
to eliminate discomfort in a hangover syndrome;
for the normalization of temperature indicators in ARI or ARVI.
 Uppsarin Oopsa can be given to adult patients or children after reaching the age of 15 years.
Release form
The non-steroidal drug Uppsarin Oopsa is an effervescent soluble tablet based on acetylsalicylic acid. As auxiliary components there are crystals of citric acid, carbonate, hydrogen carbonate and sodium citrate, aspartame, a flavoring additive natural.
Tablets have a round flat shape, with a notch for dosing on one side. The color of the tablets is white.
The drug is dissolved in water. Dissolution is accompanied by intensive release of gaseous bubbles.
Tablets Upsarin Oopsa are packed in aluminum cell-free packages of 4 pcs. In each. A cardboard box can contain 4 or 25 such packages.
Pharmacodynamics
Uppsarin Oopsa has an anti-inflammatory, analgesic and temperature-lowering effect, which is associated with the inhibition of cycloxygenase regulating the production of prostaglandins.
Simultaneously, platelet aggregation and adherence decrease, the risk of blood clots is reduced due to inhibition of thromboxane A² production inside platelets.
The inhibition of the formation of thrombi continues for one week after a single intake of Uppsarin Oops.
Pharmacokinetics
The kinetic properties of the Uppsarin Uppsa are not sufficiently studied. Upon contact of the drug with water, a buffer fluid is formed which, after ingesting the drug, retains its active components in the form of a solution, preventing them from precipitating and solidifying under the action of gastric acid. As a result, a complete and rapid assimilation of the medicament is achieved, which provides a more effective effect compared with standard aspirin tablets.
Use of the uppsarin Oopsa during pregnancy
You should avoid using Upsarin Oops during pregnancy due to an increased risk of bleeding.
The question of taking the drug during breastfeeding is decided by the doctor.
Contraindications
 Some diseases and conditions can become a contraindication to taking Uppsarin Oops:
an increased likelihood of an allergic response to the ingredients of the drug;
erosion and ulcers in the digestive system, internal bleeding;
significant violations in the work of the kidneys and liver;
asthma, sensitive to acetylsalicylic acid;
diseases accompanied by a violation of blood coagulability (hemophilia, thrombocytopenia, angioectasia, von Willebrand syndrome);
aortic aneurysm;
increased pressure in the portal vein system (portal hypertension);
lack of vit. K;
phenylketonuria;
period of pregnancy and breastfeeding.
It is not advisable to take Uppsarin Oops with gout and with cardiac decompensation.
[1]
Side effects of the uppsarin Oopsa
Adverse symptoms are rare, but can be manifested by the following symptoms:
allergic phenomena;
aspirin triad (bronchial asthma, nasal polyposis and hypersensitivity to aspirin and pyrazolone derivatives);
Dyspeptic disorders, internal bleeding, worsening of appetite, increased activity of hepatic transaminases;
a disorder of renal function;
anemia, leukopenia;
bleeding of the nasal mucosa, oral cavity.
If any of the listed signs appear during the treatment with the drug, then taking the pills should be stopped and consulted with the doctor.
[2]
Dosing and administration
Uppsarin Oopsa is indicated for admission by adult patients and children, starting at the age of 15 years.
Tablets are taken orally, previously dissolved in warm water (150-200 ml), 1 pc. Up to 6 times a day. Expressed pains are stopped by taking two tablets at the same time, however, in this case, the daily amount of the drug should not be more than six tablets.
For elderly people, the daily amount of the drug is limited to 4 tablets.
The optimal time interval between taking the tablets is 4-5 hours.
The duration of use of the medication is no more than 5 days (unless the doctor has appointed otherwise).
Overdose
Signs of an overdose of Uppsarin Oopsa may be manifested by CNS excitement, headache, dizziness, deterioration of auditory and visual function, nausea, rapid breathing. In severe cases, there is a disorder of consciousness up to a coma, difficulty breathing, dehydration.
If the patient has similar symptoms, then in this case it is recommended to wash the stomach (or cause profuse vomiting), removing the remnants of the drug from the digestive system, then take the sorbent and laxative drug. Further treatment is carried out by a doctor in a hospital.
[3]
Interactions with other drugs
Uppsin Oopsa can exacerbate toxic effects:
methotrexate;
narcotic analgesics;
other non-steroid preparations;
internal hypoglycemic agents;
medicines based on heparin;
anticoagulants of indirect action;
sulfanilamide preparations;
means, lowering blood pressure;
diuretic drugs;
thrombolytic enzymes;
triiodothyronine.
The simultaneous administration of Uppsarin Upsa with glucocorticosteroid preparations or alcoholic beverages increases the risk of damage to the gastric mucosa and other parts of the digestive tract.
Combination with antacids based on magnesium or aluminum makes it difficult to assimilate Uppsarin Oops.
Storage conditions
Packed tablets are stored in a room environment, away from children's access and direct light sources.
Attention!
To simplify the perception of information, this instruction for use of the drug "Uppsarin Oopsa" translated and presented in a special form on the basis of the official instructions for medical use of the drug. Before use read the annotation that came directly to medicines.
Description provided for informational purposes and is not a guide to self-healing. The need for this drug, the purpose of the treatment regimen, methods and dose of the drug is determined solely by the attending physician. Self-medication is dangerous for your health.