Medical expert of the article

х
All iLive content is medically reviewed or fact checked to ensure as much factual accuracy as possible.
We have strict sourcing guidelines and only link to reputable media sites, academic research institutions and, whenever possible, medically peer reviewed studies. Note that the numbers in parentheses ([1], [2], etc.) are clickable links to these studies.
If you feel that any of our content is inaccurate, out-of-date, or otherwise questionable, please select it and press Ctrl + Enter.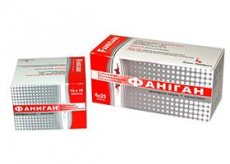 Anti-inflammatory and antirheumatic means Fanigan refers to non-steroidal drugs based on diclofenac. The received encoding ATC: M01A B55.
Indications of the fanigan
Fanigan can be appointed to relieve the pain of a different nature:
inflammation and destruction of tissues due to arthrosis, rheumatoid arthritis, spondylosis, spondylitis, bursitis, myositis, tendovaginitis;
with pathologies of the spine;
with gouty paroxysmal pain;
with injuries, damage to ligaments, soft tissues, muscles;
with postoperative pain;
with migraine;
with colic pains;
for the relief of pain during menstruation, with inflammatory diseases of the reproductive organs;
with pain associated with otitis, angina;
for relief of pain associated with dental problems;
with neuritis, sciatica;
with soreness in the muscles after physical overload.
[1], [2]
Pharmacodynamics
Fanigan has a combined action, encompassing several directions:
eliminates inflammation and swelling of tissues;
relieves pain;
lowers the temperature.
The properties of the drug are explained by the action of the active ingredients, which are paracetamol and diclofenac.
As is known, diclofenac is characterized by anti-inflammatory and analgesic ability. The main properties of paracetamol are anesthesia, lowering of temperature, elimination of edema and inflammatory reaction.
The general scheme of the impact of Fanigan is associated with the suppression of prostaglandin production.
Pharmacokinetics
Diclofenac has a good degree of digestibility: the maximum possible content of the drug in the blood serum is detected after about 1.5 hours. The substance is sufficiently ingested into tissues and biological fluids, where its concentration increases slowly, within 4 hours.
The level of paracetamol in the blood serum increases, reaching a maximum for 30-60 minutes. Half-life may last up to 4 hours.
Fanigan and its components do not have the ability to accumulate in the body.
Use of the fanigan during pregnancy
The consumption of Fanigan inside pregnant and nursing patients is contraindicated. This drug can provoke the following complications:
early closure of Botallov duct;
pulmonary hypertension;
absence of a normal tone of the uterus;
decreased urinary output;
anhydration.
In addition, with the reception Fanigan there is a danger of fluid accumulation in the tissues and the development of uterine bleeding.
Contraindications
Before you start taking the drug Fanigan, you should see a list of possible contraindications:
the likelihood of an allergic response to the components of the medicine;
ulcers, erosion, bleeding in the stomach;
intolerance to non-steroidal anti-inflammatory drugs;
acute or recurrent ulcer disease;
disorders of blood coagulability, hemostasis, hemopoiesis;
severe violations of the liver and kidneys;
insufficiency of cardiac activity with stagnation;
myocardial ischemia, previous myocardial infarction;
persistent lowering of hemoglobin, blood disease;
ulcerative and inflammatory bowel pathology;
chronic alcohol intoxication;
pathology of peripheral vessels;
cerebrovascular disease.
Side effects of the fanigan
During the treatment of Fanigan, some unwanted symptoms may appear:
anemia, agranulocytosis, thrombocytopenia, methemoglobinemia, leukopenia;
allergic manifestations;
redness of the skin, itching, dermatitis, hair loss, photosensitivity of the skin;
agitation, apathy, sleep disorders, anxiety, mood swings;
pain in the head, fatigue, numbness of limbs, trembling in the limbs, convulsions, general discomfort;
deterioration of vision;
sensation of noise or ringing in the ears;
heart palpitations, heart pains, blood pressure changes, difficulty breathing;
shortness of breath, chest pain, bronchospasm;
nausea, stool disorders, stomach pain, gastric bleeding, inflammatory diseases of the digestive organs;
abnormal liver function;
hematuria, nephritis;
hypoglycemic syndrome;
edema, hyperhidrosis;
decreased libido.
Dosing and administration
The scheme of reception Fanigan often has an individual character and is appointed by the doctor strictly according to the indications.
Treatment should not be long, and dosages are selected minimum.
On average, for adult patients and children after 14 years of age, a therapy regimen is recommended:
dosage - 1 tab. Up to 3 times a day after meals;
the interval between tablets is at least 4 hours;
duration of therapy - maximum 5 to 7 days.
Children 14 years and adults should not take more than 3 tablets. Per day, and the limiting course of treatment only in rare cases can exceed three days.
[34], [35]
Overdose
Overdose Fanigan may be accompanied by such manifestations:
pain in the head, indigestion, oppression of consciousness, fatigue, cramps;
pallor, abdominal pain, emaciation, liver and kidney damage.
With such signs, treatment should be administered immediately, without the use of forced diuresis and hemodialysis. Usually, symptomatic and supportive therapy is prescribed, during which antihistamines, glucocorticosteroids and drugs with ethacrynic acid are avoided, since they can increase the toxic load not the liver.
Interactions with other drugs
Fanigan is able to increase the content of lithium or digoxin in the serum.
 In combination with diuretics and antihypertensive agents, hypotensive action can be inhibited. Therefore, it is desirable to monitor blood pressure during treatment, and also to consume a sufficient amount of fluid.
Simultaneous treatment with other non-steroid drugs and corticosteroid hormones can increase the load on the digestive system.
Do not use at one time Fanigan and funds that impair blood coagulation, because of the danger of bleeding.
During treatment with the drug Fanigan patients with diabetes should be more carefully monitor the level of glucose in the blood.
Weaken the action of Fanigan such drugs as Rifampicin, St. John's Wort, Cholestyramine, Carbamazepine.
Do not combine Fanigan and the reception of alcoholic beverages, as well as drugs on an alcohol basis.
Attention!
To simplify the perception of information, this instruction for use of the drug "Fanigan" translated and presented in a special form on the basis of the official instructions for medical use of the drug. Before use read the annotation that came directly to medicines.
Description provided for informational purposes and is not a guide to self-healing. The need for this drug, the purpose of the treatment regimen, methods and dose of the drug is determined solely by the attending physician. Self-medication is dangerous for your health.