Medical expert of the article

х
All iLive content is medically reviewed or fact checked to ensure as much factual accuracy as possible.
We have strict sourcing guidelines and only link to reputable media sites, academic research institutions and, whenever possible, medically peer reviewed studies. Note that the numbers in parentheses ([1], [2], etc.) are clickable links to these studies.
If you feel that any of our content is inaccurate, out-of-date, or otherwise questionable, please select it and press Ctrl + Enter.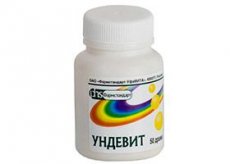 Multivitamin complex, encoding ATC A11B A.
Multivitamins Undevit can be purchased at pharmacies without a prescription.
Indications of the undeeth
Undevit can be appointed:
for prevention and elimination of a lack of vitamins;
with insufficient nutrition, with forced diets, intolerance to certain foods;
with increased demand for vitamins (for example, during or after pregnancy, during puberty, etc.);
with excessive physical and mental stress;
in periods of recovery from surgery, illness, injury, etc .;
simultaneously with chemotherapeutic treatment;
to support the body in ARI and ARVI;
to accelerate metabolism and increase endurance of the body.
Release form
Undefit is available in the form of a globular, yellow-colored dragee with a pleasant, specific flavor. Appearance of dragees: without impregnations, homogeneous shade.
The composition of each pills is presented:
retinol palmitate and acetate (Vit. A);
tocopherol (Vit. E);
vitamins B1, B2, B6, B12;
ascorbic acid;
nicotinamide;
folic acid;
routine;
vitamin B5.
The drug is released in plastic jars containing 50 pcs. Pills.
Pharmacodynamics
Undevit is a carefully selected complex of vitamins necessary for the body.
The properties of the medicament are determined by its composition. Water-soluble and fat-soluble vitamins normalize metabolism in tissues, improve cell nutrition and enzyme activity. Thanks to the regular intake of the drug, all body structures stabilize, immunity increases.
Antioxidants - vitamins A, E and ascorbic acid - help to keep homeostasis even in the event of a disease.
The vitamin complex as a whole improves adaptation processes and the function of the nervous system, stabilizes the work of endocrine glands, which can be violated due to age-related changes.
Pharmacokinetics
After oral administration Undevit, useful substances are absorbed qualitatively in the small intestine. Getting into the system of blood circulation, vitamins get to all organs and systems. Metabolic remains of the body displays with urinary fluid and bile.
Use of the undeeth during pregnancy
The drug Undevit is approved for admission during the planning period of conception, as well as to support the pregnancy that has already come.
Contraindications
It is undesirable to take Undevit if there is an allergy to the composition of the medication, as well as in pediatric practice (children under 14 years of age). For children there are other special vitamin complexes with the appropriate dosage.
Side effects of the undeeth
It is extremely rare, or with prolonged admission Undevit may upset the stool, a feeling of discomfort in the abdomen, as well as manifestations of allergies in the form of dermatitis, swelling and redness of the skin. In a few cases, there was a violation of the hepatic function.
[1]
Dosing and administration
It is recommended to take undevit immediately after ingestion.
To prevent hypovitaminosis should take 1 tablet in the morning after breakfast. In the elderly, the dosage can be doubled.
For the treatment of hypovitaminosis take 2 pills after breakfast, lunch and dinner. At pregnancy it is undesirable to take more than 2 dragees in one day.
Duration of medication - up to 1 month. After 30-90 days, the course can be repeated.
[2], [3]
Overdose
If you adhere to the recommended amount of the drug, then an overdose in this case is impossible.
With uncontrolled chaotic use of Undevit, signs of elevated retinol in the body may develop, which can be manifested by drowsiness, weakness, convulsions, reddening of the face, dyspepsia, pain in the head and bones.
With excessive intake of multivitamins, symptomatic therapy is used.
Storage conditions
Undevit is recommended to be stored under normal temperature conditions, away from children's access.
[7]
Attention!
To simplify the perception of information, this instruction for use of the drug "Undeeth" translated and presented in a special form on the basis of the official instructions for medical use of the drug. Before use read the annotation that came directly to medicines.
Description provided for informational purposes and is not a guide to self-healing. The need for this drug, the purpose of the treatment regimen, methods and dose of the drug is determined solely by the attending physician. Self-medication is dangerous for your health.