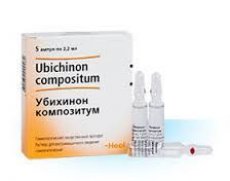 The composition of the drug ubiquinone compositum includes herbal ingredients, as well as coenzymes and quinones, mineral components, vitamins, histamine and other substances that have a positive effect in the presence of indications for taking this drug.
Indications Ubihinon compositum
Indications for use ubiquinone compositum:
psychoemotional and physical congestion;
regenerative processes in the body after any transferred infectious pathologies;
acute lack of vitamins in the body;
development of complications after radiation and chemotherapy;
acute or chronic disorders associated with a decrease in the contractility of the heart muscle;
intoxication processes;
oxygen starvation of organs and tissues;
organic damage to the heart muscle;
age factor (shown to the elderly);
recovery of the body after myocardial infarction;
the use of drugs aimed at lowering the level of cholesterol in the blood;
sexually transmitted infections;
neoplasms in an organism of various origin;
violations of the functions of the musculoskeletal system of various etiologies;
gynecological pathologies;
inflammation of chronic nature of different localization.
Pharmacodynamics
Ubihinon compositum is a homeopathic preparation that exerts detoxification, anti-inflammatory, antioxidant, immunocorrective and metabolic effects. The drug is also able to increase the tone of the uterine muscles, to have an anti-allergic effect.
The broad pharmacodynamics of ubiquinone compositum is due to the amount of components in the composition - twenty eight active substances are included in the formulation.
Dosing and administration
Method of administration and dose of ubiquinone compositum: the drug is intended for insertion into the muscle, vein, under the skin or intradermally. It is also possible intraarticular, periarticular administration of the drug or oral intake of the contents of the ampoule. To do this, the drug substance of one ampoule is diluted in fifty milliliters of water and the solution is used in small doses during the day.
Dosage for adults and for children from six years is one ampoule of the drug once or twice per seven days. Children under two years of age are assigned one fourth or one sixth of the ampoule, from two to six years - a quarter or half-ampoules.
At the beginning of therapy to reduce the severity of the symptoms of the disease, it is possible to reduce the gap between use of the drug to three administrations in seven days.
Attention!
To simplify the perception of information, this instruction for use of the drug "Ubihinon compositum" translated and presented in a special form on the basis of the official instructions for medical use of the drug. Before use read the annotation that came directly to medicines.
Description provided for informational purposes and is not a guide to self-healing. The need for this drug, the purpose of the treatment regimen, methods and dose of the drug is determined solely by the attending physician. Self-medication is dangerous for your health.