Medical expert of the article

х
All iLive content is medically reviewed or fact checked to ensure as much factual accuracy as possible.
We have strict sourcing guidelines and only link to reputable media sites, academic research institutions and, whenever possible, medically peer reviewed studies. Note that the numbers in parentheses ([1], [2], etc.) are clickable links to these studies.
If you feel that any of our content is inaccurate, out-of-date, or otherwise questionable, please select it and press Ctrl + Enter.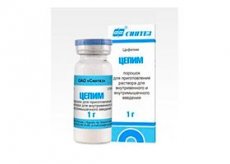 Tsepim is an antibacterial agent that belongs to the fourth generation of cephalosporin antibiotics. ATX code is J01D E01. Manufacturer - Alembic Pharmaceuticals Ltd (India)
Other trade names: Cefepime hydrochloride, Cefepime, Cefomax, Cefepime, Ladef, Maxipim, Etipim.
Indications of the tsepim
The drug Tsepim is used in severe multiresistant infections affecting the respiratory, urinary and digestive system, liver, kidneys, pelvic organs, skin, soft tissues, bones, joints. The use of the drug is effective for extensive abscesses, bacterial meningitis, peritonitis, sepsis.
Due to the high activity against Pseudomonas aeruginosa, Tsepim indications also include premedication of extensive surgical interventions to prevent postoperative purulent complications.
Release form
Sterile powder in vials for the preparation of an injection solution.
Pharmacodynamics
Tsepim has a bactericidal action against most aerobic β-lactam Gram-positive cocci and Gram-negative bacteria, as well as non-fermenting and chromosomal microorganisms, anaerobic bacteria and bacteroids.
The active substance of the preparation cefepime hydrochloride, binding to the enzyme of bacterial cell walls (transpeptidase), inactivates its participation in the synthesis of peptides of cytoplasmic membranes, which leads to stopping the division of cells of microorganisms and their lysis.
Pharmacokinetics
After parenteral administration, Tsepim enters all body fluids, binding to plasma proteins does not exceed 19%; the average therapeutic concentration in plasma is noted 12 hours after the drug is administered; bioavailability is 100%.
There is no cumulative effect, biological fluids and tissues are cleared of the active substance at an average rate of 120 ml per minute.
Biotransformation of about 85% of Tsepima occurs partly in the liver with the formation of inactive metabolites. The half-life period is approximately two hours.
Metabolites and unchanged cefepime hydrochloride are excreted by renal filtration with urine.
Use of the tsepim during pregnancy
Use during pregnancy is permissible only on indications and under the supervision of a doctor. The use of this drug during lactation requires caution.
Contraindications
Tsepim is contraindicated with hypersensitivity to antibiotics-cephalosporins and penicillins, as well as children of the first two months of life.
Side effects of the tsepim
Application Tsepim can cause side effects, which manifest hives; hyperhidrosis; headache; weakness; sleep disturbance; numbness of limbs and cramps; increased heart rate and shortness of breath; cough and sore throat; a decrease in the level of leukocytes, red blood cells and platelets in the blood.
Dyspepsia may occur; abdominal pain; diarrhea or constipation; violations of kidney function and increased levels of hepatic enzymes. In addition, there may be a development of superinfection.
[6]
Dosing and administration
Tsepim is administered mainly intravenously (slowly), deep intramuscular injection is practiced in cases of infectious diseases of the urinary tract and pelvic organs.
The standard single dose for adults and children over 40 kg weighs, depending on the severity of the condition, from 500 mg to 2 g. Injections are given every 8-12 hours, which is also determined depending on the severity of the inflammatory process. The minimum duration of the use of Tsepim is 7 days, but if necessary, treatment can be carried out for a longer time.
The dose for the use of this drug for children weighing less than 40 kg is determined from the calculation of 50 mg per kilogram.
For parenteral administration, the dose of Tepim should be dissolved in 10 ml of sterile water for injection, in a 5% solution of glucose or 0.9% solution of sodium chloride.
Overdose
An overdose of the drug can lead to various encephalopathic manifestations, including, loss of consciousness, stupor, convulsions, coma. Treatment of overdose is carried out by hemodialysis
Interactions with other drugs
Attention!
To simplify the perception of information, this instruction for use of the drug "Tsepim" translated and presented in a special form on the basis of the official instructions for medical use of the drug. Before use read the annotation that came directly to medicines.
Description provided for informational purposes and is not a guide to self-healing. The need for this drug, the purpose of the treatment regimen, methods and dose of the drug is determined solely by the attending physician. Self-medication is dangerous for your health.