Treatment of Giardiasis with Nemozole: Schemes, Analogues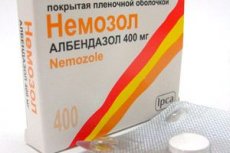 To effectively combat such intestinal parasites as lamblia (Giardia lamblia or Lamblia intestinalis), it is necessary to use anthelmintic drugs. In particular, Nemosol is widely used for giardiasis.
This antiparasitic agent belongs to the benzimidazole group, the ATX code is P02CA03; is produced by the Indian pharmaceutical company Inca Laboratories, which has FDA and MHRA certificates.
Other trade names (synonyms) of Nemosol: Albendazole, Aldazol, Gelmadol, Centel.
Indications of the nemosola with giardiasis
In addition to giardiasis in adults and children, Nemozol is used in the treatment of invasions of nematodes, cestodes and trematodes that cause, ascariasis, trichinosis, ankylostomiasis, enterobiasis, opisthorchiasis, teniosis and other parasitic diseases.
This drug is used in the therapy of mixed helminthiases, as well as in cases of tissue parasitic cysts, formed by echinococci, and larvae of porcine tussle of neurocysticercosis developing during CNS involvement.
Pharmacodynamics
The pharmacological action of Nemosol is provided by the anthelmintic compound of benzimidazole with carbamate (albendazole), which irreversibly breaks the glycogen metabolism in adult Diplodonated protozoans Giardia lamblia (as well as in nematodes and cestodes), preventing the absorption of glucose. The drug has a harmful effect on the cells and mitosomes of lamblia, since it reduces the production of protein components forming the cytoskeleton of their intestinal tract to a critical level. And the inhibition of ATP production leads to inhibition of all life-supporting processes and prevents the formation of fertilized eggs.
Pharmacokinetics
Due to the poor solubility of albendazole after administration of Nemosol, no more than 5% of the active substance enters the bloodstream from the gastrointestinal tract. However, increasing the absorption of the drug in a fivefold amount can eat foods that contain a lot of fat.
The binding of albendazole to the blood with plasma proteins is about 70%. A significant part of the drug enters the gallbladder, liver and cerebrospinal fluid.
The half-life of benzimidazole carbamate in the liver on primary active metabolites lasts 8.5 hours, after which biotransformation by oxidation continues - with the formation of secondary (inactive) metabolites in the form of sulfur-containing compounds of albendazole. The cleavage products and part of Nemosol are recovered in their original form by the intestine and kidneys - with bile fecal enzymes and urine; T1 / 2 - 8 to 12 hours.
Contraindications
Nemosol with giardiasis can not be used by everyone. Among the contraindications for this remedy include: increased individual sensitivity to albendazole, chronic insufficiency and cirrhosis of the liver, suppression of the hematopoietic functions of the bone marrow, pronounced leukopenia, retinal pathologies, children under two years of age.
Side effects of the nemosola with giardiasis
The use of Nemosol can cause such side effects:
headache and dizziness;
increased blood pressure and body temperature;
dry mouth, nausea, vomiting and diarrhea;
pain in the abdominal region;
decrease in the level of erythrocytes, leukocytes and platelets in the blood;
problems with liver and / or kidney function;
skin rashes with itching and temporary hair loss.
Dosing and administration
How to take Nemosol for giardiasis? In the form of tablets (0.4 grams each), Nemosol for giardiasis in adults should be taken whole inside (during or immediately after meals) - one tablet once a day. Dosage for children is determined from the calculation: for each kilogram of body weight of 6 mg.
How many days does Nemosol drink with giardiasis? Standard course of treatment - five days
Suspension Nemozol with giardiasis in children take 10 ml once a day, also for five days. For adults and children over 12 years of age, the dose of the suspension is 20 ml.
Interactions with other drugs
Since Nemosol promotes an increase in the rate of biotransformation of many pharmacological agents, it is not recommended to be used concomitantly with other drugs. Also, do not take Nemosol in combination with an antihelminthic drug Biltracid; corticosteroids with dexamethasone; drugs-blockers of H2-histamine receptors (Cimetidine Cinamet, Aciloc, Histodilum, etc.).
Reviews
The doctors' comments on the effectiveness of Nemosol with giardiasis are positive. For more details see -  Treatment of Giardiasis
There is also an analogue of Nemosol with giardiasis - Mebendazole (other trade names: Mebenzol, Antiox, Nemazol, Vermin, Vermox). Its active substance mebendazole (5-benzoyl-2-methoxycarbonylamino-benzimidazole) has an identical mechanism of pharmacological action.
What is better to apply, Nemozol or McMiore with giardiasis, in each case should be decided by the attending physician. Many factors are taken into account, including the fact that the dosage of Macmoror (Nifuratel) is twice as high as Nemosol and the course of treatment is longer. More useful information in the material -  Lamblia Tablets
It is important to know!
Before you determine what is the treatment of Giardiasis, we will briefly remind you of the general information about this disease.
Read more..
Attention!
To simplify the perception of information, this instruction for use of the drug "Treatment of Giardiasis with Nemozole: Schemes, Analogues" translated and presented in a special form on the basis of the official instructions for medical use of the drug. Before use read the annotation that came directly to medicines.
Description provided for informational purposes and is not a guide to self-healing. The need for this drug, the purpose of the treatment regimen, methods and dose of the drug is determined solely by the attending physician. Self-medication is dangerous for your health.