Medical expert of the article
New publications
Syrup "Doctor MOM" from a cough for children

х
All iLive content is medically reviewed or fact checked to ensure as much factual accuracy as possible.
We have strict sourcing guidelines and only link to reputable media sites, academic research institutions and, whenever possible, medically peer reviewed studies. Note that the numbers in parentheses ([1], [2], etc.) are clickable links to these studies.
If you feel that any of our content is inaccurate, out-of-date, or otherwise questionable, please select it and press Ctrl + Enter.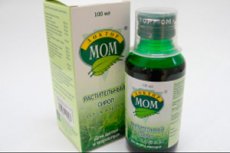 It is a medicinal product, which includes plant components. It is used to treat various types of cough, regardless of its etiology. This remedy is for symptomatic treatment. Can be part of complex therapy. As a means for monotherapy is ineffective. It is recommended to use with a dry cough, especially if it is irritating, differs thick and viscous sputum, which does not depart well and causes blockage of the alveoli and broncho-pulmonary space.
The main action is softening, anti-inflammatory, expectorant, secretory, bronchodilator, mucolytic, expectorant. The action of the syrup is based on the complete normalization of the pathological state of sputum and its relationship to the pulmonary tissue. As a result of elimination of the inflammatory process and normalization of the viscosity of sputum, its liquefaction and normalization of the cough are observed.
For more information on syrups used for children coughing, read this article.
Indications Syrup "Doctor MOM" when coughing for children
Indications for use are not only the aforementioned diseases, but also various forms of bronchial asthma, asthmatic bronchitis, alveolitis, various chronic forms of nasopharyngitis, and laryngotracheitis.
The drug is prescribed for various inflammatory processes: bronchitis, laryngitis, pharyngitis, pneumonia. Also, this syrup is recommended for the treatment of cough that occurs against the background of overstrain of the vocal cords, and also as an aid in obstructive diseases, tracheobronchitis, cardiopulmonary pathologies.
Pharmacodynamics
The main active components of Dr. Mom syrup are extracts from various parts of plants such as aloe barbados, adatode basil, elecampane, ginger, licorice ground. Also as auxiliaries are used components such as turmeric, pepper, nightshade and terminal. That is, it is a substance that perfectly combines the medicinal properties of various plants in the world - such as domestic plants such as aloe, licorice, which are known to each of us from the earliest childhood, and plants of India used to treat various respiratory diseases . In general, plants provide anti-inflammatory and antiseptic effects of drugs, which underlies the therapeutic effect of this drug.
The warming component is ginger, which is mainly used in the ground form, and which contains a large amount of essential oils and vitamin. Has a stimulating effect on the immune system, and also prevents the development of a bacterial and viral infection.
Such components as basil, pepper, elecampane, have excellent antimicrobial and stimulating properties, promotes active sputum discharge, normalization of the respiratory tract, provide reliable protection from viruses.
The drug has the ability to be rapidly absorbed from the gastrointestinal tract, has a high absorption capacity. The basic metabolism proceeds in the liver, is excreted mainly by the kidneys. It is recommended to prescribe in acute and chronic forms of the disease, especially if they are accompanied by a dry and protracted cough that is irritating. It is advisable to use with thick sputum, as the drug contributes to the formation of a more liquid phlegm, which is easily eliminated from the body.
Contraindications
There are almost no contraindications, exceptions are cases of hypersensitivity and individual intolerance of the drug, as well as components that make up the drug. It is not recommended to prescribe children under the age of three. It is also not recommended to take the drug during pregnancy during lactation. Ointment should be applied with care to patients who have mucous membrane damage and skin. Lozenges are not allowed for children under 14 years of age. It is also not recommended to take patients who are already taking other antitussive drugs. However, in combination with such drugs as lazolvan, bromhexine, ambroxol, the effect is enhanced.
Side effects Syrup "Doctor MOM" when coughing for children
Side effects are rare. In general, it is an allergic reaction, which manifests itself in the form of local rash, hives, dermatitis, eczema. Often side effects are manifested in the form of edema, angioedema, dyspeptic disorders such as vomiting, diarrhea, nausea. If you experience any of the symptoms, stop taking the medication. Usually this is enough to prevent side effects from disturbing.
Dosing and administration
Can be used for children from the age of three. The optimal dosage depends on age and ranges from 2 to 2 ml at a time. Children between the ages of three and five take 2 ml three times a day, children between the ages of 5 and 14 can receive half a teaspoon at a time, adults and children over 14 years of age are prescribed 2-3 teaspoons at a time .
Pastilles are produced in the form of round tablets (lozenges), which have different flavoring additives. Fruity, lemon, raspberry, strawberry, pineapple, orange and berry pastilles are produced. The composition includes dry plant extracts as active substances, namely: rhizome of ginger, licorice roots are naked, and also the fruits of the medicated officinalis. These substances provide a pronounced anti-inflammatory and antiseptic effect, which enhances the expectorant effect. Also in the composition of some pastilles is menthol, which has a cooling and analgesic effect, and also relieves spasms. Pastilles can be taken only by children over 14 years of age. It is recommended to slowly loosen the lozenges every 2 hours. You can dissolve no more than 10 lozenges a day. Rassassyvat simply in the mouth, or directly under the tongue.
Ointment has anti-inflammatory and antiseptic effect, it is applied externally with strong cough, colds and inflammatory diseases. Quickly removes irritation and inflammation. Apply a thin layer of ointment on the chest area, as well as the projection of the tips of the lungs (back, blade area). To enhance the warming effect of the ointment, it is necessary to apply cellophane from above and then dry heat. Also, after removal, a light massage is necessary.
Overdose
Cases of overdose are observed if the daily dosage of the drug is exceeded. Also, an overdose can be observed with prolonged and uncontrolled administration of medicines, since they can accumulate in the body for a long time. There may also be an overdose in cases of abnormalities in the excretion of metabolites by the kidneys and the liver. Also, cases of overdose are often observed when a child drinks a large amount of syrup, as it is often pleasant enough to taste.
As a rule, an overdose manifests itself in the form of allergic reactions, nausea, vomiting, diarrhea. We need to see a doctor as soon as possible (call an ambulance). Usually, an overdose requires hospitalization, during which the complex therapy is carried out, aimed at removing the toxins of their body, neutralizing drugs, as well as further recovery of the body. The basis of therapy is detoxification therapy. An equally dangerous complication is Quincke's edema, which can constantly progress. This is an anaphylactic reaction that develops immediately. Especially often this type of reaction occurs in children under 3 years of age, so children at this age are not recommended to give this medication. Cough syrup for children Dr. Mom is recommended to take in the age of 3-4 years.
It is important to know!
Many painful conditions begin with such a sign as a dry cough. Therefore, when starting treatment, most people first of all try to get rid of a cough - that is, from the most bothersome symptom.
Read more..
Attention!
To simplify the perception of information, this instruction for use of the drug "Syrup "Doctor MOM" from a cough for children" translated and presented in a special form on the basis of the official instructions for medical use of the drug. Before use read the annotation that came directly to medicines.
Description provided for informational purposes and is not a guide to self-healing. The need for this drug, the purpose of the treatment regimen, methods and dose of the drug is determined solely by the attending physician. Self-medication is dangerous for your health.