Medical expert of the article

х
All iLive content is medically reviewed or fact checked to ensure as much factual accuracy as possible.
We have strict sourcing guidelines and only link to reputable media sites, academic research institutions and, whenever possible, medically peer reviewed studies. Note that the numbers in parentheses ([1], [2], etc.) are clickable links to these studies.
If you feel that any of our content is inaccurate, out-of-date, or otherwise questionable, please select it and press Ctrl + Enter.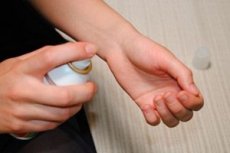 Ointments, cream and Panthenol sprays from burns are effective external agents that promote the regeneration of burned tissues in areas exposed to destructive effects of high temperatures, chemicals or sun rays.
Ointment or cream Panthenol from burns, intertrigo, cracks and other skin lesions is available under the trade names: Dexpanthenol, D-Panthenol, Bepanten, Bepanten plus (with chlorhexidine), Pantoderm, Pentesol.
[1]
Indications of the panthenol for the treatment of burns
In addition, that physicians recommend using Panthenol for burns, the indications for the application of all of the listed forms of this remedy include:
skin irritation;
acne;
abrasions, scratching, rubbing, intertrigo and pressure sores;
cracking of the skin of different localization and etiology, as well as nipple tics in breast-feeding women;
dermatoses of various etiologies, contact dermatitis (including so-called children's diaper dermatitis);
eczema (idiopathic) on the erythematous and papular stages;
trophic ulcers;
treatment of superficial wounds healing by scarring (to stimulate epithelization), as well as deeper wounds covered with a skin flap or graft (for the purpose of better engraftment).
Pharmacodynamics
Active ingredient included in ointment, cream, gel or spray from burns Panthenol - dexpanthenol - is a soluble derivative of provitamin B5, which is pantothenic acid. This acid is important for hematopoiesis (hemoglobin synthesis), immunity (development of antibodies), intracellular and general metabolism. Pantothenic acid is indispensable for the synthesis of coenzyme acetylation - coenzyme A (CoA), which provides a variety of biochemical processes in the body, including repair and regeneration of damaged tissues.
After using any form of Panthenol from burns, dixpananthol is absorbed into the upper layers of the skin where an interstitial reaction takes place converting it into pantothenic acid. Local increase in the concentration of vitamin B5 causes: the activation of metabolism in cells of the epidermis, subcutaneous tissue and mucous membranes; acceleration of the formation of new cells in exchange for damaged cells; stimulation of collagen production.
As a moisturizing agent, dixpanthenol stabilizes the barrier function of the skin, increasing its hydration. In addition, Panthenol ointment from burns has anti-inflammatory and antipruritic effect, reduces hyperemia.
Contraindications
Ointments, creams, gels and spray Pantenol from burns only one contraindication - increased sensitivity to substances. There are no contraindications for their use during pregnancy and breastfeeding, as well as in pediatric practice (beginning with the period of newborns).
Side effects when using Panthenol (skin rash and itching) are rare - due to the absence or minimal adsorption to the bloodstream of an active pharmacological component of ointment, cream or gel.
Dosing and administration
Ointment, gel or cream D Panthenol from the burn (Penthenol) should be worn up to four times a day in a damaged place (the skin should be dry).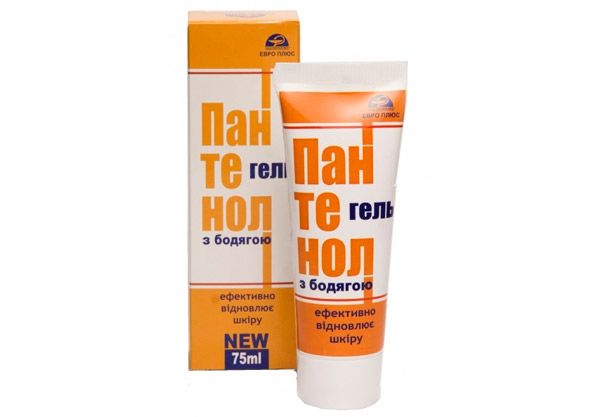 Spray from burns Panthenol, Bepanten or Pantesol is applied to the skin by spraying (2-3 times per day). And in both cases, an overdose of this drug was not noted by the manufacturers.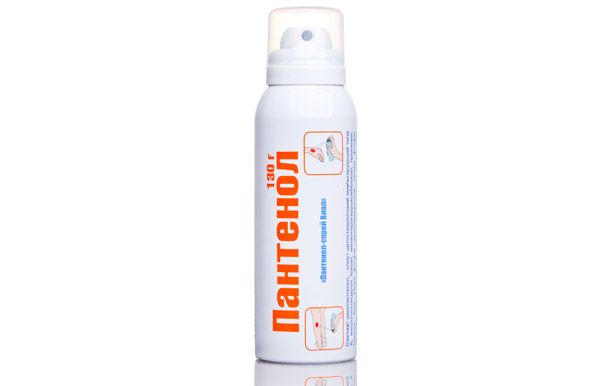 Also, its interaction with other drugs was not noted.
[21], [22]
Analogues of Panthenol from burns should contain substances, the action of which is similar to the action of dexpanthenol. To such substances it is possible to carry oil of wheat sprouts, royal jelly, propolis. Also Panthenol from burns can replace liniment aloe; ointment Solcoseryl; cream-balsam Rescuer; ointment, cream or gel Actovegin
[32]
Attention!
To simplify the perception of information, this instruction for use of the drug "Panthenol from burns" translated and presented in a special form on the basis of the official instructions for medical use of the drug. Before use read the annotation that came directly to medicines.
Description provided for informational purposes and is not a guide to self-healing. The need for this drug, the purpose of the treatment regimen, methods and dose of the drug is determined solely by the attending physician. Self-medication is dangerous for your health.