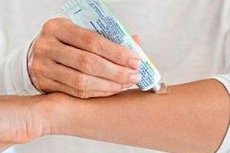 Ask any doctor if Levomecol ointment can be used for burns, and you will get an unambiguously positive answer.
Indications of the levomecol for burns
Both in surgical practice, in the burn departments, and in dermatology, this effective combination is widely used, indications for the use of which include treatment of not only burns of the first and second degree, but also freshly infected and paralyzed wounds, frostbite, inflammatory diseases of the skin and subcutaneous tissue furuncles, carbuncles), trophic ulcers and heavy bedsores.
Pharmacodynamics
Pharmacodynamics of Levomecol ointments is based on a combination of the mechanism of action of its bacteriostatic antibiotic levomycetin (chloramphenicol) and non-steroidal anabolic methyluracil (2,4-dihydroxy-6-methylpyrimidine).
Active against many strains of microbes levomitsetin (in 1 g of ointment, its content is 0.0075 g), binding to the ribosomes of bacteria, suppresses the formation of nucleic acids in their cells and disrupts their transfer to the ribosomes. That is, the protein synthesis is suppressed, which leads to the cessation of bacterial growth and their aggression on the damaged and inflamed skin areas.
Methyluracil (0.04 g in 1 g of ointment) makes Levomecol with burns at the same time a regenerating agent, since this substance:
enhances metabolic processes and trophism in tissues,
promotes the formation of new cellular structures in place of damaged or necrotic (by stimulating the proliferation of epidermal cells in the area of damage);
stimulates healing by activating cellular and molecular factors of immunity (T-lymphocytes, T-helpers, phagocytes, gamma-interferon).
In addition, methyluracil reduces the intensity of inflammation in burns due to a decrease in the action of enzymes-catalyzers of proteolysis (intracellular decomposition of proteins).
The use of Levomecol ointment with burns gives a positive therapeutic effect also because the basis of this agent is not fatty, but polyethylene glycol (hydrophilic polyethylene oxide). Firstly, it allows active substances to penetrate more deeply into burnt tissues without damaging the intercellular membranes, and secondly, the burn wound is not covered by a sealed film and exudate outflow and excretion of pus does not interfere.
It is important to know!
Less often the burn becomes the result of inaccurate treatment of wax suppositories - for example, when visiting a church or on a New Year's holiday.
Read more..
Attention!
To simplify the perception of information, this instruction for use of the drug "Levomekol with burns" translated and presented in a special form on the basis of the official instructions for medical use of the drug. Before use read the annotation that came directly to medicines.
Description provided for informational purposes and is not a guide to self-healing. The need for this drug, the purpose of the treatment regimen, methods and dose of the drug is determined solely by the attending physician. Self-medication is dangerous for your health.