Medical expert of the article

х
All iLive content is medically reviewed or fact checked to ensure as much factual accuracy as possible.
We have strict sourcing guidelines and only link to reputable media sites, academic research institutions and, whenever possible, medically peer reviewed studies. Note that the numbers in parentheses ([1], [2], etc.) are clickable links to these studies.
If you feel that any of our content is inaccurate, out-of-date, or otherwise questionable, please select it and press Ctrl + Enter.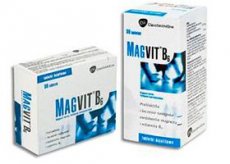 Treatment and prophylactic medication Magvit B6 is a combination of an element of magnesium and a vitamin substance pyridoxine. Means refers to vitamin-mineral complexes.
Indications of the magwith B6
Complex remedy Magvit B6 can be taken for prophylaxis:
lack of magnesium and pyridoxine;
physical and mental fatigue;
excessive nervous excitability;
depressive states;
sleep disorders;
seizures and muscle pain;
atherosclerotic changes in the vessels;
myocardial infarction.
 In addition, Magvit B6 is prescribed for treatment:
hypomagnesemia (due to bad habits, abuse of laxatives and contraceptives);
cardiovascular pathologies (hypertension, cardiac insufficiency, heart rhythm disturbances);
osteoporosis and bone integrity disorders.
 Also Magwit B6 can be used to develop stress resistance of the nervous system.
[1], [2]
Release form
Magvit B6 is produced in a tablet form, covered with an enteric layer of the membrane. The cell plate pack contains 10 tablets. The cardboard box contains 5 plate packs and an annotation for the use of the preparation.
Active ingredients of the therapeutic and prophylactic agent: magnesium lactate dihydrate, pyridoxine g / x.
Pharmacodynamics
The properties of Magvit B6 are explained by the action of the active components of the medication. Thus, magnesium actively participates in metabolic reactions of carbohydrates, proteins and lipids, as well as in oxidation and reduction processes. Thanks to magnesium, the production of enzymes is stimulated, the contractile capacity of the heart muscle is improved, the composition of fibrinogen and the quality of platelets are normalized.
It has been proved that magnesium deficiency is one of the triggers for the development of hypertension, spasm of the vascular walls, and the formation of kidney stones. Without this element it is difficult to imagine the normal course of neuromuscular reactions.
What role does pyridoxine play? Vitamin actively participates in amino acid metabolism, without it activation of phosphorylase, formation of serotonin and glycine is impossible. Vitamin B6 helps to function myocardium, especially in a state of hypoxia.
Among other things, pyridoxine improves the absorption of magnesium and its entry into cellular structures.
[3], [4]
Use of the magwith B6 during pregnancy
There were no reliable studies on the effect of the Magwit B6 complex drug on pregnancy. Nevertheless, the medication can be prescribed during the period of gestation, as it helps to normalize the uterine tone and improves blood circulation in the endothelial layer.
If Magvit B6 is used in pregnancy, then other complex preparations with the content of magnesium and pyridoxine must be canceled.
Independent use of the drug, without the appointment of a doctor, is unacceptable.
Contraindications
Treatment-and-prophylactic agent Magvit B6 is not recommended to take:
with a tendency to an allergic reaction;
with a significant lack of kidney function;
in phenylketonuria;
in violation of the assimilation of fructose, glucose;
with simultaneous treatment with levodopa.
 Tablets of Magvit B6 should not be offered to children under 12 years old.
[10], [11]
Side effects of the magwith B6
When taking Magvit B6, dermatitis associated with allergic sensitivity of the body can occasionally be observed.
Very rarely there were cases of diarrheal disorders, including diarrhea, increased gas production and nausea.
If the side effects are pronounced, then the medication is stopped.
[12]
Dosing and administration
Magvit B6 is taken orally without chewing or grinding. The standard dose is from 1 to 2 tablets in the morning, in the afternoon and after supper. The duration of reception is determined by the doctor.
In adolescence, pills take 1 pc. 3 times a day.
[13]
Overdose
The admission of high doses of the therapeutic-prophylactic agent Magvit B6 can lead to undesirable manifestations:
myasthenia gravis;
increased blood pressure;
pain and temporary loss of sensitivity in the limbs;
heart rhythm disturbances;
dyspnea.
As an antidote, preparations based on calcium salts can act. Without fail, the patient is washed with a stomach and sorbents are used. If possible, prevent dehydration.
Interactions with other drugs
Magivit B6 is not assigned together:
with antiparkinsonian medicinal drug Levodopa;
with drugs based on phosphates or calcium salts;
with antibiotics of the tetracycline series (reception can be carried out with a break of not less than 3 hours).
Increased need for pyridoxine during oral contraceptives, hydralysin, cycloserine.
Attention!
To simplify the perception of information, this instruction for use of the drug "Magwith B6" translated and presented in a special form on the basis of the official instructions for medical use of the drug. Before use read the annotation that came directly to medicines.
Description provided for informational purposes and is not a guide to self-healing. The need for this drug, the purpose of the treatment regimen, methods and dose of the drug is determined solely by the attending physician. Self-medication is dangerous for your health.