Medical expert of the article
New publications
Licorice in candies for coughing

х
All iLive content is medically reviewed or fact checked to ensure as much factual accuracy as possible.
We have strict sourcing guidelines and only link to reputable media sites, academic research institutions and, whenever possible, medically peer reviewed studies. Note that the numbers in parentheses ([1], [2], etc.) are clickable links to these studies.
If you feel that any of our content is inaccurate, out-of-date, or otherwise questionable, please select it and press Ctrl + Enter.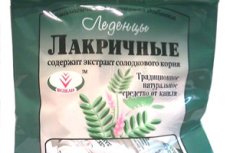 Today, various means are used to treat respiratory diseases. Most often these are different medications. But very few people know that even ordinary  licorice from a cough  can help quickly get rid of any of the duration and nature of the cough.
Candies based on licorice root can be purchased at the pharmacy, but it's better to try to cook them at home on your own.
Despite the apparent, apparent complexity, in fact cooking candies is quite simple. Their preparation is similar to the method of making candy sweets. The advantage is that they have a therapeutic effect, so they can be consumed in almost unlimited quantities, can be given to children. Lollipops can dissolve at any time, regardless of the meal. They have both curative and preventive effects on the body.
Let's consider the basic principles of cooking candies. So, you need a foundation. Caramel is used as the basis. In order to prepare caramel, you can buy a special preparation for caramel, and cook according to a traditional recipe. You can also prepare caramel completely by yourself. This requires only water and sugar. All this is mixed, melted on low heat, or a water bath. Cook with constant stirring until the caramel mass is obtained. After this, make a pre-prepared mass from the root of licorice. Boil 2-3 minutes, then remove from the fire, put in a cool place and wait until the full hardening.
The mass of licorice root is prepared as follows: take the root of licorice, wash in warm water, spread on a towel, absorbing moisture. After that, they allow the excess moisture to drain, the remnants can be soaked with a paper towel. Allow to lie on the air for about an hour, then rub on a small grater, and add to caramel.
After the caramel is ready, and completely hardens, they can be cut into pieces, or pre-poured into molds. As soon as caramel is ready - consider that the remedy for cough treatment and prevention of any origin, of any duration, is always at hand. The advantage is that caramel can be consumed at any time, even at night, or the brother with you, if you are in society. Well helps in transport, at meetings, if suddenly you are seized by a fit of coughing.
It helps to translate dry cough into moist, which will be productive, will bring relief to a person, and during which sputum is removed. This is very favorable, because it contributes to a quick recovery, a quick removal of the inflammatory process. The alveoli are freed from stagnation, the infectious process quickly disappears, the infection remains strictly localized.
Since licorice has anti-inflammatory, antiseptic properties, it promotes rapid recovery, eliminates residues, prevents the risk of relapse. Especially positively affect the body lollipops that contain, in addition to licorice root, also lemon syrup or vitamin C supplements. They contribute to the rise of immunity, have antiviral activity, stimulate a system of specific, nonspecific resistance, and also normalize the mucous membranes, including, and respiratory tract.
It is recommended to take it regularly during epidemics of influenza, viral and colds, if there is a patient with bronchitis, a viral or bacterial disease in the house, which will provide reliable prevention.
There is a wide variety of recipes for cough drops. As a basis in each of them there is a caramel base considered earlier. After melting it, add the auxiliary substances and crushed licorice roots. Stirring thoroughly, it is allowed to freeze. You can pre-pour the molds. Below will be given the main supplements that will have an additional therapeutic effect, as well as enhance the medicinal properties of the licorice itself.
Recipe number 1. Lentils with licorice root and burdock
To prepare candies in caramel mass, you must add a mixture prepared in advance from the roots of licorice and a large burdock. From licorice roots are used, from burdock - leaves and roots. Leaves are better for dry cough, because they contain a large number of flavonoids, phytoncides. This provides a reliable anti-inflammatory effect, and also significantly softens mucous membranes, skin integument. As a result, the cough calms down, the condition of the mucosa normalizes, irritation, burning occurs.
If it is necessary to exert a stimulating effect, tanning substances are used that stimulate the glands, alveoli, promote coughing, contribute to the development of the reflex reaction of the mucous membrane. This causes a cough, mainly, a wet cough, due to which the sputum is evacuated, respiratory tract and alveolar movements are released.
In addition, both leaves and roots have a diaphoretic, antipyretic effect. Burdock is used not only for diseases of the respiratory tract, but also normalizes the activity of the stomach and intestines, increases appetite, which also indirectly contributes to recovery after respiratory diseases accompanied by coughing.
Recipe number 2. Lentils with licorice root and peppermint
A wonderful tool that enhances the reflex response (cough). In this case, sputum is removed, and the main reflexes are strengthened. However, a side effect of this effect can be reddening of the throat, irritation, burning sensation.
In this case, peppermint can help, since it removes the inflammatory process, eliminates a possible allergic reaction, eliminates possible intoxication and autoimmune manifestations. However, it must be taken into account that mint is a rather specific remedy, which has many additional properties. For example, peppermint is an excellent diaphoretic that stimulates sweat glands and other receptors.
It is necessary to take into account the fact that mint is rich in phytohormones, flavonoids. These components promote rapid treatment and recovery. Due to its composition, it quickly eliminates inflammation, relieves spasms, normalizes body temperature. But there is a significant drawback - it can be used only for women, because a large number of female hormones. This negatively affects the general well-being, physical condition of the man, negatively affects the sexual function, attraction, reproductive abilities.
Recipe number 3. Lentils with licorice root and yarrow
Prepare lollipops in the standard way described above. In the caramel mass add a pre-prepared mixture of licorice root and yarrow flowers (leaves). Licorice has a positive effect on the bronchi, lungs, stimulates the mucous membranes (normalizes the state of local immunity, activates the system of nonspecific resistance).
Strengthen the properties can be with the biologically active ingredients that make up the yarrow. This plant, which is an excellent tool that is used to treat colds and viral diseases. It contains a large amount of vitamin, microelements, which quickly normalizes metabolic processes in the body. Also the advantage of this remedy is that it relieves allergy manifestations, swelling. Promotes the transition of dry cough to wet. As a result, a person recovers much faster.
It is important to know!
Honey compress is used to treat children and the elderly, since this gentle method, which does not have side effects, does not create an additional strain on the body. The degree of skin irritation is minimal.
Read more..
Attention!
To simplify the perception of information, this instruction for use of the drug "Licorice in candies for coughing" translated and presented in a special form on the basis of the official instructions for medical use of the drug. Before use read the annotation that came directly to medicines.
Description provided for informational purposes and is not a guide to self-healing. The need for this drug, the purpose of the treatment regimen, methods and dose of the drug is determined solely by the attending physician. Self-medication is dangerous for your health.