Iodine solution of alcohol 5%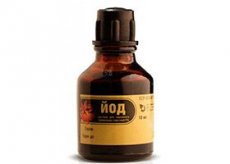 The drug of external application, has an antiseptic, irritating and distracting effect.
Components of the drug: elementary iodine - 5g; potassium iodide - 2g; water and alcohol 95% evenly to 100 ml.
Appearance: reddish-brown liquid with a specific smell.  
Pharmacodynamics
Pharmacological action is antiseptic, antimicrobial, distracting. Has a wide range of bactericidal activity, eliminates all major pathogens: viruses, bacteria, fungi, protozoa. With prolonged exposure, eliminates bacterial spores, which are the most difficult to disinfect by the form of microorganisms, damaging the walls of their cells. It shows tannic, cauterizing, irritating effects on the skin and mucous membranes. Promotes hemostatics. Absorbed, iodine affects the metabolic processes in the body, promotes the production of the hormone T4.
Side effects of the iodine solution of alcohol 5%
Treatment of the damaged epithelial layer of the skin: occasionally, an allergic reaction.
Prolonged use on the skin of a large area - possible runny nose, coughing, salivation, lacrimation, rashes (iodism). 
Ingestion can cause allergic reactions, palpitations, irritability, insomnia, hyperhidrosis, diarrhea, nausea.
Interactions with other drugs
There is a pharmaceutical incompatibility with ammonia solutions and odorous vegetable oils. 
The reaction with mercury amidochloride occurs with the formation of an explosive compound.
The disinfecting effect weakens the interaction with physiological liquids, organic compounds, alkalis, acids.
Slows down the decrease in the hormone T4 in the case of taking drugs to treat hyperthyroidism.