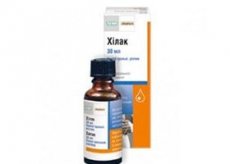 Chilak contributes to the normalization of the intestinal microflora, the pH level, as well as the balance of electrolytes and water in the intestinal lumen. In addition, the drug contributes to the restoration of the damaged epithelial layer in the intestinal wall.
Indications Hilak
Digestive disorders such as flatulence, diarrhea, constipation, excess bacterial growth syndrome; dysbiosis of the colon; during and after therapy with the use of antibiotics and sulfonamide preparations, as well as radiotherapy; Gastrointestinal disorders due to decreased acidity of gastric juice as an auxiliary therapy in the treatment of chronic allergic disorders, including eczema or urticaria.
Pharmacodynamics
Hilak contains biosynthetic lactate, which contributes to the normalization of bowel functions, which improves the process of assimilation of food, as well as the destruction of pathogenic microflora. The drug includes products of the functioning of E. Coli, as well as streptococcus and lactobacilli, which allows it to favorably affect the intestinal mucosa, restoring a healthy microflora. In addition, Hilak promotes the development of acidophilic microflora that blocks the growth of salmonella - this allows the use of the drug as a component of the complex treatment of salmonella.
Dosing and administration
Hilak must be taken before meals or during it, thrice a day. Before taking it, you need to dissolve the drops in some liquid (but not milk).
The dosage of the medicine depends on the age of the patient:
For children over 12 years of age, as well as adults, the dosage is 40-60 caps;
Children aged 2-12 years are prescribed 20-40 cap;
Newborns and children under 2 years of age can be given 15-30 cap.
After improving the patient's condition, the dose should be reduced by a factor of 2.
Attention!
To simplify the perception of information, this instruction for use of the drug "Hilak" translated and presented in a special form on the basis of the official instructions for medical use of the drug. Before use read the annotation that came directly to medicines.
Description provided for informational purposes and is not a guide to self-healing. The need for this drug, the purpose of the treatment regimen, methods and dose of the drug is determined solely by the attending physician. Self-medication is dangerous for your health.