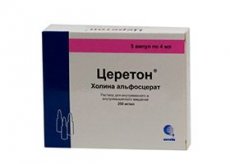 Nootropic drug, belongs to the group of cholinomimetics with a central mechanism of action. 
Release form
This drug is produced in two forms: in the form of capsules and a solution that is used for injections. Oval capsules of gelatin have a slightly yellowish-brown color. Inside of them there is a transparent or translucent liquid of oily form.
The solution is used for the preparation of intramuscular and intravenous injections. It is completely transparent.
The drug contains an active component of choline alphosetate. Additional components that are included in the preparation are: purified water and glycerol.
Pharmacodynamics
Cereton is nootropic. Has a metabolic effect through the release of choline in the brain. Owing to choline, two important substances (phosphatidylcholine and acetylcholine) are synthesized, which are located in the neuronal membranes, and the metabolic processes that occur in the central nervous system are improved. On the other side of the brain, which was damaged, the blood flow is greatly increased. There is also an improvement in the spatial and temporal characteristics of bioelectric activity in the brain. The consciousness of the patient is restored, the behavioral and cognitive reactions of the patient are improved.
It features a corrective and preventive effect on the involutionary psychoorganic syndrome, reducing the cholinergic activity of neurons and changing the amount of phospholipids in the composition of their membranes. Participates in the synthesis of phospholipid membranes, thereby improving the synaptic transmission, as well as their plasticity. 
Pharmacokinetics
Absorption of the drug is 88%. Through the GEB penetrates quite simply. If taken orally, the concentration of choline in the brain is 45%. Accumulation of the drug occurs in the lungs, brain and liver.
Lungs excrete 85% of the drug in the form of carbon dioxide, 15% of the drug is excreted through the intestines and kidneys.
Dosing and administration
If the drug is used for prevention or recovery after traumatic brain injury, hemorrhagic or ischemic stroke, then the dosage is as follows: 800 mg of the drug in the morning, 400 mg of the drug in the daytime. Duration - six months.
In other diseases, "Tsereton" is used 400 mg three times per 24 hours. Best after eating. The duration of therapy is from three to six months.
Attention!
To simplify the perception of information, this instruction for use of the drug "Cereton" translated and presented in a special form on the basis of the official instructions for medical use of the drug. Before use read the annotation that came directly to medicines.
Description provided for informational purposes and is not a guide to self-healing. The need for this drug, the purpose of the treatment regimen, methods and dose of the drug is determined solely by the attending physician. Self-medication is dangerous for your health.