Medical expert of the article
New publications
Preparations

х
All iLive content is medically reviewed or fact checked to ensure as much factual accuracy as possible.
We have strict sourcing guidelines and only link to reputable media sites, academic research institutions and, whenever possible, medically peer reviewed studies. Note that the numbers in parentheses ([1], [2], etc.) are clickable links to these studies.
If you feel that any of our content is inaccurate, out-of-date, or otherwise questionable, please select it and press Ctrl + Enter.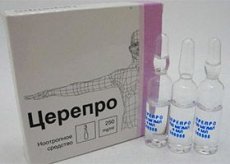 Indications of the cerepro
It is prescribed for the complex therapy of strokes, both hemorrhagic and ischemic, which occur with a marked lesion of the brain.
It is a necessary preparation for patients with circulatory insufficiency in the brain. Used to treat senile pseudomelanchia and various cognitive disorders.
Pharmacodynamics
Cerepro is a cholinomimetic of central action, it contains about 40.5% of metabolically protected choline. Due to this, this substance has its effect precisely in the brain. When the drug enters the patient's body, it begins to interact with the enzymes, and then breaks down into glycerophosphate and pure choline. Choline takes part in the biological synthesis of acetylcholine, and glycerophosphate normalizes the phospholipid structures that are located in the neuronal membrane.
Thanks to this remedy, phosphatidylcholine and acetylcholine are synthesized in the body, which help improve blood flow and strengthen metabolic processes in the central nervous system, and increases the linear blood flow on the side of the brain that was affected. In patients, the behavioral response is improved, and the space-time characteristics are normalized. The drug effectively improves the basic functions of the brain.
Pharmacokinetics
After the patient took the drug, its absorption is about 88%. Through the GEB penetrates quite easily. In the brain, the concentration of the active ingredient is 45%. Lungs remove about 85% of the substance, the rest is excreted through feces and urine.
Dosing and administration
In the acute period of the stroke, the dosage is as follows: 1 g of the drug (only a solution that is administered intravenously or intramuscularly) once every 24 hours for 10 days to 2 weeks. Next, you need to transfer the patient to take capsules (1.2 grams): two capsules in the morning and one capsule in the daytime. This course lasts about six months.
If the condition is chronic, you must take one capsule of the drug three times in 24 hours. The therapy lasts from 3 months to 6 months.
Capsules are best taken before meals.
Attention!
To simplify the perception of information, this instruction for use of the drug "Cerepro" translated and presented in a special form on the basis of the official instructions for medical use of the drug. Before use read the annotation that came directly to medicines.
Description provided for informational purposes and is not a guide to self-healing. The need for this drug, the purpose of the treatment regimen, methods and dose of the drug is determined solely by the attending physician. Self-medication is dangerous for your health.