Medical expert of the article

х
All iLive content is medically reviewed or fact checked to ensure as much factual accuracy as possible.
We have strict sourcing guidelines and only link to reputable media sites, academic research institutions and, whenever possible, medically peer reviewed studies. Note that the numbers in parentheses ([1], [2], etc.) are clickable links to these studies.
If you feel that any of our content is inaccurate, out-of-date, or otherwise questionable, please select it and press Ctrl + Enter.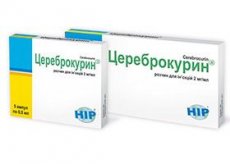 Cerebrokurin is a psychostimulant of neurometabolic action from a group of nootropic drugs that activates cognitive functions of the central nervous system. Improves intracellular synthesis of proteins in nerve cells. It is made from neuropeptides of the embryonic brain of calves. Contains unsubstituted amino carboxylic acids, peptides and polycondensed products of the controlled process of enzymatic degradation of proteins. The composition of the injectable substance in the ampoule includes cerebrocurin, solution natrii chloridi, chinosolum, aqua pro injectionibus.
[1], [2]
Indications of the cerebrokurin
Neurology and psychiatry:
diseases of the central nervous system, accompanied by a violation of intelligence and memory, a decrease in concentration, dizziness;
emotional lability;
ONMIK (by ischemic or hemorrhagic type)
Cerebrocurin include in the treatment of diseases such as:
senile dementia caused by atherosclerosis or IMC;
Alzheimer's disease;
comatose state of traumatic, toxic or vascular genesis;
at treatment of an alcoholism (cupping abstinent and delirious syndromes);
depression;
syndrome of prolonged fatigue of vascular origin;
psychoasthenic syndrome;
myoclonias of different origin;
anemia of sickle cell type;
flaccid paralysis;
headaches of various types;
vegetative vascular dystonia of various forms;
postoperative period of surgical interventions on large vessels of the brain.
Ophthalmology. Cerebrokurin helps to improve visual acuity and improve the condition of the retina when:
macular degeneration (atrophic and exudative);
post-lamellar chorioretinitis;
hyperglycemic states with high complicated myopia;
metamorphosis.
Pediatrics:
psycho-speech delay (intellectual backwardness, alalia of various origins, dyslexia);
complications with strokes of different etiology with motor aphasia;
flaccid paralysis;
Rett syndrome (Rett syndrome) - severe mental retardation of girls;
Fragile X mental retardation syndrome (Martin-Bell syndrome) - a special form of mental retardation;
encephalitis;
TBI, which caused the violation of intelligence;
permitted use in the neonatal period of life (moderate and severe forms of asphyxia, as well as hypoxia of the fetus).
Release form
A clear solution of straw color.
Active active ingredient: 1 ml of the solution contains cerebrocurin in an amount of 2 mg;
Additional ingredients: water for injection, sodium chloride 0.9%, quinazole 0.1%.
Ampoules of clear glass with a ready solution for intravenous injections of 2 ml in an amount of 10 pcs. 0,5 ml in quantity of 5 pcs. In a cardboard package, inside which is a plastic contour insert with cells.
Pharmacodynamics
Amino acid modulator Cerebrocurin has a beneficial effect on CND (central nervous activity). The main action is the enhancement of energy-generating and protein-synthesizing properties of nerve cells. Cerebrocurin affects the mitochondria, increasing their diameter, increasing their area per unit volume and promoting the resumption of glial cells in the brain, to mosaic damage caused by hypoxia. Cerebrocurin has a stimulating effect on mental activity and memory.
Neurometabolic and anabolic stimulant. Cerebrocurin reduces the concentration of certain lipids, improves the recovery of HC functions. Stimulates mental, physical and social recovery of patients with neurological and psychiatric diagnoses. Promotes the stabilization of the neurometabolic effect in genetically-conditioned diseases.
Pharmacokinetics
It is not possible to study the pharmacokinetics, because the active neuropeptides included in the formulation, exist in the form of low molecular weight protein compounds, the synthesis of which actively occurs throughout the life of the person, from birth to death.
Use of the cerebrokurin during pregnancy
Since pharamakokinetics can not be studied thoroughly, the drug is not recommended for use during pregnancy in order to avoid adverse effects on the fetus.
Contraindications
individual hypersensitivity to the drug,
increased sensitivity to its components,
pregnancy, lactation period,
epilepsy, allergic dermatitis,
autoimmune conditions,
Cerebral palsy with pronounced contractures (third degree),
Down's disease.
Side effects of the cerebrokurin
Usually the drug is well tolerated. There are cases of individual hypersensitivity to the drug. Assigning the drug to children with cerebral palsy with symptomatic epilepsy, seizures may become frequent, headaches may appear, and excessive excitement may increase. Carefully apply the drug to patients with convulsive readiness or an episodrom, while close monitoring of the hospital physician of the clinical hospital is necessary. Does not affect the speed of reaction when working with machinery or driving vehicles.
[3]
Dosing and administration
The medicine is used strictly for intramuscular use.
Adults : with a minimum course, the drug is administered 2 ml daily for a decade (20 ml). If necessary (in case of severe forms of diseases), the course of therapy can be 40 days (80 ml). Recommended for a year two or three times the appointment of repeated courses.
Children: the drug can be prescribed - in the neonatal period and up to 6 months - half a millilitre of the hourly rate, the course of therapy is 3-5 / m injections; from 6 months and up to 1 year to half a milliliter b / d, the course of therapy includes 10 injections; from 1 year to 3 years - 1-2 ml every other day, treatment course 10 injections; from 3 years and older - 2 ml every other day, a course of 10-20 injections.
Children up to the age of three, the drug is prescribed exclusively in hospital inpatient settings. Pediatricians do not recommend the use of cerebrocurin at night. Recommended repeated courses of therapy in 1-3 months.
Ophthalmology: a minimum course of therapy consisting of 10 injections (total volume of 20 ml) of 2 ml of the drug is applied.
[4]
Overdose
Considering the low toxicity of the drug, overdose cases have not been recorded.
Storage conditions
The medicine is recommended to be stored in the original factory packaging in the refrigerator at 4-10 o C, in a place inaccessible to children. Avoid direct sunlight. Do not expose to freezing! Increasing the temperature to 18-20 on the C for 4-5 hours has no negative impact on the quality of the drug.
Shelf life
24 months (the serial number and the end date of use are indicated on the label of each ampoule and carton).
[12]
Attention!
To simplify the perception of information, this instruction for use of the drug "Cerebrokurin" translated and presented in a special form on the basis of the official instructions for medical use of the drug. Before use read the annotation that came directly to medicines.
Description provided for informational purposes and is not a guide to self-healing. The need for this drug, the purpose of the treatment regimen, methods and dose of the drug is determined solely by the attending physician. Self-medication is dangerous for your health.