Medical expert of the article
New publications
Preparations

х
All iLive content is medically reviewed or fact checked to ensure as much factual accuracy as possible.
We have strict sourcing guidelines and only link to reputable media sites, academic research institutions and, whenever possible, medically peer reviewed studies. Note that the numbers in parentheses ([1], [2], etc.) are clickable links to these studies.
If you feel that any of our content is inaccurate, out-of-date, or otherwise questionable, please select it and press Ctrl + Enter.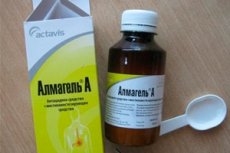 Inflammation of the gastric mucosa is a fairly common disease that requires a diet and specific medication. Among various medications, doctors often prescribe Almagel, an antacid that neutralizes the aggressive effect of stomach acid on the mucous tissue. Almagel for gastritis helps to eliminate pain and restore the internal walls of the stomach.
Indications Almagela
Almagel can be prescribed for various digestive disorders that develop against the background of malnutrition, bad habits, and regular medication. Almagel is appropriate for stomach ulcers, enterocolitis, nutritional toxico-infections, etc. [1]
Most often prescribed Almagel for gastritis with high acidity. The active ingredients of the drug neutralize and inactivate hydrochloric acid for three to four minutes from the moment of taking the drug. The duration of the drug is more than an hour.
Almagel constituents have a predominantly local effect, so the drug does not adversely affect the work of other organs.
In addition to gastritis, Almagel is often used:
at the stage of exacerbation of peptic ulcer; [2]
with reflux esophagitis, gastroesophageal reflux;
with erosion of the mucous tissues of the digestive system; [3]
at the stage of exacerbation of pancreatitis;
with heartburn and periodic pain in the stomach.
Almagel with exacerbation of gastritis in many patients becomes a means of "number one". This is due to the effective combination of the ingredients of the drug, which ensures an absorbent, antacid and enveloping effect. Moreover, exacerbation of gastritis is successfully "removed" by all varieties of this drug, including Almagel A or Neo.
Almagel for gastritis with low acidity is prescribed less often, since this drug additionally neutralizes the acidic environment. The use of Almagel A is allowed between meals, or 1-1 / 2 hours before meals.
Almagel for atrophic gastritis is prescribed in combination with other medicines that prevent pathological changes in the gastric mucosa. Almagel in this case creates a special protective coating for the mucosa, contributing to the acceleration of the healing of defects.
Almagel for gastritis and pancreatitis is prescribed before meals, so that the drug has time to act not only in the stomach, but also further along the digestive tract. It is optimal to take the drug 30 minutes before the main meal. Already starting a meal, you should additionally take special medications that facilitate the digestion of food - for example, Pancreasim, Mezim, Festal, etc. About an hour after eating, it is recommended to take Linex or Lacton to restore the digestive system. Only an integrated approach will cure gastritis and pancreatitis at the same time and effectively. Important: only a doctor can prescribe treatment. Do not self-medicate.
Release form
The active ingredients that make up the Almagel are aluminum hydroxide and magnesium hydroxide. The first compound affects pepsin production. When aluminum hydroxide and hydrochloric acid are combined, aluminum chloride is formed, and the acid is neutralized. A similar process is also found when it is combined with magnesium hydroxide, with the formation of magnesium chloride. The latter is necessary to maintain intestinal motility, which can be impaired by the influence of aluminum chloride.
Almagel is available in special bottles with a capacity of 170 or 200 ml.
In addition to Almagel for gastritis, another type of medication can be prescribed - Almagel A. This remedy has a similar composition, but there is another ingredient in it - anesthesin. Its function is the rapid relief of pain in the stomach. Almagel A helps even with severe pain, can alleviate bouts of nausea and vomiting.
Another variety of the drug is Almagel Neo. An additional ingredient in the composition is simethicone - a well-known tool that can easily cope with increased gas formation in the intestine. Almagel Neo for gastritis is prescribed when the disease is accompanied by flatulence, enhanced by the production of intestinal gases.
There is also a tablet form of the medication - Almagel T. Each tablet contains 500 mg of magaldrate (magnesium hydroxide with aluminum). Auxiliary components are mannitol, sorbitol, MCC and magnesium stearate.
Pharmacodynamics
Almagel belongs to a number of antacids - that is, it neutralizes free acid compounds in the gastric cavity, inactivates pepsin, which causes a decrease in the digestibility of the secretion. The balanced composition of the drug has an enveloping, adsorbing property, which is very important for gastritis. The gastric mucosa gains additional protection due to the stimulation of prostaglandin production (cytoprotective ability). This prevents the development of inflammatory, erosive and hemorrhagic processes when using irritating and aggressive agents - for example, ethanol, non-steroidal anti-inflammatory or corticosteroid drugs, etc.
The therapeutic effect of Almagel with gastritis is observed after 3-4 minutes. The duration of the effect is different, depending on the fullness of the stomach:
if Almagel was taken on an empty stomach, then its effect can last up to 1 hour;
if Almagel was taken within an hour after a meal, then its effect is manifested within 3 hours.
Almagel does not lead to secondary hyper production of gastric juice.
Pharmacokinetics
Almagel with gastritis practically does not have a systemic effect, since it leaves the body without absorption into the circulatory system.
Aluminum hydroxide:
it is absorbed in small amounts that do not have a clinically significant effect and do not change the concentration of aluminum salts in the bloodstream;
distribution is absent;
metabolism is absent;
excreted in feces.
Magnesium Hydroxide:
magnesium ions are absorbed in an amount of not more than 10% of the entire dosage taken, without affecting the concentration of magnesium in the bloodstream;
distribution is local;
metabolism is absent;
excreted in feces.
Use Almagela during pregnancy
The question about the use of Almagel for gastritis by pregnant women is quite controversial. Previously, special studies were conducted on rodents, as a result of which scientists did not find teratogenic or other negative effects on the fetus. But clinical trials with the participation of pregnant women have not been conducted, so it is impossible to say with confidence that the drug is completely safe.
Based on this, doctors can not recommend the use of Almagel for gastritis in pregnant patients. If there is an urgent need for taking the drug, then the treatment is carried out only under the supervision of a doctor and for no more than five or six days in a row.
There is no information about the ingestion of the active components of the drug in breast milk. Therefore, the reception of Almagel during lactation is also not welcome. Drug treatment is allowed only after careful weighing of the possible consequences and expected benefits. However, in this situation, the reception should not last more than three or five days.
Contraindications
It is not recommended to take Almagel for gastritis in such situations:
with phenomena of hypersensitivity to any of the main or auxiliary components of the medication;
in severe renal failure;
during pregnancy and breastfeeding;
with Alzheimer's disease;
with hypophosphatemia;
before the child reaches 10 years of age;
with fructose intolerance.
Side effects Almagela
Almagel with gastritis can cause difficulties with bowel movements, however, this nuisance disappears after reducing the dosage.
Dyspeptic phenomena in the form of nausea, vomiting, spastic abdominal pain, and the appearance of an unpleasant aftertaste in the mouth are rarely noted. In some patients, allergic processes, an increase in the level of magnesium in the bloodstream were recorded.
Against the background of prolonged treatment of gastritis with large doses of the drug while orally deficient intake of phosphorus from the food can develop osteomalacia.
Prolonged medication should be accompanied by regular testing and monitoring by the attending physician. With insufficient renal function, the patient may experience mood swings.
Dosing and administration
Before each reception, the bottle with Almagel must be shaken. After this, a suspension is filled with a spoon or a measuring cup and the necessary dose is taken.
How much to drink Almagel for gastritis, the dosage and frequency of admission is determined by the doctor. If there is no opportunity to visit a doctor, they start taking Almagel as follows:
children 10-12 years of age - 1-2 ml to 4 times a day;
children under the age of fifteen - 2-3 ml up to 4 times a day;
adult patients - 5-10 ml three or four times a day.
It is optimal to take Almagel for gastritis about 20-30 minutes before a meal. It is important not to carry out any physical exertion after taking the drug: it is better to lie on your side until the product works.
On average, the duration of medication is 2-3 weeks, but can be continued up to 3 months, at the discretion of the doctor.
Application for children
Doctors do not recommend treating gastritis with the Almagel medication for children under 10 years of age. If the need for such treatment is justified, then it is carried out carefully, under the supervision of the attending doctor, for a short time (3-6 days).
Overdose
A single occasional use of a large amount of Almagel is usually not accompanied by any serious symptoms. In some cases, constipation, bloating, and a taste of metal in the oral cavity develop.
If an overdose of gastritis occurs constantly, then the development of such conditions is possible:
nephrocalcinosis syndrome (diffuse deposition of calcium salts in renal structures);
difficulty with bowel movements;
hypermagnesemia;
slight drowsiness.
In some cases, there are manifestations of metabolic alkalosis:
mood swings;
ups and downs of mental activity;
muscle numbness, myalgia;
feeling of tiredness, short temper;
change in taste.
If an overdose is suspected, it is necessary to ensure the rapid removal of the drug from the body: rinse the stomach, induce vomiting, take a sorbent drug.
Interactions with other drugs
Almagel for gastritis is not advised to be taken with other drugs, since it impairs their absorption and, accordingly, levels their therapeutic effect. It is optimal to take other medicines two hours before taking Almagel, or two hours after it. The ability of the drug to neutralize acid in the stomach can adversely affect the effectiveness of most medications if they are taken together.
You can not combine a medication and any tablets and capsules with an enteric coating. Such a combination can lead to the destruction of this membrane, to irritation of the gastric walls and the mucosa of the duodenum.
Against the background of taking Almagel, you can not take tests to determine the acidity of the gastric juice. It is also inappropriate to determine the level of gastrin and phosphorus in serum, to study the pH of serum and urinary fluid.
Storage conditions
Almagel does not require specific storage conditions. It is placed in a place protected from direct light and heat, inaccessible to children and mentally inadequate people. Keep the product under temperature conditions from +10 to + 25 ° C. It is not necessary to put Almagel in the refrigerator, but it is prohibited in the freezer (the product will lose its healing properties).
Shelf life
Almagel is stored for two years and disposed of if the expiration date indicated on the package expires.
Analogs
The full analogues of the Almagel drug in its active composition are the following medicines:
Altacid;
Agiflux;
Maalox.
A similar, but more expanded composition is possessed by other drugs:
Support themselves;
Riopan;
Gastal .
Replace the drug with analogues only after consulting a doctor. This is especially important if treatment is prescribed to a pregnant or lactating woman or child. It is not recommended to replace some drugs with others on their own.
Which is better: Almagel or Maalox for gastritis?
Many questions sometimes arise about replacing drugs with their full counterparts. For example, Almagel and Maalox are two almost similar aluminum-magnesium antacids, whose action is based on the same active ingredients. But, as practice shows, some differences still exist:
the active composition of the drugs is the same, but the ratio of the number of ingredients is different;
Maalox is characterized by a smaller list of side effects and contraindications;
Maalox does not cause persistent constipation, since it has virtually no effect on the quality of intestinal motility;
additional components presented as part of one and the other means are different;
the action of Maalox is faster and longer, unlike the Almagel;
Almagel is available in several versions (regular Almagel, Almagel Neo and Almagel A), which distinguishes it from Maalox;
Maalox has a long shelf life (up to three years);
Almagel is not recommended for children under 10 years of age, and Maalox is prescribed only from the age of 15.
It is difficult to say which drug to give preference to. The doctor should answer this question more reasonably. After all, when choosing a remedy, not only the individual characteristics of the patient's body are taken into account, but also indications and contraindications.
Reviews
For most patients with gastritis, Almagel has become the drug of choice - both for the prevention of exacerbations and for their elimination. According to numerous reviews, this medication effectively alleviates the clinical signs of the disease with a predominance of pain and increased gas formation. Persistent action is detected already on the second or third day of treatment. After taking the drug four times, a sufficient neutralization of the acidic environment is maintained with a pH of the stomach in the range of 3.0-4.9 during the entire treatment period.
The only drawback of the medication is users call such a side effect as constipation. However, as clinical practice shows, difficulties with bowel movements appear after regular administration of the drug for 10-14 days. Short courses of treatment rarely cause this complication.
Almagel for gastritis is considered one of the safest means, which allows it to be prescribed to patients of different age categories. During pregnancy, its use is allowed for three days, under medical supervision. Almagel is easy to take, as it has a pleasant citrus flavor. In addition, the drug is affordable, unlike other drugs with a similar effect.
Attention!
To simplify the perception of information, this instruction for use of the drug "Almagel for gastritis" translated and presented in a special form on the basis of the official instructions for medical use of the drug. Before use read the annotation that came directly to medicines.
Description provided for informational purposes and is not a guide to self-healing. The need for this drug, the purpose of the treatment regimen, methods and dose of the drug is determined solely by the attending physician. Self-medication is dangerous for your health.