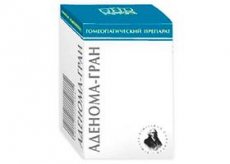 Adenoma-gran is a complex homeopathic remedy consisting of mineral, as well as plant raw materials, the combination of which creates high effectiveness of the drug.
Indications of the adenoma-gran
Granules are used to treat benign prostatic hyperplasia (at stage 1-2 of the disease), as well as accompanying pathologies of the genito-urinary organs (such as urethritis, testicular inflammation or epididymis, as well as prostatitis in the chronic stage, besides cystitis, etc.).
Pharmacodynamics
Adenoma-gran is prescribed for urinary disorders and improves the urinary process. Normalizes the indicator of the level of estrogens. The drug slows the development of prostate adenoma - affecting the pathogenetic links, stabilizes the functional activity of the prostate, eliminates imbalance of hormones, improves testicular function, and also stabilizes testosterone levels.
Acts as an antispasmodic, affecting the prostate area of the urethra, muscle fibers in the ducts of the prostate, as well as the neck of the urethra. All this allows us to eliminate the dynamic element of obstruction, restore its shape, prevent the inflammatory process that occurs as a result of stagnation of urine.
Possessing nonspecific anti-inflammatory effect, can be used as a prophylaxis of inflammatory processes in the organs of the genitourinary system. Reduces venous congestion inside the pelvic organs, improving microcirculation of blood, which is carried out in the tissues of the prostate, normalizing the trophic process, and also reducing the violation in the stroma and parenchyma of the prostate. All this helps to stabilize the functioning of this body. Prevents further development of adenoma.
Dosing and administration
When using the pellet, it is necessary to place it under the tongue. It is necessary to keep the medicine until it is completely absorbed. Use should be either before eating (for 15-20 minutes), or after (after 1 hour). If necessary, the drug can be slightly dissolved in plain water.
The dosage is 5 granules, which must be taken every day in the evenings in the period of 2-2.5 months. To get a lasting effect, after a 2-week break, you need to repeat the treatment course.