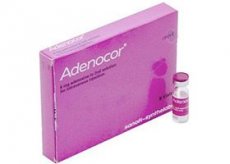 Adenocor has an antiarrhythmic effect on the body. Used to stabilize metabolic processes in the myocardium.
Indications of the adenocore
Adenocor should be used in such cases: to stop paroxysmal SVT (including in the syndrome of Wolff-Parkinson-White); as an auxiliary drug in the process of cardiac diagnosis (for procedures such as two-dimensional echocardiography, scintigraphy, and the location of the AV block).
Pharmacodynamics
The drug has an antiarrhythmic effect (mainly in the development of supraventricular tachyarrhythmias). Reduces the speed of AV-conduction and automation of the sinus node, increases the refractivity of the AV node, and is also able to interrupt the path of the mechanism of re-entry in the AV node. Has vasodilator and coronary expansive properties. In some cases (often due to slow intravenous infusion) may cause a drop in blood pressure. It is believed that most of the effects of the drug arise due to activation of the activity of specific adenosine receptors. The medicine begins to act on the body immediately.
Side effects of the adenocore
Among the side effects of the drug: blurred vision, headache and dizziness, tachycardia, pain in the heart, bradycardia, nausea, AV blockade (varying degrees of severity). In addition, spasms of the bronchi, hyperventilation, increased sweating, a taste of metal in the mouth, as well as pain in the neck, back and hands.
Attention!
To simplify the perception of information, this instruction for use of the drug "Adenocore" translated and presented in a special form on the basis of the official instructions for medical use of the drug. Before use read the annotation that came directly to medicines.
Description provided for informational purposes and is not a guide to self-healing. The need for this drug, the purpose of the treatment regimen, methods and dose of the drug is determined solely by the attending physician. Self-medication is dangerous for your health.