Medical expert of the article
Vitamins for women after 50 years

х
All iLive content is medically reviewed or fact checked to ensure as much factual accuracy as possible.
We have strict sourcing guidelines and only link to reputable media sites, academic research institutions and, whenever possible, medically peer reviewed studies. Note that the numbers in parentheses ([1], [2], etc.) are clickable links to these studies.
If you feel that any of our content is inaccurate, out-of-date, or otherwise questionable, please select it and press Ctrl + Enter.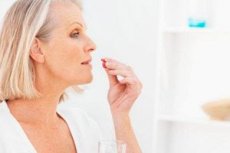 In order to delay the arrival of old age, to improve the appearance of the skin, to prevent the development of wrinkles, women after 50 years of age need special mineral and vitamin complexes. It is at this age, even a small deficit of some substances, can not only accelerate the aging process, but also cause the development of serious diseases.
Indications of the vitamins for women after 50 years
To get a positive therapeutic result, women after 50 years of age are recommended to undergo a course of vitamin therapy twice a year. Experts consider the best time for admission to fall and spring, when the body is preparing for the winter or is greatly weakened. But there are cases when the body can not independently receive the necessary doses of vitamins and doctors prescribe medication throughout the year.
Among the main indications for the use of vitamin complexes is:
Thin skin.
Rapid appearance of new wrinkles.
Strong hair loss, poor scalp and hair follicles.
Nervousness and frequent mood changes.
Constant pain in bones and joints.
Fast fatiguability.
[1], [2]
Release form
Most manufacturers produce vitamin complexes for women in the form of tablets. They are easily swallowed, have no serious side effects. In addition, one tablet contains the necessary single dose of vitamins, so taking these medications is simple and safe.
Names of vitamins after 50 for women
Alpha-White 50+. Vitamin-mineral complex consists of carotenoids, nine minerals and 13 vitamins, which are necessary for every woman that has crossed the boundary of 50 years.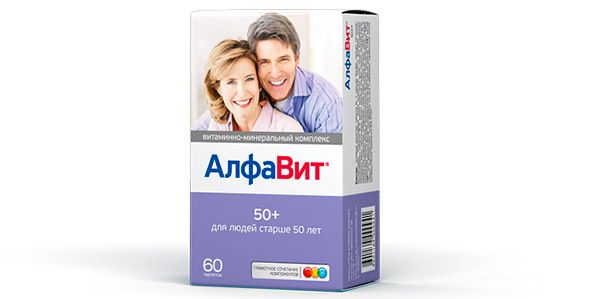 The recommended dose is 1 tablet 3 times a day. Each time you need to drink capsules of different types. Consistency is not important. Must be eaten during meals. The duration of the course is a month. Before you start taking the drug should consult a doctor.
Patients who have been diagnosed with thyroid hyperfunction or intolerance to components of the vitamin complex are not allowed to take this medication.
The complex includes: iron, zinc, magnesium, calcium, vitamins of group B (B1, B6, B9, B12), vitamin A, vitamin E and vitamin C.
Vetoron. The medicine is based on the active components of beta-carotene, vitamin A, vitamin E and vitamin C. It helps to strengthen immunity and fights with the first signs of aging.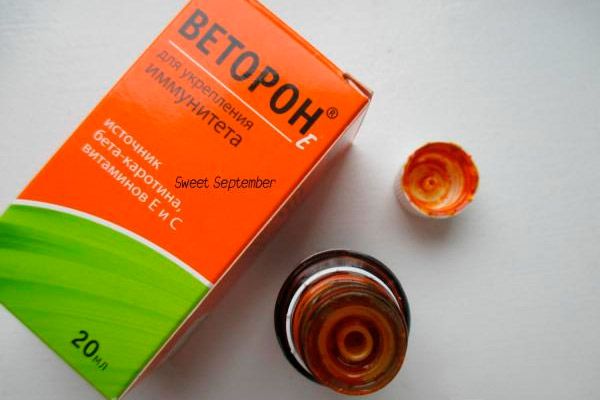 This drug is immune-modulating, antioxidant, radioprotective, anti-inflammatory and adaptive. Issued in the form of a drop. It is recommended to take 30 drops 2 times a day. The duration of the course is up to 4 weeks.
In case of allergic reactions to components that make up Vetorone, it is not recommended to take this medication. It can in rare cases cause yellowing of the skin, which passes after refusing to take.
Vitasharm. The drug is based on nicotinamide, retinol acetate, calcium pantothenate, pyridoxine, riboflavin and thiamine. Due to the complex effect of these substances, the drug helps to slow the aging of the skin, improves regeneration in the dermis and epidermis, and has an anti-inflammatory effect.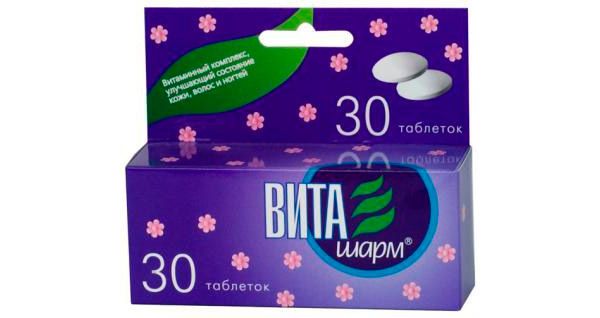 Take the tablets recommended inside, after a meal, with plenty of liquid. Eat 1 tablet a day. The duration of the course is a month. After consultation with a doctor, a second course of treatment can be carried out.
Vitacharm is forbidden for use in pancreatitis of chronic form, cholelithiasis and intolerance of its components. It can cause the development of nausea, allergies, rashes on the skin.
Merz. A drug based on the active components of cystine, retinol acetate, beta-carotene, nicotinamide, thiamine mononitrate, ascorbic acid, pyridoxine hydrochloride, riboflavin, cyanocobalamin, biotin, alpha-tocopherol acetate, calcium pantothenate, colcaciferol, iron fumarate and yeast extract.
It is recommended to take 1 pills 2 times a day (best in the morning and evening). It is forbidden to use to patients with intolerance to drug components and overdose of vitamins D, A. The intake of this vitamin complex may in some cases lead to allergic reactions that occur after refusing to take the pills.
Vitamin E
Doctors call vitamin E the most "female" of all vitamins, because it helps to improve the skin of the face, make it smooth, silky and pleasant to the touch. With age, the amount of this vitamin in the body is significantly reduced. It is also considered a strong antioxidant, so its main task is to protect the heart and blood vessels. Vitamin E takes part in improving mental and nervous activity.
After 50 years, a woman is in great need of this vitamin. Therefore, it is recommended to introduce into your daily diet products that include it: nut, soy, peanut and mustard oil. You can also get a daily dose when taking vitamin complexes.
Vitamin D
Thanks to vitamin D, a woman after 50 years old can maintain her skin in perfect condition. It helps to retain a sufficient amount of moisture, improves the elasticity and elasticity of the skin, and also takes a direct part in the development of calcium, which is very important in the pre-menopausal age.
To receive a sufficient amount of vitamin D, women in old age are recommended to eat the following foods: egg yolk, caviar, dairy products, mushrooms, fatty fish. It is also very important to stroll in the sun, as vitamin D begins to be synthesized by the body under the sun's rays.
Vitamin C
With age, ascorbic acid gets the status of not just an important, but vitally important vitamin for the female body. Thanks to vitamin C, the level of "good" cholesterol in the blood rises. Experts also believe that this vitamin helps to produce collagen, which in turn strengthens the bones and smooths the wrinkles.
In order to ensure that your body receives a sufficient amount of vitamin C, it is recommended to consume enough parsley, citrus and white cabbage.
Vitrum Vitamins
The manufacturer offers for women after 50 years of vitamin Vitur. They are designed specifically for all the features of this age group. Why is it recommended to use this medicine?
To prevent hypovitaminosis.
To prevent deficiency of necessary minerals.
To improve mental abilities.
In the elderly, if a person eats incorrectly.
Take Vitrum Centuri you need 1 tablet a day. The duration of the course is 3-4 months. If necessary, and after consulting a doctor, the course can be repeated.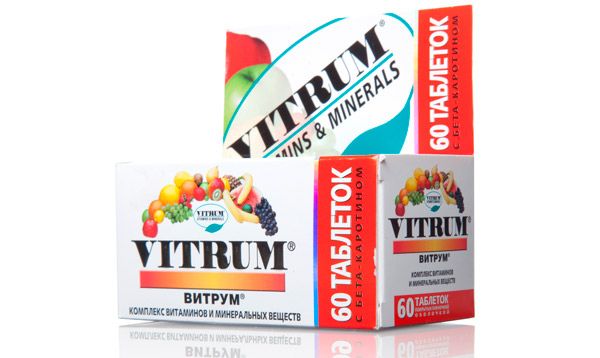 Vitrum consists of vitamins of group D, vitamin A, vitamin E, folic acid, vitamin C, vitamins from group B, biotin, nicotinamide, pantothenic acid, potassium, calcium, vitamin K1, iodine, phosphorus, nickel, chlorides, manganese, molybdenum, tin, selenium, silicon, nickel, chromium, vanadium.
Pharmacodynamics
Consider the pharmacodynamics and pharmacokinetics of vitamins after 50 for women using the example of Vitrum Centuri.
Thanks to this drug, a balanced complex of vitamins and minerals enters the body.
Vitamin A helps to improve the regeneration of skin cells.
Beta-carotene is distinguished by immunomodulating and stimulating properties.
Vitamin D3 helps to strengthen bone tissue.
Vitamin E helps maintain the stability of cell membranes.
Vitamin C restores tissues and neutralizes some toxic substances.
Folic acid helps hemopoiesis, affects the metabolism of certain vitamins and cholesterol.
Vitamin B1 improves the performance of peripheral and central nervous systems.
Vitamin B2 helps to improve energy metabolism and protect the eyes from the negative effects of ultraviolet rays.
Vitamin B6 improves the functioning of the nervous system.
Vitamin B12 affects hemopoiesis.
Nicotinamide helps to improve oxidative processes in the body.
Biotin - takes an active part in some metabolic processes.
Pantothenic acid helps to normalize lipid metabolism.
Calcium strengthens bones, joints and ligaments.
Phosphorus - is involved in metabolic processes.
Potassium helps to transport glucose and amino acids into cells.
Iodine helps to synthesize hormones in the thyroid gland.
Thanks to iron, the transmembrane transport of oxygen and electrons occurs.
Magnesium helps restore bone tissue.
The best vitamins for women after 50 years
In most cases, after 50 years, most women experience menopause, which is why at this time the body needs effective vitamins. It is very important to choose those that will differ antioxidant properties, maintain the condition of bones and joints in a normal manner, prevent the development of osteoporosis, atherosclerosis and obesity.
In the vitamin complex for women after 50 should necessarily be found such vitamins: vitamin E, vitamin K, vitamin D, vitamin C, vitamin A.
Attention!
To simplify the perception of information, this instruction for use of the drug "Vitamins for women after 50 years" translated and presented in a special form on the basis of the official instructions for medical use of the drug. Before use read the annotation that came directly to medicines.
Description provided for informational purposes and is not a guide to self-healing. The need for this drug, the purpose of the treatment regimen, methods and dose of the drug is determined solely by the attending physician. Self-medication is dangerous for your health.