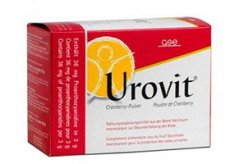 Urovit belongs to the category of vitamin-biologically active additives with a diuretic effect.
Indications of the urovit
Urovit can be used as part of a comprehensive treatment of urological infectious pathologies, or for preventive purposes:
simultaneously with antibiotic therapy for infectious diseases of the urinary system;
to stimulate the immune defense in chronic diseases of the genitourinary system;
to prevent retrograde kidney infection;
after surgical interventions on the organs of the genitourinary system;
with frequent procedures accompanied by the insertion of a catheter into the bladder.
Release form
Urovit is produced in tablet form and has a rich complex composition, represented by:
magnesium, calcium;
vitamins B 3, B 6, B 12;
vitamin D 3;
extracts from the rhizome asparagus and sedas;
plants hydrangea, juniper, parsley;
L-glycine;
L-glutamine;
barossa, bear ears;
bromelain.
Tablets Urovit can be packed in a blister plate for 10 pieces, or in bottles of 30 pieces.
Pharmacodynamics
Biologically active drug Urovit has the following pharmacological properties:
produces a vasodilator effect, improves the absorption of calcium, prevents the formation of calcifications and other stones in the urinary system;
improves the functional capacity of the liver;
accelerates metabolism, stabilizes the level of sodium and potassium, improves electrolytic balance;
stabilizes the balance of calcium and phosphorus;
stimulates the processes of hematopoiesis, prevents anemia, improves the quality of blood coagulability;
removes inflammation, increases the daily amount of urine;
improves the separation of urine, increases appetite;
prevents formation of stones in the prostate;
improves renal circulation;
has a slight antifungal effect;
eliminates edema;
potentiates the action of antibiotics and anti-inflammatory drugs;
is an immunostimulant and antiseptic.
Contraindications
Urovit is contraindicated in such cases:
when the body is addicted to hyperreaction on the components of dietary supplements;
in the acute stage of glomerulonephritis;
with chronic renal failure;
with chronic hepatitis;
with thrombophlebitis;
in the period of gestation and breastfeeding of the baby.
The question of the use of Urovit for the treatment of children is decided by a doctor.
Attention!
To simplify the perception of information, this instruction for use of the drug "Urovit" translated and presented in a special form on the basis of the official instructions for medical use of the drug. Before use read the annotation that came directly to medicines.
Description provided for informational purposes and is not a guide to self-healing. The need for this drug, the purpose of the treatment regimen, methods and dose of the drug is determined solely by the attending physician. Self-medication is dangerous for your health.