Medical expert of the article

х
All iLive content is medically reviewed or fact checked to ensure as much factual accuracy as possible.
We have strict sourcing guidelines and only link to reputable media sites, academic research institutions and, whenever possible, medically peer reviewed studies. Note that the numbers in parentheses ([1], [2], etc.) are clickable links to these studies.
If you feel that any of our content is inaccurate, out-of-date, or otherwise questionable, please select it and press Ctrl + Enter.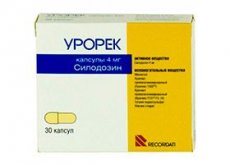 Encapsulated drug Urerek belongs to the group of α-adrenoreceptor antagonists, with the main active ingredient silodosin.
Release form
Urorek is produced in the form of dense capsules, containing 4 or 8 mg of the active ingredient of silodosin.
Packaging can include one, three, five or nine blister plates, 10 pieces each. Capsules in each plate.
Pharmacodynamics
The active ingredient Urerek refers to highly selective competitive α 1a -adrenoceptor antagonists . Silodosin provides a blockage of postsynaptic α 1a- adrenoreceptors, which are localized in the smooth muscle structures of the prostate and urinary system.
The Urorek lowers the tone of the smooth muscles of the prostate, which leads to relief of the outflow of urinary fluid. Along with such processes, signs of infringement and irritation caused by benign proliferation of prostate tissues are eliminated.
Kindred proximity to α 1a adrenoceptor which are mochevike in 162 times its interaction property with α 1 b -adrenoreceptor localized in vascular smooth muscle structures.
As a result of high selectivity, Urerek does not lead to clinically important lowering of blood pressure in individuals with normal normal BP indices.
Pharmacokinetics
After oral administration, the Urorek is well absorbed in the digestive system. Full bioavailability is estimated at 32%. The food masses in the stomach can lower the limiting concentration by 30%, increasing the duration of reaching a peak content of up to 60 minutes.
The distribution volume of the active ingredient Urerek is close to 0.81 liters / kg. The connection of silodosin with plasma proteins is 96.6%, whereas the metabolite ratio can be 91%.
Active Ingredient The Urolek is metabolized by glucuronidation, with the participation of components such as alcohol dehydrogenase and aldehyde dehydrogenase.
The active main metabolite in the serum is carbamoylglucuronide, which approaches the serum concentration 4 times more silodosin. The active ingredient does not have an induction potential and does not inhibit cytochrome P450 isoenzymes.
Most of the active ingredient Urerek (almost 55%) is excreted from the body with fecal masses, and a smaller (more than 33%) - with urinary fluid.
The main amount of active ingredient Urerek is derived in the form of residual metabolic products, and in a small amount - in unchanged form.
The half-life of the active ingredient and metabolite is estimated at 11 hours and 18 hours, respectively.
Use of the uroreka during pregnancy
Urorek is not designed for female patients.
Contraindications
Do not take Urerek with a tendency to allergic manifestations to the ingredients of the medication.
Side effects of the uroreka
The most common side manifestations during taking Urorec are ejaculatory disorders - in particular, a worsening or total absence of ejaculation. The frequency of such violations is 23%, however, they are transitory and pass after the cancellation of Urerek treatment.
Other undesirable side effects may be observed less frequently:
lowering of sexual desire;
dizziness;
cardiopalmus;
lowering of blood pressure;
sensation of stuffiness in the nose;
diarrhea, thirst, nausea;
laboratory changes in hepatic parameters;
erectile dysfunction.
[6]
Dosing and administration
Urorek is used only for the treatment of adult male patients. The standard daily amount of the drug is 8 mg at a time. In some cases, a dosage of 4 mg once a day can be prescribed.
Urorek taken with food, preferably every day at the same time.
Capsule Urorek can not be damaged and crushed: it is swallowed in its entirety, washed down with a cup of water.
For elderly patients, the same dosage is used, which does not require correction.
With kidney disease, correction is also not required. The exception is a severe kidney pathology, with creatinine clearance less than 30 ml per minute: under these circumstances, use Urorec should not be.
With liver pathologies, Urerek treatment is not recommended only for severe forms of diseases.
[7], [8]
Overdose
Opportunity for overdose was investigated when consuming up to 48 mg of Urerek per day by males. The main sign in this case was a sharp drop in blood pressure.
If the Urerek in the raised or increased dose has been accepted rather recently, it is necessary to provoke at the victim a vomiting, or to wash out a stomach. With severe hypotension, it is necessary to take measures to ensure the normal function of the cardiovascular system.
Dialysis in this case is not applied, since the active ingredient Urerek almost completely forms bonds with plasma proteins (more than 96%).
Interactions with other drugs
You should not combine Urerek with other drugs from the group of α-blockers to avoid possible mutual enhancement of effects.
Simultaneous administration of preparations inhibiting the isoenzyme CYP3A4 (such as ketoconazole, ritonavir, Clarithromycin, Intraconazole) is undesirable due to an increase in serodosin concentration in the serum.
Combining the administration of Urerek and phosphodiesterase inhibitor preparations (eg Sildenafil or Tadalafil) can lead to dizziness.
Medications with antihypertensive activity, calcium antagonists, agents of action on the renin-angiotensin-aldosterone system, as well as diuretics in combination with Urerek can accelerate and aggravate the development of hypotension.
When using Urerek along with drugs of digoxin, dosage adjustment is not necessary.
Attention!
To simplify the perception of information, this instruction for use of the drug "The Urorek" translated and presented in a special form on the basis of the official instructions for medical use of the drug. Before use read the annotation that came directly to medicines.
Description provided for informational purposes and is not a guide to self-healing. The need for this drug, the purpose of the treatment regimen, methods and dose of the drug is determined solely by the attending physician. Self-medication is dangerous for your health.