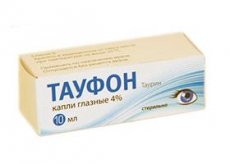 Eye drops Taufon are used as a local remedy to improve tissue trophism in ophthalmic diseases.
Indications of the toughfoot
Appoint Taufon to adult patients for the treatment of dystrophic disorders of the ocular retina:
with hereditary taperotorhinal ambiotrophy;
with dystrophic changes in the cornea;
with age, traumatic or radiation cataract.
In addition, Taufon is often used to activate the process of restoring the organ after corneal injuries.
Taufon can be effective in patients with glaucoma, as a means of lowering intraocular pressure.
Pharmacodynamics
Taufon drops belong to amino acid agents that activate the reparative and reparative reactions in the dystrophic pathologies of the eye retina, with mechanical trauma to the organs of vision, with ophthalmic inflammatory diseases that occur against the background of a sharp disorder in metabolic processes.
Taufon is a substance that contains sulfur in its composition. This allows the solution to create favorable conditions for stabilizing the functionality of cell membranes, improve energy and metabolic processes, maintain a constant composition of electrolytes in the cellular cytoplasm, inhibit synaptic transmission.
Contraindications
Do not use Taufon for the treatment of patients who are hypersensitive to individual components of drops of Taufon, or to the drug as a whole.
Relative contraindications are pregnancy, breastfeeding and children's age: the possibility of using Taufon during these periods is estimated by the doctor individually.
Dosing and administration
Before applying Taufon drops to their intended purpose, it is necessary to hold the tube with a solution in hand beforehand, so that it warms up to body temperature.
Patients with cataracts drip 2-3 drops of Taufon up to 4 times a day. The duration of therapy is 12 weeks. Treatment can be repeated in a month.
Patients with traumatic lesions of the eyes are dripping 2-3 drops of Taufon up to 4 times a day for 4 weeks.
Patients with retinal dystrophy or with penetrating damage to the Taufon cornea are subconjunctivally injected: 0.3 ml of a 4% solution daily for 10 days. Treatment can be repeated after 6-7 months.
Patients with open-angle glaucoma drip 2-3 drops of Taufon twice a day, about half an hour before applying Timolol. The duration of therapy in this case is determined individually.