Medical expert of the article

х
All iLive content is medically reviewed or fact checked to ensure as much factual accuracy as possible.
We have strict sourcing guidelines and only link to reputable media sites, academic research institutions and, whenever possible, medically peer reviewed studies. Note that the numbers in parentheses ([1], [2], etc.) are clickable links to these studies.
If you feel that any of our content is inaccurate, out-of-date, or otherwise questionable, please select it and press Ctrl + Enter.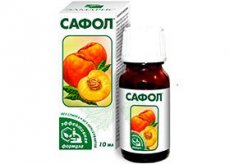 Safol is an immunostimulating agent with a plant composition. Consider its main properties, indications for use, dosage, possible side effects.
Safol is not a medicinal product, but refers to biologically active additives. It is manufactured using a patented technology that provides full preservation of the useful properties of its active components. A highly active natural product of plant origin contains peach leaves that are rich in polyphenolic substances and vitamin C.
[1]
Indications of the safola
Safol has a wide range of uses. Let's consider the main indications for its application:
Oncological diseases.
Chronic fatigue syndrome.
Exhaustion of the body.
Diseases of the cardiovascular system.
Immunodeficiency conditions.
Anemia.
Pathologies of the thyroid gland.
Acute viral infections.
In addition to the above indications, the agent stimulates all links of immunity. Safol increases the phagocytic activity of macrophages and neutrophils, increases the number of T-lymphocytes, improves the production of antibodies. Due to its antioxidant properties, it has antitumor effect. The drug stimulates resistance to stress and aggressive environmental factors. Safol protects the body cells from the destructive effect of free radicals, slowing down the age-related degenerative changes.
[2], [3]
Release form
Safol has a liquid form of release. The liquid is dark brown, bitter in taste, but with a pleasant smell. Not toxic and not allergenic. The product is available in 10 ml bottles each. It consists of such substances: purified peach leaf extract, vitamin C. The syrup contains more than 45 natural polyphenolic compounds. 
[4]
Pharmacodynamics
Safol contains vegetable ingredients that provide its unique mechanism of action. Pharmacodynamics indicates that the purified concentrated aqueous peach leaf extract contains polyphenols, flavonoids and ascorbic acid. These substances restore the oxidant-antioxidant balance and promote the restoration of cell membranes. There is also an increase in the synthesis of glucocorticoids, which have powerful anti-inflammatory and analgesic properties. The drug has antiviral and antiseptic effects.
Pharmacokinetics
After ingestion, the drug is rapidly absorbed and absorbed. The pharmacokinetics of Safol have not been thoroughly studied. But it is known that a persistent curative effect develops after three months of regular use of the drug.
More active components delay the development of tumor neoplasms, improving the quality of life of cancer patients. There is a slowdown in the processes of aging, improving the functioning of the cardiovascular and hematopoietic systems. Safol increases the adaptogenic properties of the body, improves mental and physical performance. Peach leaf extract reduces the risk of allergic diseases and accelerates recovery in acute and chronic lesions of any etiology.
[5], [6]
Use of the safola during pregnancy
Since Safol has a natural herbal composition, its use during pregnancy is possible. But before using the drug should consult with your doctor.
Side effects of the safola
The herbal remedy is well tolerated, side effects are extremely rare. If the drug is taken by patients with hypersensitivity to its active substances, then possible allergic reactions, nausea, vomiting, stool disorders. To eliminate them, gastric lavage and further symptomatic therapy are indicated.
Dosing and administration
The indications depend on the way of application and the dose of Safol:
If the drug is used for medicinal purposes, then take 10 drops for 30-40 minutes before meals 2-3 times a day. The syrup can be diluted in a glass of warm water.
For prophylaxis - 7-10 drops 1 time per day for 30-40 minutes before meals.
To achieve a stable therapeutic effect, the drug is recommended to be taken daily for a long period of time.
[12], [13]
Overdose
Saphol rarely causes symptoms of an overdose. Elevated doses can provoke abnormalities on the part of the gastrointestinal tract, headaches, skin allergic reactions. To resolve them, symptomatic therapy, a reduction in dosage, is indicated. Biologically active additives are allowed to be taken for an extended period of time, at least 3 months.
[14], [15]
Interactions with other drugs
Safol can be used in conjunction with other agents for the treatment and prevention of various pathological conditions. All interactions with other drugs should be controlled by a physician. This is associated with a risk of adverse reactions from many organs and systems. 
Shelf life
According to the instructions, the shelf life of Safol is 18 months from the production date. At its expiration, the drug is forbidden to take. The shelf life also affects shelf life.
Attention!
To simplify the perception of information, this instruction for use of the drug "Safol" translated and presented in a special form on the basis of the official instructions for medical use of the drug. Before use read the annotation that came directly to medicines.
Description provided for informational purposes and is not a guide to self-healing. The need for this drug, the purpose of the treatment regimen, methods and dose of the drug is determined solely by the attending physician. Self-medication is dangerous for your health.