Medical expert of the article

х
All iLive content is medically reviewed or fact checked to ensure as much factual accuracy as possible.
We have strict sourcing guidelines and only link to reputable media sites, academic research institutions and, whenever possible, medically peer reviewed studies. Note that the numbers in parentheses ([1], [2], etc.) are clickable links to these studies.
If you feel that any of our content is inaccurate, out-of-date, or otherwise questionable, please select it and press Ctrl + Enter.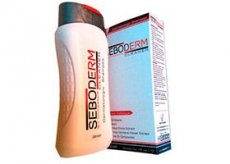 Seboderm is an antifungal shampoo for external use. Consider the rules of its use, dosage, side effects and the expected therapeutic effect.
The effectiveness of Seboderm is due to its composition and its impact on the problem. The drug contains the active component - ketoconazole. It helps to reduce the area of fungal damage, inhibits cell division and production of sebum, removes existing scales of the skin and prevents their further appearance.
Indications of the seboderma
Seboderm has such indications for use:
Treatment and prevention of skin and hair in seborrheic eczema.
Lesions of skin with yeast microorganisms Pityrosporum.
Dandruff.
Local pityriasis lichen.
The drug can be used in combination with other medications to treat the above problems.
Release form
The antifungal agent is released in the form of a shampoo for external use. 1 g of shampoo contains 20 mg of ketoconazole. Auxiliary components are: sodium lauryl sulfate, polyoxyethylene fatty acid ester 20 CME chair, air conditioner, methylparaben, propylparaben, CB chairmate, disodium edetate, aromatic additive, erythrosine, purified water. Shampoo is a viscous pink liquid with a specific odor.
 
Pharmacodynamics
Seboderm contains the active substance - ketoconazole. The pharmacodynamics of this component indicates that it belongs to the synthetic derivatives of imidazole, dioxolane. It has fungicidal properties for dermatophytes such as Trichophyton sp., Epidermophyton sp., Microsporum sp., And yeast Candida sp., Malassezia furfur (Pityrosporum ovale). Shampoo quickly reduces peeling and itching, effectively combats shingles, dandruff and eczema.
Pharmacokinetics
Since the shampoo is used for external use, the absorption of the active substance through the skin is insignificant. Pharmacokinetics indicate that even with prolonged use, ketoconazole does not enter the bloodstream and does not have systemic effects.
Use of the seboderma during pregnancy
Since the active component of Seboderm does not enter the systemic circulation, its use during pregnancy and lactation is possible. But before using the remedy, you should consult your doctor.
Side effects of the seboderma
Antifungal shampoo is well tolerated, side effects are extremely rare. Most often, patients encounter such reactions:
Local irritation.
Burning and itching.
Hair after washing becomes fat or dry.
Changing the shade of hair in patients with chemically damaged or gray hair.
Side effects are themselves, for this it is sufficient to reduce the frequency of use of the drug.
[4]
Dosing and administration
The method of using Seboderm does not differ from washing the head with a simple shampoo. The preparation well foams and cleanses not worse than any carer. Shampoo should be applied with light massage movements, spreading over the entire surface of the head. Do not rinse immediately after application. It is necessary to allow the active components to be absorbed into the skin. It takes 5-10 minutes. Shampoo can be washed off with ordinary warm water or camomile.
Method of administration and dose Seboderm:
Seborrheic eczema and dandruff - 2 times a week for a month.
Abnormal lichen - every day for 5-7 days.
For the prevention of eczema and dandruff - 1 time per week.
To prevent fungal lesions - within 3 days before the start of the summer season.
When using shampoos, avoid contact with eyes (in case of contact with eyes, rinse with water). 
[5], [6]
Overdose
Since Seboderm is used externally and does not penetrate the systemic bloodstream, it is not possible to overdose it. In rare cases, frequent head washing can provoke itching and burning that go away on their own.
Interactions with other drugs
The antifungal agent can be used in complex therapy. Interactions with other drugs should be controlled by the attending physician. Shampoo can be used with oral medications. When using topical drugs at the same time, it is necessary to observe the time interval between the use of Seboderm and other agents.
Shelf life
Seboderm has a shelf life of 36 months from the production date. At its expiration, the drug must be disposed of and prohibited from use.
[13]
Attention!
To simplify the perception of information, this instruction for use of the drug "Seboderm" translated and presented in a special form on the basis of the official instructions for medical use of the drug. Before use read the annotation that came directly to medicines.
Description provided for informational purposes and is not a guide to self-healing. The need for this drug, the purpose of the treatment regimen, methods and dose of the drug is determined solely by the attending physician. Self-medication is dangerous for your health.