Medical expert of the article
Pharmaceutical vitamins for the skin of the face

х
All iLive content is medically reviewed or fact checked to ensure as much factual accuracy as possible.
We have strict sourcing guidelines and only link to reputable media sites, academic research institutions and, whenever possible, medically peer reviewed studies. Note that the numbers in parentheses ([1], [2], etc.) are clickable links to these studies.
If you feel that any of our content is inaccurate, out-of-date, or otherwise questionable, please select it and press Ctrl + Enter.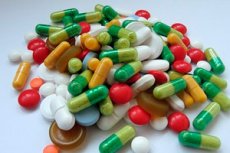 There are many vitamin preparations for facial skin care, which can be purchased at the pharmacy. Consider the most popular and effective:
Granvit
These are capsules for maintaining the health and beauty of the skin, hair and nails. They increase the turgor and act as a source of antioxidants, tocopherol, B-carotene, squalene, minerals and F (linoleic, linolenic and arachidonic acids). Also contain an oil extract of seeds of amaranth, wheat germ and horsetail.
Provides nutrition of tissues at the cellular level, stimulates the synthesis of collagen and elastin, improves the structure of the skin.
Stimulates regeneration processes, eliminates irritation, itching and flaking.
Granvit recommended for use in severe vitamin deficiency, to improve the appearance of the epidermis, hair and nails.
Prevents age-related changes: the appearance of wrinkles, a decrease in elasticity, a dull complexion.
The drug takes 1-2 capsules 2-3 times a day before meals. The course of treatment is 1-3 months depending on the state of the body.
Radiance of Freshness from Imedeen
Complex that improves the structure and quality of the dermis.
Reduces the symptoms of aging.
Contains antioxidants, ascorbic acid, zinc, proteins and Biomarine Complex.
It restores elasticity and elasticity, tones up, fights pigmented spots and improves complexion.
Stimulates the production of collagen in the deep layers of the dermis and strengthens the vascular walls.
The drug is recommended after 25 years as a daily remedy. Positive results make themselves felt after 30 days of regular use.
Hyaluride Vitamins
French vitamin preparation for the care of aging skin.
Anti-aging complex for skin with hyaluronic acid and collagen from Lab.Ineldea contains substances that fight with mimic and deep wrinkles, smooth out the skin relief and seals.
The composition of the drug includes hyaluronic acid, ascorbic acid and hydrolyzed marine collagen.
It retains moisture, preventing dryness and accelerating regeneration processes.
Every day, take 1 capsule 20 minutes before meals with water. Duration of treatment - a month.
Compromises
A multivitamin complex that includes water-soluble B vitamins, ascorbic acid. Stimulates metabolism, promotes the development and functioning of the body in beriberi, increases the protective properties of the immune system.
It is recommended to use for the treatment and prevention of immunodeficient conditions, with physical and mental stress, stress.
Capsules take 2 pcs. Once a day, the duration of treatment is 21 days. The second course is carried out after 2-3 months.
Complications are contraindicated for patients under 14 years of age and with individual sensitivity to its components.
The vitamin complex does not cause adverse reactions and can be used during pregnancy. Its long-term use causes dyspepsia. For their elimination, symptomatic therapy with gastric lavage and sorbent administration is indicated.
Volvit
Vitamin with active ingredients - vitamins of group B. It affects the metabolic processes (fatty, carbohydrate, protein), participates in the exchange of lipids. Stimulates the creation of keratin, improves the structure of hair, nails and skin. Normalizes the functioning of the sebaceous glands, supplies the skin with sulfur and accelerates the production of collagen.
It is used for the treatment and prevention of skin diseases (dermatitis, disruption of keratinization of the skin and sebaceous gland function), violation of hair growth and structure, as well as nail diseases.
The medicine is taken 1 capsule per day, the course of treatment is 30 days.
Side effects are allergic reactions and skin rashes, there may be pain in the chest, swelling of the mucous larynx.
The medicine can be used during pregnancy and lactation. Cases of an overdose have not been revealed. Volvit is available in tablet form, in one package there are three blisters with 10 capsules in each.
Before using chemist's vitamins, you should study their instructions. Some drugs should be taken in the morning, others before bedtime. For complex effects on the body and persistent improvement of the skin condition, one should adhere to a balanced diet and take care of the face.
Vitamin Aevit for facial skin
Aevit is a complex vitamin remedy. Has immunostimulating and antioxidant properties. Biologically active substances in its composition, participate in many physiological processes of the body, stimulate the growth of epithelial cells and their regeneration. Also affect the protein and lipid metabolism, support visual and reproductive functions.
Aevit improves capillary blood circulation, normalizes permeability of vascular walls and trophic tissue. The mechanism of action and the therapeutic effect of the drug are based on the pharmacological properties of the substances that make up its composition. Each capsule contains retinol, alpha-tocopherol acetate and a number of auxiliary components.
Indications for use: the drug is prescribed for patients who need vitamin A and E. This need arises with atherosclerotic vascular lesions, lupus erythematosus, psoriasis, obliterating endarteritis, and in ophthalmic practice. Aevit is recommended with reduced intake of vitamins with food with a decrease in their absorption due to various diseases, as well as with limited nutrition.
The medicine is released in the form of capsules, which are intended for oral administration. Dosage is 1 capsule once a day, the course of treatment is 30-40 days. The drug should be taken after meals. Repeated treatment is possible after 3-4 months.
Overdose: in a few cases, there is a development of nausea and vomiting, allergic reactions, stool disorders, gastralgia. With prolonged use of the drug may exacerbate chronic pancreatitis or cholelithiasis.
Contraindications: hypersensitivity to components, thyrotoxicosis, circulatory insufficiency, chronic glomerulonephritis. With special care, the drug is prescribed for myocardial infarction and risk of thromboembolism. Use during pregnancy is possible only for medical purposes.
Overdose: the use of elevated doses causes headaches, increased drowsiness, visual impairment, a sharp increase in cerebrospinal fluid pressure and pathological changes in the cerebrospinal fluid. Cramps and heart failure are also possible. For treatment, withdrawal of the drug and further symptomatic therapy are indicated.
Aevit is not prescribed in combination with other drugs, which include retinol or its analogues. When used with estrogens, there is a risk of developing hypervitaminosis A. When used with glucocorticosteroids, retinol reduces their anti-inflammatory effect.
Vitrum Vitamins for face skin
A popular vitamin preparation for complex effects on the body and improvement of the skin condition is vitrum. It includes many useful components: vitamins, minerals, amino acids.
The peculiarity of this drug is that it is designed taking into account the daily requirement of the organism for microelements. It contains the amino acids necessary for the formation of proteins and collagen. It improves metabolism and removes toxins from the body. Increases nonspecific immunity and improves lipid metabolism.
Indications for use: prevention and treatment of vitamin deficiency / hypovitaminosis, improvement of skin, nails and hair. Increased physical and emotional stress, comprehensive treatment of infectious diseases. The drug is recommended for all who live in adverse environmental conditions.
Way of application: vitamins are taken orally, without chewing, but with enough liquid. The recommended dosage is 1 capsule 2-3 times a day.
Side effects occur very rarely, but may manifest as allergic rashes. Vitrum is not recommended for hypersensitivity to its components. In case of an overdose, symptoms of hypervitaminosis are observed.
Vitrum for face skin is available in the form of capsules of 30/60 pieces in a plastic bottle.
Vitamins in injections for skin
One of the methods of supplying the skin with useful substances is vitamin injections. They are cocktails, that is a mixture of active ingredients, an action that is directed at solving certain problems. They are appointed and selected by a cosmetologist, individually for each, focusing on the condition of the dermis and the wishes of the patient.
Vitamins in facial napkins are used to solve such problems:
Tired dermis - unhealthy color, excessive dryness, inflammation and flaking, wrinkles.
Violations of the turgor - the change of contours (oval) of the face, age-related changes in the structure of the dermis and facial muscles.
Dark circles and bags under the eyes.
Reducing the protective functions of the epidermis - frequent inflammatory lesions, acne, acne and acne.
Severe dysfunction of the sebaceous glands.
Vitamin injections are painless and less traumatic. Some patients may develop small bruises that quickly come off. The composition of the injections includes several components, usually no more than five. These are various vitamins and minerals, plant extracts, hyaluronic acid and glycolic acid and other microelements. Such a complex composition has a comprehensive effect on the skin.
But despite all the useful properties, beauty injections have a number of contraindications:
Patients younger than 20 years.
Exacerbation of skin diseases.
Violation of blood clotting.
Pregnancy and lactation.
Hypertension.
Renal diseases.
Diabetes.
Postoperative period.
Diseases of the cardiovascular system.
Ampoules with vitamins can be used not only for injections, but also as an active component of face masks and creams. Consider the popular vitamin recipes:
Take 1 ampoule of tocopherol, a tablespoon of glycerin and 2 tablespoons of water. Dilute glycerin in the water, add the contents of the ampoule and mix thoroughly. Apply the mixture on your face for 10-20 minutes. The mask perfectly softens, removes dryness and peeling, smoothes fine wrinkles.
Prepare 10 g of a nutritious cream, which is suitable for your skin type, 1 ampoule of retinol and a teaspoon of aloe. Mix all ingredients, only pre-cool aloe. Apply mask to face and hold for 20-25 minutes, rinse with warm water. This cosmetic procedure perfectly calms the inflamed skin and fights against acne.
Take 1 banana, ampoule of ascorbic acid and 10 g of oatmeal. Pour a couple of spoons of oatmeal with warm milk until it swells. Banana thoroughly chop. Combine the banana with flakes and add vitamin C. Peel the face and apply a mask. It is great for caring for sagging and fading skin, restores a healthy complexion and a clear contour.
Vitamins in ampoules for the face should be used with extreme caution. Before application, they should be tested on another part of the body. Regular use of vitamin masks can be a worthy alternative to salon procedures.
Vitamins Alphabet for face skin
The drug for a comprehensive impact on the body, and especially the skin - it's vitamins Alphabet. The composition of one capsule includes multivitamins and polymineral. Feature of the complex is full biochemical compatibility of all its components.
Indications for use: treatment and prevention of hypovitaminosis and micronutrient deficiency of different etiologies. Long-term antibacterial therapy, insufficient or unbalanced nutrition, infectious diseases, pregnancy, postoperative period.
Method of use: The alphabet is taken orally during a meal, washed down with water. The drug is available in the form of tablets of different colors, each of which is taken at a certain time of the day. The interval between doses should not be more than 4 hours, otherwise the therapeutic effect is reduced. The course of treatment is 30 days.
Side effects: in rare cases, allergic rashes develop all over the body and face.
Contraindications: the age of patients less than 1 year, excessive mineralization of the body, substances that are part of the drug, hypervitaminosis. Use during pregnancy is possible only for medical purposes.
Overdose: symptoms of acute intoxication, hypervitaminosis and hypermetallosis. For treatment, gastric lavage, saline laxatives and further symptomatic therapy are indicated.
The alphabet has several forms of release (tablets, blisters, sachets) and 16 varieties for certain pathological conditions of the body. The drug for the maintenance of health and beauty of the face comes in the form of tablets.
Complex of vitamins for the skin of the face
At any time of the year the skin should remain beautiful and healthy, therefore it needs to be supplied with useful micro and macro elements. To do this, you must adhere to a balanced diet and fully take care of the body.
To preserve the health of a person, it is recommended to take such a complex of vitamins:
A - maintains a normal level of moisture, accelerates recovery, cleans, eliminates peeling and cracks.
B3 - prevents hyperpigmentation and normalizes color.
B7 - responsible for the elasticity of the skin, the formation of collagen and elastin.
C - it can be used both inside and outside. Reduces the amount of free radicals and promotes the production of collagen.
E - protects against ultraviolet radiation and has increased antioxidant activity. Suitable for face, hair and nails care.
K - fights with dark circles under the eyes, improves the condition of tissues, treats acne and acne. Promotes eyelid lifting and regulates the production of sebum.
Also there are ready-made vitamin complexes for the skin of the face:
[4]
Perfect
Vitamin-mineral complex, which includes vitamins B, C, E, as well as amino acids, minerals and plant extracts. The drug has antioxidant, regenerating and dermatoprotective (protection from negative environmental effects) properties. Improves microcirculation, protects against UV radiation and free radicals.
Accelerates the removal of toxins and other harmful substances, regulates the synthesis of biologically active components. Promotes the formation of collagen fibers. Regular use of the drug improves the function of small vessels in the dermis and epidermis. Every day you need to take 1 capsule for 30 days.
Supradin
This is a multivitamin complex. Contains such components: A, B1, B5, B6, B9, B12, C, D3, PP and minerals: calcium, magnesium, phosphorus, iron, copper, manganese, zinc and molybdenum. Also, the composition of the drug includes Omega-3 fatty acids, coenzyme Q10. Supradin is recommended to be taken in the autumn-spring period for complex health effects on the body.
AlphaWeather Cosmetics
Vitamin-mineral complex, which includes many useful components and plant extracts. The drug contains 13 vitamins and 10 minerals that have a complex effect on the body. Also in its composition are extracts of plants, which have anti-inflammatory effect. The daily dose of Alpha-Vit is composed of three tablets that contain the components that the body needs at a given time of day.
[5], [6]
Vitrum Beauty
Contains many biologically active components: vitamins, minerals, amino acids. The composition of the drug includes the substances necessary for the formation of collagen and amino acids. Regular application of this complex improves the condition of not only the skin, but nails and hair. Increases nonspecific immunity, prevents the formation of cholesterol plaques on the walls of blood vessels and improves lipid metabolism.
In addition to the above complexes, there are other drugs: Duovit, Merz, Complevit, Doppelgerz, Ladis formula and others.
To get the maximum benefit from useful components, you need to take them correctly. For better digestion, vitamins should be consumed while eating. It is not recommended to combine individual substances with ready-made complexes. Dosage should be followed, since in case of its violation, the development of side-effects may occur. Between the courses you should take a break in 2-3 months. Selection of a vitamin complex is best entrusted to a doctor who will assess the skin condition and individual characteristics of the patient's body.
Attention!
To simplify the perception of information, this instruction for use of the drug "Pharmaceutical vitamins for the skin of the face" translated and presented in a special form on the basis of the official instructions for medical use of the drug. Before use read the annotation that came directly to medicines.
Description provided for informational purposes and is not a guide to self-healing. The need for this drug, the purpose of the treatment regimen, methods and dose of the drug is determined solely by the attending physician. Self-medication is dangerous for your health.