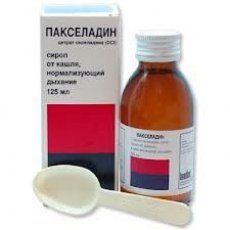 Paxeladin is a synthetic non-narcotic remedy for cough of central action, which acts directly on the cough center and restrains the cough reflex.
The drug has synonyms: Tusuprex, Oxeladin, Aplakol, Dorex retard, Etokhlon, Gigustan, Neobeks, Neusedan, Pectamol, Tussimol, and others.
Paxeladine does not inhibit the respiratory center, it does not cause addiction and drug dependence.
Indications Paxeladin
Paxeladine is prescribed for the symptomatic treatment of a non-productive (dry) cough of various etiologies. The diseases in which this drug calms cough include:
This drug is also effective in reflex cough, which occurs when stimulating receptors located not in the respiratory tract (with stimulation of the fibers of the vagus nerve).
Pharmacodynamics
Pharmacodynamics Paxeladine is due to the active substance of this drug, which is 2- [2- (diethylamino) ethoxy] ethyl ester of α-ethylbenzeneacetic acid (international name - oxeladine citrate). Its therapeutic effect is aimed at suppressing the excitability of the center of the cough reflex, which is located in the vegetative center of the medulla oblongata.
In this case, the manufacturers in the instructions to the preparation do not explain the biochemical processes caused by Paxeladin and do not give any data on how Paxeladin blocks the work of the cough center, that is, does not allow its nerve fibers to perceive impulses from the receptors of the cough reflex.
Pharmacokinetics
After oral administration, Paxeladin is completely absorbed into the digestive tract and enters the bloodstream. Depending on the dosage form of the drug (as a syrup or capsules), its maximum concentration in the blood plasma is noted 1-5 hours after administration. But after that the therapeutic effect lasts for at least four hours.
Contraindications
Paxeladin is contraindicated in the treatment of cough accompanied by sputum discharge; with a narrowing of the lumen of the bronchi; with the expansion of bronchial sites (bronchiectasis) in bronchial asthma.
The drug has sucrose in its composition, so it is not prescribed for patients with diabetes mellitus. Also, Pakseladin in the form of capsules is not assigned to children, and in the form of syrup - for children weighing up to 15 kg.
Dosing and administration
Pakseladin capsules adults are recommended to take 1 capsule 2-3 times a day (with an interval of not less than 8 hours), drinking 200 ml of water.
The dose of the drug in the form of syrup: for adults - 5 ml 3-4 times a day (maximum daily dose - 25 ml); for children with a body weight of 15-20 kg - 2.5 ml every 4 hours (maximum daily dose - 10 ml); for children with a weight of 20-30 kg to 3.5 ml every 4 hours (maximum daily dose is 15 ml).
The course of treatment with Paxeladine should not last more than three days.