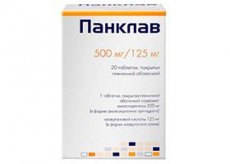 Panclav is a penicillin antibiotic with a wide range of effects. It is an inhibitor of β-lactamases.
Indications of the panklava
It is indicated for the elimination of inflammatory and infectious pathologies, which are provoked by the pathogenic influence of drug-sensitive microbes:
presence of infectious processes in the ENT organs (otitis or sinusitis in acute or chronic form, and in addition pharyngitis with tonsillitis);
various infections associated with respiratory organs (bronchitis in acute or chronic form, pneumonia and pyothorax);
infectious processes affecting urinary system (among such urethritis with cystitis and pyelonephritis);
gynecological infections (among them salpingoophoritis with salpingitis, as well as endometritis and pelvioperitonitis with septic abortion);
infectious diseases associated with the system of joints and bones (this includes the chronic form of osteomyelitis);
skin infections and pathologies in soft tissues (among them the infectious process due to injury and phlegmon);
infections in the bile ducts (among them cholangitis with cholecystitis);
mild chancroid and gonorrhea;
infection of the odontogenic type.
Release form
Produced in tablets with a volume of 250 + 125 mg, and 500 + 125 mg. Inside the glass jar contains 15 or 20 tablets. One package contains 1 can.
Panclav 500 mg / 125 mg
In the first pill Panklav 500 mg / 125 mg contains 500 mg of amoxicillin (under the guise of trihydrate) and 125 mg of clavulinic acid (disguised as potassium salt).
Panclav 875 mg / 125 mg
In the first pill Panklav 875 mg / 125 mg contains 875 mg of amoxicillin (under the guise of trihydrate), as well as 125 mg of clavulic acid (potassium salt).
Pharmacodynamics
Panklave is a combined remedy that combines semi-artificial penicillin with a wide range of antibacterial effects, as well as clavulic acid (an irreversible inhibitor of β-lactamases 2, 3, and 4 and 5 types, it is inactive with respect to type 1).
Clavulic acid forms a stable inactivated complex, which includes these enzymes, and also protects the substance amoxicillin from the possible loss of antibacterial efficacy, which is induced by the production of β-lactamases (this includes co-pathogens with the main pathogenic bacteria and opportunistic microbes). Due to this combination, a pronounced bactericidal effect is achieved.
Panklava has a wide range of antibacterial activity. It acts on strains sensitive to amoxicillin, as well as strains that produce β-lactamases:
among Gram-positive aerobic microbes: pneumococci, streptococcus pyogenes, Streptococcus viridans and Streptococcus bovis, as well as golden and epidermal staphylococcus (in addition to methicillin-resistant strains), Listeria spp. And enterococci;
among gram-negative aerobic microbes: pertussis, Brucella spp., Campylobacter vaginitis, Escherichia coli, Gardnerella Vaginalis, Haemophilus influenzae, and also Ducrea's stick. This includes klebsiella, moraxella cataris, gonococcus, meningococcus, pasturella multocida, proteus, salmonella, shigella, cholera vibrio, and also Yersinia enterocolitis;
anaerobic bacteria: peptostreptococci and peptococci, clostridia, bacteroides and Actinomyces israelii.
Pharmacokinetics
The main pharmacokinetic properties of clavuline acid and amoxicillin are quite similar. Both these substances are well absorbed when taken orally, and food intake does not affect the degree of absorption. The peak plasma level is observed about 1 hour after drug use.
These substances have a good distribution volume inside tissues and liquids (in the middle ear with the lungs, peritoneal, as well as pleural fluids, ovaries with the uterus, etc.). Amoxicillin is able to pass into synovia, liver, prostate, muscle tissue, palatine tonsils, discharge of bronchi and appendages of nasal sinuses, as well as gall bladder and saliva.
Amoxicillin with clavulinic acid does not pass through the BBB (if the membranes of the brain are not inflamed), but they are able to pass through the placenta and excrete with the mother's milk.
The active components of the drug are poorly synthesized with a plasma protein. Amoxicillin undergoes a partial metabolic process, but the metabolism of clavulic acid is likely to be more intense.
The half-life of active substances is 1-1.5 hours. This indicator is increased in people with kidney failure in severe form - in amoxyllicin it is 7.5 hours, and for clavulic acid 4.5 hours.
Excretion of amoxicillin is carried out in the kidneys - by filtering the glomeruli and tubular secretions. The substance is almost unchanged. Excretion of clavulic acid is carried out through glomerular filtration, and the substance is partially excreted as disintegration products. Small parts of substances can be excreted through the lungs or the intestines.
Both substances can be withdrawn by hemodialysis. With peritoneal dialysis, only a small amount of the drug can be excreted.
Side effects of the panklava
As a result of taking drugs, it is possible to develop such side effects:
organs of the digestive system: the development of vomiting, diarrhea, nausea, disorders in the work of the liver, as well as an increase in the activity of liver transaminases. Occasionally, hepatitis, intrahepatic cholestasis, and PMC are observed;
manifestations of allergies: the onset of erythematous rash and hives. Occasionally, anaphylaxis, erythema multiforme, angioedema and Stevens-Johnson syndrome develop. Ritter dermatitis occurs occasionally;
others: the emergence of superinfection and the development of candidiasis, as well as a curable increase in PTV indices.
Dosing and administration
Oral reception is allowed to children from 12 years of age (or with a weight of 40+ kg) and adults. To eliminate a mild or mild infectious process, it is required to drink 1 tablet (250 mg) three times a day. In case of severe infection, a single dose is increased to 2 tablets (250 mg) or 1st tablet (500 mg) and taken three times a day.
The maximum adult daily dosage of clavuline acid (potassium salt) is 600 mg. The child is 10 mg / kg. For a day an adult is allowed to take no more than 6 grams of amoxyllicin, and the child - maximum 45 mg / kg.
Therapeutic course lasts about 5-14 days. Without a second examination by a doctor, continuing treatment after 14 days is prohibited.
To eliminate odontogenic infectious processes, it is recommended to drink 1 tablet (500 mg) every 12 hours during a period of 5 days.
People with kidney failure (KC value within 10-30 ml / minute) need to drink a medicine in the amount of the 1st pill (500 mg) at intervals of 12 hours, and those with a CC level less than 10 ml / minute - the same dose, but with an interval of 24 hours.
In the treatment of anuria, the interval between drugs should be extended to 48 (or more) hours.
The medication is taken orally with food. The tablet can not be chewed and should be washed down with water.
Interactions with other drugs
In combination with glucosamine, antacid drugs, aminoglycosides and laxatives, the absorption of Panklava is slowed, and in combination with vitamin C - on the contrary, it accelerates.
Combination with bactericidal antibiotics (among them cephalosporins with aminoglycosides, vancomycin with cycloserine and rifampicin) causes a synergistic effect. With bacteriostatic drugs (such as sulfonamides with macrolides and tetracyclines, as well as chloramphenicol and lincosamides) - leads to an antagonistic effect.
The combination with indirect anticoagulants leads to an increase in their effect (with the oppression of the intestinal microflora, as well as lowering the level of PTI and vitamin K binding). Because of this, with this combination, it is necessary to regularly monitor blood clotting indicators.
Combination with oral contraception, ethinyl estradiol and drugs, the metabolism of which leads to the formation of PABA, weakens the effectiveness of these drugs, resulting in the risk of acyclic bleeding.
Allopurinol, diuretics, NSAIDs with phenylbutazone and other drug-blockers of tubular secretion increase the indices of amoxicillin (clavulic acid is excreted to a greater extent by filtering the glomeruli).
Combination of the drug with allopurinol also increases the likelihood of rashes on the skin.
Attention!
To simplify the perception of information, this instruction for use of the drug "Panklav" translated and presented in a special form on the basis of the official instructions for medical use of the drug. Before use read the annotation that came directly to medicines.
Description provided for informational purposes and is not a guide to self-healing. The need for this drug, the purpose of the treatment regimen, methods and dose of the drug is determined solely by the attending physician. Self-medication is dangerous for your health.