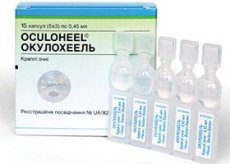 Okulochel is a homeopathic medicine of a complex type.
Use of the okuloohelya during pregnancy
There is no evidence of toxic effects of the drug (its constituent elements - homeopathically diluted components) on pregnant and lactating women. Also, no negative reactions were found.
Only the attending physician can prescribe Oculocheel, taking into account the correlation of potential risk and the possible benefits of using drugs.
Dosing and administration
The solution is used for eye instillation. Always wash hands before starting the procedure. Then take the capsule with the solution, open it, then press it on its side walls and drip into each eye.
For adolescents from 12 and adults, the drug is prescribed in the amount of 2 drops of solution in the affected eye three times per day. In case of increased eye strain, it is often required to instill in each eye 2 drops of solution three times a day.
For children 6-12 years of age, the dose often is 2 drops of solution, 2-3 times a day buried in the affected eye.
Children 3-6 years old are required to dig in the affected eye 2 drops of medicine twice a day.
Children aged 1-3 years require 1-2 times a day to dig in 2 drops of medicine in the affected eye.
Infants until 1 year and newborns are basically instilled with the solution 1 time per day - 1-2 drops in the affected eye.
The therapeutic course usually lasts 1-3 weeks.
Attention!
To simplify the perception of information, this instruction for use of the drug "Okulochel" translated and presented in a special form on the basis of the official instructions for medical use of the drug. Before use read the annotation that came directly to medicines.
Description provided for informational purposes and is not a guide to self-healing. The need for this drug, the purpose of the treatment regimen, methods and dose of the drug is determined solely by the attending physician. Self-medication is dangerous for your health.