Ointment of thiotriazoline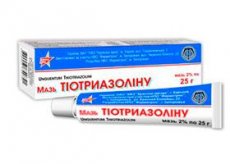 The external preparation - ointment of thiotriazoline - refers to preparations for the treatment of wounds and ulcers on the skin surface.
Indications of the ointments of thiotriazoline
Ointment of thiotriazoline is used as a remedy:
with long healing wounds with slow granulations and weak epithelialization;
with trophic ulcers and bedsores;
with psoriatic lesions of the skin;
with dystrophy and periodontal inflammation;
with ulcers of the oral cavity.
Pharmacodynamics
The pharmacodynamic properties of thiotriazoline are explained by the membrane-normalizing action, blocking the processes of cross-oxidation of fats, and stimulation of anti-radical protection enzymes in the affected layers of cutaneous and mucous membranes. These reactions lead to a halt in the further development of the traumatic inflammatory process, to the acceleration of healing and tissue repair, to shortening the period of post-traumatic rehabilitation.
Pharmacokinetics
Ointment of thiotriazoline is an external preparation that, at the recommended frequency of application, does not penetrate into the systemic circulation and does not have a systemic effect on the body.
Tiotriazolin penetrates through the mucous membrane of the oral cavity in a short time. At the same time, the maximum content of the active ingredient in the blood plasma is detected for one and a half hours.
Dosing and administration
Ointment of thiotriazoline is used on external skin or mucous membranes.
The drug is applied to the wound surface, you can under the bandage, or by an open method. Frequency of ointment application - up to 2 times a day daily, for 7-20 days.
With pathologies of the gums, the ointment is placed in the gingival cavity in the morning and at night, repeating for 7-14 days.