Medical expert of the article

х
All iLive content is medically reviewed or fact checked to ensure as much factual accuracy as possible.
We have strict sourcing guidelines and only link to reputable media sites, academic research institutions and, whenever possible, medically peer reviewed studies. Note that the numbers in parentheses ([1], [2], etc.) are clickable links to these studies.
If you feel that any of our content is inaccurate, out-of-date, or otherwise questionable, please select it and press Ctrl + Enter.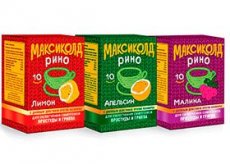 Maxocold is a combined drug used to eliminate infectious or inflammatory pathologies, accompanied by pains inside the joints and muscles, as well as high fever.
Indications of the maxikolda
It is indicated for inflammatory-infectious diseases (such as influenza or SARS), during which there is chills, headaches, fever, nasal congestion, pain inside the muscles and joints, as well as in the nasal sinuses and throat.
Release form
Available in powder form for oral solution. Sachets with powder have a volume of 5 g. Inside one package contains 5 or 10 sachets.
Maxikold with orange taste. The medicine is available in the form of a powder with an orange flavor, which has a specific smell and yellow tint. Perhaps the presence of a mixture of white crystals, as well as easily soluble lumps. As a result of dissolution in water, an opalescent solution is formed that has the smell of orange and a light yellow tint of color.
Maxcod with lemon flavor. Powder with a lemon flavor, with a specific smell and yellow tint. In the powder there may be white crystals, and in addition rapidly dissolving lumps. Due to dissolution in the liquid, a light yellow opalescent solution having a lemon smell is formed.
Maxikold with raspberry flavor.  Raspberry powder has a shade that ranges from light pink to dark (with small patches of red). It is allowed to have white crystals in the mixture together with small lumps. After its dissolution in water, a special opalescent solution that smells of raspberry and has a pink color is formed.
Maxikold Reno is used to eliminate manifestations of the disease in acute forms of respiratory diseases.
Pharmacodynamics
Maxiokol's properties are determined by the active substances that are contained in the drug:
Phenylephrine has a vasoconstrictor effect, helping to facilitate the process of breathing through the nose, and also cleaning the paranasal sinuses with nasal passages;
Paracetamol has analgesic and antipyretic properties. Effective, reducing muscle and headaches, as well as manifestations of fever, and in addition, alleviating pain in the throat;
vitamin C enhances the body's immune response to infections, and also promotes the activation of carbohydrate metabolism and the development of oxidation-reduction processes.
The testimonies indicate that the effectiveness of the drug is provided when it is used in the recommended dosages during 3-5 days.
Use of the maxikolda during pregnancy
Use the medication during pregnancy or lactation with caution.
Contraindications
Among the contraindications:
severe form of disorders in the work of the kidney or liver;
the presence of thyrotoxicosis;
cardiac pathologies (eg, severe aortic stenosis);
presence of tachyarrhythmias;
acute form of myocardial infarction;
elevated blood pressure;
combined use with MAO inhibitors, β-blockers and tricyclics (also in the time interval up to 2 weeks after discontinuation of their use);
combination with other drugs containing paracetamol, or drugs that relieve the manifestations of influenza, colds and nasal congestion;
BPH;
glaucoma of the closed type;
age less than 12 years;
intolerance of the elements of the drug.
Caution is necessary in case of genetic absence of G6PD, and in addition, with liver or kidney insufficiency, benign form of hyperbilirubinemia, diabetes mellitus and problems with glucose absorption (hereditary nature). Also need to be cautiously appointed to the elderly.
Side effects of the maxikolda
Paracetamol can cause such negative reactions: manifestations of allergy (edema Quincke, rashes on the skin, urticaria), and occasionally agranulocytosis, or thrombocytopenia and leukopenia may develop.
Side effects due to the properties of phenylephrine: headaches with nausea, and in addition a slight increase in blood pressure; occasionally there is a palpitation (these phenomena disappear after cancellation of drugs).
Due to prolonged use in high doses, the likelihood of developing functional disorders of the kidney or liver is increased.
[1]
Dosing and administration
Powder with a medicine (1 package) should be poured into a mug, after which add hot water to it and mix until the powder completely dissolves. Then this liquid should be drunk (hot).
For adults, the dose is 1 packet for every 4-6 hours. More than 4 packages per day (24 hours) can not be used. It is also forbidden to use drugs more than 4 hours later.
For children from 12 years of age, the dose is 1 packet every 6 hours. In the period of 24 hours you can use no more than 3 packages.
It is necessary to warn the patient that the medicine can not be used as an analgesic for more than 5 days, and as an antipyretic drug - not more than 3 days. A longer course can be prescribed only by the doctor on an individual basis.
If after the use of drugs in the specified period of the manifestations of the disease persist, you need to consult a doctor.
[2], [3]
Overdose
Overdose usually occurs due to the effects of paracetamol. Among its manifestations - the development of anorexia, hepatonecrosis and pallor of the skin, the emergence of vomiting with nausea, an increase in PTV, as well as an increase in the activity of liver transaminases.
To remove the symptoms of the disorder, you need to perform a gastric lavage and give the patient an activated charcoal. Symptomatic treatment is also used. Paracetamol intoxication can be removed by using a specific antidote, N-acetylcysteine.
Interactions with other drugs
The drug increases the effect of sedative drugs, ethyl alcohol and MAO inhibitors.
Antiparkinsonian drugs, antidepressants, antipsychotics, and phenothiazine derivatives increase the likelihood of dry mouth, constipation, and urinary retention.
GCS increases the likelihood of glaucoma, and halothane - the likelihood of ventricular arrhythmia. Paracetamol weakens the effect of diuretics, and phenylephrine weakens the antihypertensive properties of guanethidine. In this case, guanethidine increases the effect of alpha-adrenostimulants, and tricyclics enhance the sympathomimetic properties of phenylephrine.
The possibility of a hepatotoxic effect increases when combined with diphenin, rifampicin, as well as carbamazepine, barbiturates, zidovudine and other inducers of microsomal hepatic enzymes.
Shelf life
Maxikold is allowed to use in the period of 2 years from the date of release of the medicine.
[11]
Attention!
To simplify the perception of information, this instruction for use of the drug "Maxikold" translated and presented in a special form on the basis of the official instructions for medical use of the drug. Before use read the annotation that came directly to medicines.
Description provided for informational purposes and is not a guide to self-healing. The need for this drug, the purpose of the treatment regimen, methods and dose of the drug is determined solely by the attending physician. Self-medication is dangerous for your health.