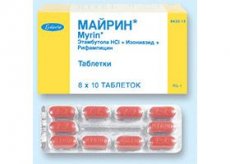 Anti-tuberculosis combined drug Myrin has a complex composition, represented by three active ingredients - isoniazid, rifampicin and ethambutol.
Indications of the mairina
Medical preparation Mairin is used in medical antituberculous regimens:
in the period of intensive therapy;
as a supportive treatment;
at the initial stage of pulmonary and extrapulmonary pathology.
Mayrin can be used in various therapeutic combinations, including other anti-tuberculosis medications, such as Streptomycin or Pyrazinamide. 
Release form
Medication Myrin is available in tablet form: the tablet has a protective coating and is represented by active ingredients such as ethambutol 0.3 g, rifampicin 0.15 g and isoniazid 0.075 g.
Tablets are packed in blister plates of 10 pcs. In each. The cardboard box contains eight blister plates (total - 80 tablets).
Pharmacodynamics
Mairin is a combined remedy with antimicrobial and anti-tuberculosis ability. Its activity is manifested in relation to the mycobacteria of tuberculosis, regardless of the stage of development of the bacterium.
Rifampicin is a semisynthetic antimicrobial agent belonging to the Ansamycin group. Due to rifampicin, inhibition of DNA-dependent RNA polymerase occurs.
Isoniazid inhibits the production of mycolic acids in the cell membrane of tuberculous mycobacteria.
Etambutol falls into the rapidly developing cellular structures of mycobacteria, inhibits the production of metabolism, interfering with the metabolism of cells. This leads to disruption of life and death of pathogenic microorganisms.
Rifampicin together with isoniazid are active in rapidly developing extracellular bacteria. In addition to mycobacteria tuberculosis, the drug acts on microbes that cause brucellosis, trachoma, typhus, legionellosis, leprosy.
Bacteria do not develop enough resistance to the drug due to its complex composition.
Pharmacokinetics
Etambutol is found in the highest possible concentration in the blood after 3 hours (on average), which is from 2 to 5 μg per ml. Concentration is reduced only after 24 hours after discontinuation of the drug. Elimination of ethambutol from the body is carried out: 50% - with the urinary fluid, up to 15% - in the form of residual products of metabolism, up to 22% - with calves.
Rifampicin reaches a peak concentration over an average of 3 hours. Half-life is about 3 hours. Rifampicin passes through the blood-brain barrier, the placental barrier, found in breast milk.
Isoniazid has a rapid absorption and good distribution in tissues and fluids. Up to 70% of the drug leaves the body in the urine liquid after a day after taking the pill.
Use of the mairina during pregnancy
Treatment with tablets Mairin during pregnancy is undesirable. But in some cases, if you can not avoid taking the drug, it is still prescribed: but first you need to assess the degree of danger to the fetus and the likely benefits for the pregnant patient.
If Mairin is appointed in the final trimester of gestation, then you should take medications with vitamin K. This is due to the fact that rifampicin is capable of provoking bleeding in a woman and a baby after his birth.
Contraindications
Meyrin tablets should not be taken:
with a high probability of hypertrophied sensitivity to the drug and its individual components;
with hepatitis, jaundice;
with optic neuritis;
in the period of exacerbation of gout;
children under the age of 13 years.
 Relative contraindications for the treatment of Mairin can be considered:
epilepsy;
psychoses;
severe renal pathology;
gout in the subacute stage and the stage of remission.
If Mairin is prescribed to an elderly person or a child older than 13 years, ophthalmic control, as well as periodic examination of the kidneys and evaluation of blood counts, are required.
Side effects of the mairina
Anti-TB treatment with Mayrin may be accompanied by a large number of adverse events, including:
headache, weakness, fatigue, irritability;
sleep disorders, paresthesias, neuropathy, polyneuritis, psychosis, mood lability;
heart palpitations, angina, changes in blood pressure;
dyspepsia, intoxication hepatitis;
allergic manifestations (rashes, itching, fever);
impaired appetite;
Flu-like condition with fever, dizziness and muscle pain;
Depressive states, hallucinations, paresthesias and paresis;
exacerbation of gout;
cramps, metabolic acidosis.
With expressed side symptoms, the doctor can review the treatment and replace Mairin with another, more suitable, drug.
It should be noted that during skin treatment with Mairin, skin, discharge, sweat, feces, urinary and lacrimal fluid can be painted reddish-orange.
Dosing and administration
Mairin tablet is swallowed whole, without chewing, with enough water, for 60-120 minutes before a meal.
The amount of the drug is determined, guided by the recommended daily dosage:
ethambutol - from 15 to 25 mg per kilogram of weight;
rifampicin - 8 to 12 mg per kilogram of weight (but not more than 0.6 g);
isoniazid - from 5 to 10 mg per kilogram of weight (but not more than 0.3 g).
Duration of admission - from one to three months.
On average, the daily amount of Mairin is 1 tablet per 15 kg of patient weight. Another convenient dosing schedule is possible:
patients with weight from forty to 49 kg - three tablets;
patients with a weight of more than 50 kg - four tablets.
It is not recommended to interrupt the treatment on your own, without the permission of the doctor, since this can have a very negative effect on the further treatment of the disease.
Overdose
The intake of excessively large amounts of Mayrin may be accompanied by such signs:
nausea and vomiting;
a feeling of fatigue;
a violation of consciousness;
pain in the right hypochondrium;
jaundice;
staining the skin and secretions in a saturated red or brownish color.
An overdose is treated by washing the intestines and stomach, using a sorbent preparation. If necessary, prescribe symptomatic drugs, apply forced diuresis.
It is possible to connect hemodialysis, use of biliary drainage.
Interactions with other drugs
Bioavailability Myrin can be lowered by the action of anti-acid drugs, opium preparations and ketoconazole.
Myrin reduces the effectiveness of anticoagulant drugs, hypoglycemic agents, oral contraceptives, digoxin, arrhythmia, glucocorticosteroids, theophylline, cyclosporine, β-adrenoblockers, cimetidine.
Anti-acid agents worsen the absorption of Mairin.
Myrin increases the severity of the side effects of phenytoin, worsens the excretion of triazolam.
Attention!
To simplify the perception of information, this instruction for use of the drug "Mairin" translated and presented in a special form on the basis of the official instructions for medical use of the drug. Before use read the annotation that came directly to medicines.
Description provided for informational purposes and is not a guide to self-healing. The need for this drug, the purpose of the treatment regimen, methods and dose of the drug is determined solely by the attending physician. Self-medication is dangerous for your health.