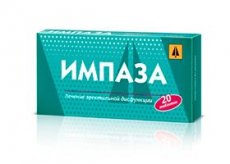 Impaza is a homeopathic medicine in tablets.
Pharmacodynamics
The drug increases the activity of eNOS, and in addition restores the process of production of nitric oxide through the endothelium during sexual stimulation. Also increases the amount of cGMP inside the smooth muscles, along with it contributing to its relaxation. As a result, the flow of blood to the cavernous bodies increases, which ensures the required duration and strength of the erection.
The medicine enhances libido, and also increases satisfaction from sexual contact.
With a constant use of drugs, the serum testosterone level increases (if the initial value was moderately low).
Dosing and administration
Tablets are used orally, but they are not consumed during meals. One tablet should be taken for taking. It must be kept in the mouth (try not to swallow or chew) until it completely dissolves.
Among the options for reception:
permanent use - in order to stabilize a man's ability to have sexual intercourse, it is recommended to take a course of treatment-prophylactic nature (its duration is at least 12 weeks). In accordance with the severity of dysfunction, the frequency of drug use is determined. It is possible to take the 1st pill every other day or daily use of the 1st pill twice a day (preferably in the evening). If there is such a need, the course is allowed to be repeated after 3-6 months;
periodic use - to cause an erection periodically (for example, before the alleged sexual contact), it should be 1-2 hours before the act to drink 2 tablets of the medicine.
Interactions with other drugs
There is no data on the incompatibility of the Impaza with other drugs.
The drug can be combined with organic nitrates (for patients with ischemic heart disease (1-2 functional class of angina pectoris)), and in addition with diuretics, calcium antagonists, ACE inhibitors, and β-blockers.
Attention!
To simplify the perception of information, this instruction for use of the drug "Impos" translated and presented in a special form on the basis of the official instructions for medical use of the drug. Before use read the annotation that came directly to medicines.
Description provided for informational purposes and is not a guide to self-healing. The need for this drug, the purpose of the treatment regimen, methods and dose of the drug is determined solely by the attending physician. Self-medication is dangerous for your health.