Medical expert of the article
New publications
Preparations
Ibuprofen from temperature

х
All iLive content is medically reviewed or fact checked to ensure as much factual accuracy as possible.
We have strict sourcing guidelines and only link to reputable media sites, academic research institutions and, whenever possible, medically peer reviewed studies. Note that the numbers in parentheses ([1], [2], etc.) are clickable links to these studies.
If you feel that any of our content is inaccurate, out-of-date, or otherwise questionable, please select it and press Ctrl + Enter.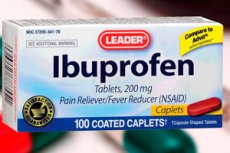 An increase in temperature occurs due to the activation of pyrogens - substances produced in response to toxins. So the body includes its defenses to fight foreign antigens. To bring down the temperature at not too high values means to suppress the immune response. A strong increase definitely requires intervention. There are enough funds on the pharmaceutical market for this. But is ibuprofen possible at temperature and does it knock it down?
Ibuprofen is indicated and approved by the FDA for use in the treatment of inflammatory diseases and rheumatoid disorders. The discovery of ibuprofen was prompted by the search for an alternative non-corticosteroid treatment for rheumatoid arthritis. Dr. Stuart Adams OBE was a researcher whose work led to the discovery of the drug. Originally patented by Dr. Adams and John Nicholson as 2- (4-isobutylphenyl) propionic acid, ibuprofen has become and remains one of the most widely used NSAIDs in the world. [1]
Indications Ibuprofen from temperature
Ibuprofen is a non-steroidal anti-inflammatory drug. This is one of the most common drugs for stopping the symptoms of SARS, colds and flu. It is also indicated for relieving headaches and toothaches in joints, backs and muscles that occur when injuring soft tissues. [2]
At what temperature should it be used? Indicators above 38º-39ºС are a clear sign of resorting to an antipyretic. With a cold without a temperature or 37 ° C, you can drink ibuprofen, if your head hurts, there is aches in the joints, there is a tendency to cramps. [3], [4]
Ibuprofen is an FDA-approved antipyretic used to lower fever in both adults and children. The use of NSAIDs in treating fever is much more common in pediatric patients, and many modern studies have focused on making ibuprofen more effective in treating fever. [5]
Release form
Ibuprofen is available in various forms:
effervescent tablets taken in the form of a solution;
conventional film-coated;
capsules;
syrup;
suspensions;
candles - prescribed for babies from 3 months to 2 years.
Pharmacodynamics
Ibuprofen is one of the most commonly used NSAIDs and a powerful inhibitor of the synthesis of prostaglandins (PG), which can cope with various types of pain and has anti-inflammatory activity. [6] The enantiomer S + possesses most of the pharmacological activity of ibuprofen and similarly inhibits the activity of COX1 and COX2. [7]
At the heart of the drug is a derivative of propionic acid, which inhibits the synthesis of prostaglandins - inflammatory mediators. Ibuprofen acts at the central and peripheral level, alleviating pain, relieving inflammation, lowering temperature.
It is rapidly absorbed and distributed throughout the body within 10-15 minutes after administration. The time of maximum serum concentrations for ibuprofen was 54.05 minutes, the time of maximum temperature decrease was 183 minutes. [8]It is excreted completely by the kidneys. [9]
Use Ibuprofen from temperature during pregnancy
With the use of ibuprofen, as well as other non-steroidal anti-inflammatory drugs, there is a risk of miscarriage, the development of a child's heart disease and other disorders.
It is best to avoid taking ibuprofen in the first 30 weeks of pregnancy, unless the benefits outweigh the potential risk to your unborn baby. This is because taking ibuprofen in the first 30 weeks of pregnancy can lead to an increased risk of complications, including miscarriage. 
Ibuprofen should not be used during pregnancy for 30 weeks or more, unless it is on the advice of a doctor. This is because taking ibuprofen at this stage of pregnancy is associated with an increased risk of complications, including heart problems in your baby and a decrease in the amount of amniotic fluid. [10]
Studies have shown a low concentration of ibuprofen in breast milk. This makes it possible to assume that its negative effect on the infant during lactation is unlikely.
Contraindications
Ibuprofen is not prescribed for hypersensitivity to its components, gastric ulcer and duodenal ulcer, bleeding disorders, intestinal inflammation. It is contraindicated for use in case of severe cardiac, renal or hepatic insufficiency.
Do not give ibuprofen for chickenpox unless recommended by your doctor - this can cause a serious allergic skin reaction. [11]
Side effects Ibuprofen from temperature
Gastrointestinal bleeding is a well-known side effect of ibuprofen and can lead to gastritis, ulceration, hemorrhage or perforation. Inhibition of COX isoforms using ibuprofen leads to a decrease in prostaglandins, which play a role in the secretion of gastroprotective mucus.[12] 
Reduced renal function is also a problem with ibuprofen, as recent observation has shown that NSAIDs have nephrotoxicity even in patients without impaired renal function. [13]Dehydration is a common risk factor for kidney damage caused by ibuprofen, and therefore many studies have been done on NSAIDs and kidney function in groups more vulnerable to dehydration, such as children with concomitant kidney disease or athletes. [14]
The rash is also a known side effect of ibuprofen, usually due to hypersensitivity to the drug or skin irritation when applied topically. The rash can also be part of a more serious syndrome caused by the use of ibuprofen, such as anaphylaxis or a drug reaction with eosinophilia syndrome and systemic symptoms (DRESS). In 2016, a rare case of DRESS syndrome was reported, which causes skin, liver and hematological abnormalities when using ibuprofen in a pediatric patient. It is known that DRESS syndrome is more common when taking anticonvulsants, sulfanilic derivatives, and antimicrobials, and the number of known cases associated with ibuprofen is limited. The etiology of DRESS syndrome is also unknown, and theories that focus on hypersensitivity to toxic metabolites or pathologies involving type 6 herpes virus are currently being postulated. [15]In the literature, there have been other cases of similar severe reactions involving ibuprofen or other NSAIDs; Another 2014 case report details a patient who developed drug-induced liver damage with multiple exudative erythema after taking an over-the-counter drug containing ibuprofen for 20 days. [16]
The relationship between arterial hypertension and the use of NSAIDs has already been investigated. A transverse study of the elderly population in 1993 showed that the use of NSAIDs is an independent risk factor for the development of hypertension in this group.[17] 
Dosing and administration
When taking ibuprofen in adults, it is necessary to observe the dosage prescribed by the instruction, strive for the minimum effective. Do not ignore the contraindications of the drug. In older people, a more frequent expression of side effects is possible than in young people.
Doses of ibuprofen directly depend on the patient's age and body weight. So, children heavier than 20 kg, the drug is used at the rate of 20-30 mg per kilogram of weight, a second dose is possible only after 6 hours.
Adults and children weighing more than 30 kg are prescribed 200-400 mg every 4-6 hours. The duration of the course at a temperature of 3 days.
Application for children
For children aged 3 months to 12 years, ibuprofen is available as a liquid syrup. For children 7 years of age and older, ibuprofen is available in the form of tablets, capsules and granules, which you dissolve in water to make a drink.
Children are brought down with ibuprofen, starting from 3 months of their life, but each form of the drug has its own recommendations on this. So, tablets are recommended only from the age of six. Suppositories and syrups can be used for babies after 3 months in doses and intervals determined by the pediatrician.[18]
Dosages of ibuprofen syrup for children
| Age | How many? | How often? |
| --- | --- | --- |
| 3 to 5 months (weighing more than 5 kg) | 2.5 ml | Max 3 times in 24 hours |
| 6 to 11 months | 2.5 ml | Max 3-4 times a day |
| 1 to 3 years | 5 ml | Max 3 times in 24 hours |
| From 4 to 6 years | 7.5 ml | Max 3 times in 24 hours |
| 7 to 9 years old | 10 ml | Max 3 times in 24 hours |
| 10 to 11 years old | 15 ml | Max 3 times in 24 hours |
| 12 to 17 years old | 15 to 20 ml | Max 3-4 times a day |
Ibuprofen tablets for children
| Age | How many | How often |
| --- | --- | --- |
| 7 to 9 years old | 200 mg | Max 3 times in 24 hours |
| 10 to 11 years old | 200 to 300 mg | Max 3 times in 24 hours |
| 12 to 17 years old | 200 to 400 mg | Max 3 times in 24 hours |
If you mistakenly give your child 1 additional dose of ibuprofen, wait at least 12 hours before giving him the next dose. 
If ibuprofen does not reduce the temperature of the child, you need to resort to other antipyretic drugs, for example, paracetamol.
Analogs
Safer for the body, but no less effective for the elimination of fever is paracetamol. Like analgesic and antipyretic, it is less toxic to the body. Although it has a weak anti-inflammatory effect, it copes with heat very well and also reduces the pain threshold.
In addition to paracetamol and ibuprofen, you can bring down the temperature with aspirin, nurofen, analgin, and voltaren. Other analogues of the drug are ibufen, dolgit, ipren, ibuprom.
Reviews
According to patients using ibuprofen during an illness, it really alleviates a painful condition and lowers fever. Doctors consider it one of the most effective and researched modern medicinal analgesic drugs.
Attention!
To simplify the perception of information, this instruction for use of the drug "Ibuprofen from temperature" translated and presented in a special form on the basis of the official instructions for medical use of the drug. Before use read the annotation that came directly to medicines.
Description provided for informational purposes and is not a guide to self-healing. The need for this drug, the purpose of the treatment regimen, methods and dose of the drug is determined solely by the attending physician. Self-medication is dangerous for your health.