Medical expert of the article

х
All iLive content is medically reviewed or fact checked to ensure as much factual accuracy as possible.
We have strict sourcing guidelines and only link to reputable media sites, academic research institutions and, whenever possible, medically peer reviewed studies. Note that the numbers in parentheses ([1], [2], etc.) are clickable links to these studies.
If you feel that any of our content is inaccurate, out-of-date, or otherwise questionable, please select it and press Ctrl + Enter.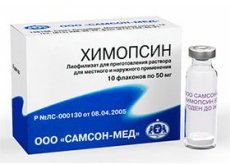 Indications of the hymopsin
It is applied locally - to stop the developed inflammation, accelerate healing, and also rejection of dead tissue. In addition, to facilitate sputum discharge, as well as for the splitting of exudative and transudative proteins (in ophthalmic, surgical, therapeutic and otolaryngological practice):
treatment of decubitus and, along with this, trophic-type ulcers, and in addition certain types of pyoderma, in which there is a massive decomposition of tissues (ectyme or opening boils, etc.);
purification of wound surfaces of purulent type that occurred after a thermal burn of 3rd degree, from dead tissues and pus, and in addition acceleration of the formation of fresh granulations; also with bedsores;
treatment of inflammatory pathologies in the upper respiratory tract, as well as in the lungs: diseases such as bronchitis with tracheitis, pulmonary abscess, pneumonia and bronchial asthma with bronchiectasis;
in surgery - in order to prevent the development of complications after surgical procedures on the lungs (elimination of malignant tumors and inflammations in the chronic form of bronchiectasis and abscesses)), and in addition to treating complications that have already manifested as a result of such operations;
in otolaryngology - elimination of purulent otitis of chronic type, a common cold, in which a viscous and copious separation is observed, as well as purulent forms of sinusitis;
in ophthalmology - treatment of cornea diseases (ulcers, as well as herpetic keratitis); the drug helps to detach the dead layers of tissues, and also accelerates healing.
[2], [3]
Release form
Produced in vials (5 ml / 50 mg). Inside a separate package - 10 bottles with lyophilizate.
Pharmacodynamics
Enzyme medication with proteolytic properties that cleaves dead tissue, without affecting the living areas (similar effect is facilitated by the presence in it of specific anti- enzymes).
Stimulates liquefaction of viscous exudates and secretions. Hydrolyses peptones with proteins, followed by the formation of low-molecular-type peptides, and in addition cleaves formed with the participation of residues of aromatic amino acids (such as troptophane, methionine and phenylalanine with tyrosine) bonds.
[4]
Use of the hymopsin during pregnancy
There is no information on the use of Hymopsin in pregnant or lactating women.
Contraindications
Among the contraindications:
hypersensitivity to the elements of the drug;
tumors of malignant type;
pulmonary tuberculosis in destructive form;
chronic form of heart failure (grade 2-3);
pulmonary emphysema on the background of respiratory failure.
It is forbidden to treat the area covered with ulcers with malignant neoplasms, and also to inject it into the bleeding cavities.
Caution is required when eliminating the pathology of the respiratory system in people with active tuberculosis in acute form.
[5]
Side effects of the hymopsin
Because of the solution, the patient may develop side effects of an allergic type.
When administered by inhalation method: sometimes the voice becomes hoarse and the mucous membranes inside the respiratory ducts become irritated. Also there is a fast-passing subfebrile fever.
With ophthalmic application: it is possible to develop edema and irritation in the conjunctiva. To eliminate the violation, the concentration of the solution used should be reduced.
Dosing and administration
For the treatment of respiratory pathologies, the drug is dissolved (dosage 25-30 mg) in distilled water (5 ml), and then injected into the respiratory system using an inhaler, a tracheostomy tube, and an endotracheal probe with a bronchoscope. The number of inhalations is 1-3 times a day for several days (the exact amount depends on the existing indications). Also in the solution it is allowed to inject bronchodilators and antibiotics, which strengthen the properties of Himopsin.
During the treatment of a chronic rhinitis, water is irrigated or buried in the nasal cavity 2-3 times a day (dissolve 5 mg of LS in 5 ml of a solution (0.9%) of sodium chloride).
When eliminating purulent otitis in a chronic form, which is complicated by cholesteatoma, it is necessary to instill a solution (0.5%) in the ear 2-3 times a day (before the procedure it is required to wash the ear with a solution (0.9%) of sodium chloride).
In the process of eliminating thermal burns of 3rd degree on the formed scab, it is necessary to apply a thin layer of solution (ratio 1 g / 100 cm 2 of wound area) and then cover with a dressing that is preliminarily wetted in a solution (0.9%) of sodium chloride or procaine (0.25%). Above it, you need to apply another bandage - water resistant. This will slow the drying out. To change these bandages follows in a day.
To treat pressure ulcers and purulent wounds is required a solution in a dosage of 25-50 mg (dilute with a solution of procaine (0.25%) 10-50 ml). Then moisten sterile tampons of gauze in the medicine and apply to the wound for a period of 2-24 hours (the more precise time depends on the thickness of the layer of pus and the necrotic tissue). Change the bandages with Hymopsin is required every 3-5 days.
To remove burns on the cornea, ulcers or keratitis, it is necessary to make eye baths from the solution in 2-3 days (ratio 1k500), or instill 2 drops of 0.25% solution (manufactured ex tempore) four times a day for 1 -2 days.
To eliminate the obstruction of the lacrimal ducts, as well as wounds to the skin of the eyelids, the drug is used in the form of a 1% solution (manufactured ex tempore) - to wash the lacrimal ducts or to irrigate the wound surface.
[6], [7]
Attention!
To simplify the perception of information, this instruction for use of the drug "Himopsin" translated and presented in a special form on the basis of the official instructions for medical use of the drug. Before use read the annotation that came directly to medicines.
Description provided for informational purposes and is not a guide to self-healing. The need for this drug, the purpose of the treatment regimen, methods and dose of the drug is determined solely by the attending physician. Self-medication is dangerous for your health.