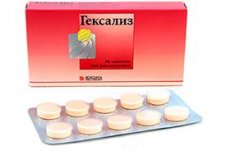 Hexalysis is a medicine that is used in diseases of the throat.
Indications of the hexalysis
It is used for local therapy in pathologies of inflammatory-infectious type in the mucous membrane inside the pharynx with the larynx and the oral cavity. Among them - laryngitis with gingivitis, tonsillitis with periodontitis, as well as pharyngitis with stomatitis and inflammation at the edges of the gums.
Pharmacodynamics
Hexalysis is a combined remedy with a prolonged local effect. Possesses anesthetizing, anti-inflammatory, cleansing, and also disinfecting properties. All of them are due to the presence of 3 active components in the drug.
Biclutimol has a bactericidal effect on certain microbes - streptococci with staphylococci, as well as corynebacteria. Is able to coagulate proteins inside microbial cells. Biklotimol with enoxolone also have an anesthetic and anti-inflammatory effect.
Lysozyme is a natural polymucosaccharide with antibacterial action against germs of Gram-positive type, as well as with antiviral activity. In addition, the substance potentiates local cellular as well as humoral immunity. Slowing down the activity of histamine, lysozyme becomes a participant in the anti-inflammatory response, and with it helps to speed up the process of excretion of metabolites from damaged tissues.
Side effects of the hexalysis
Among the side effects can sometimes be observed: manifestations of allergies in the form of urticaria, puffiness of the lips, erythema, rashes on the skin and edema Quincke. Although the drug contains soy lecithin and methylparaben, in some categories of patients, allergy symptoms may occur.
Attention!
To simplify the perception of information, this instruction for use of the drug "Hexalisis" translated and presented in a special form on the basis of the official instructions for medical use of the drug. Before use read the annotation that came directly to medicines.
Description provided for informational purposes and is not a guide to self-healing. The need for this drug, the purpose of the treatment regimen, methods and dose of the drug is determined solely by the attending physician. Self-medication is dangerous for your health.