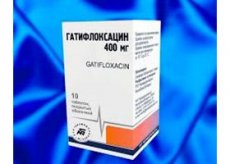 The drug Gatifloxacin belongs to the antibacterial and antiparasitic agents of the group of fluorinated quinolones.
Other trade names: Gafloks, Gatimak, Gatibakt, Gatispan, Ozerlik, Tebris.
Indications of the gatifloxacin
Indications for the use of Gatifloxacin include the treatment of pneumonia, acute and chronic bronchitis, acute sinusitis and conjunctivitis, phlegmon and subcutaneous abscesses, acute pyelonephritis and cystitis, gonococcal urethritis and endocervicitis, acute osteomyelitis and periostitis, tuberculosis, peritonitis, sepsis. The drug can be used in gastroenterology for the eradication of the bacterium Helicobacter pylori.
Pharmacodynamics
Pharmacodynamics of this drug is provided by the active substance - gatifloxacin sesquihydrate, which acts on gram-negative and gram-positive microorganisms that show resistance to antibiotics from other pharmacological groups.
Gatifloxacin affects bacteria by disrupting the replication of their DNA (by inhibiting topoisomerase enzymes) and by changing the structure of cell membranes, which stops cell division and the development of microorganisms, causing their death.
Pharmacokinetics
Regardless of the form of production, Gatifloxacin penetrates many tissues and body fluids, as well as through the BBB, demonstrating bioavailability at 96% and binding to plasma proteins - up to 20%. The maximum plasma concentration of the drug is noted 60-120 minutes after its application.
Biotransformation of gatifloxacin sesquihydrate is partial, in unchanged form, at least 70% of the drug is excreted from the body. Elimination through the kidneys (with urine) and intestines (with feces).
Not depending on the dose and method of application, the half-life of the drug varies between 7-14 hours.
Side effects of the gatifloxacin
Side effects of Gatifloxacin include: headache, dizziness, urticaria, nausea, vomiting, diarrhea, inflammation of the mucous membranes, joint and muscle pains, fever, increased heart rate, hyperhidrosis, soft tissue swelling, vasodilation, tremor and paresthesia, sleep disorders, decreased vision and increased lachrymation (when using eye drops).
Dosing and administration
Gatifloxacin tablets are taken orally - 0.2 g twice daily or 0.4 g once; The duration of application is determined by the doctor and can range from seven to ten days.
Intravenous infusion solution is administered once a day (400 mg each); course of treatment is similar.
Eye drops are applied one drop three times a day for a week.
Interactions with other drugs
Do not simultaneously use Gatifloxacin with hypoglycemic agents, anticoagulants, antiarrhythmic and antipsychotic drugs.
Gatifloxacin potentiates the action of cardiac glycosides of digitalis, and also increases the side effects of non-steroidal anti-inflammatory drugs.