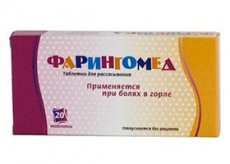 Faringhome - homeopathic tablets, having anti-inflammatory properties. There are varieties of medicines with different flavors - honey, lemon, orange, banana, and raspberries.
Release form
Produced in the form of tablets. One package contains 2 blister plates, 10 blisters in each blister.
Pharyngomede with orange flavor
Homeopathic pastilles Faringhome with orange flavor reduce redness and edema of the throat, remove pain and perspiration.
Pharyngopils with lemon flavor
Disinfecting drug of combined action, often used in dental and ENT practice. Has antimicrobial, as well as antifungal properties.
Dosing and administration
Pharyngomed is prescribed for children from 5 years and adults - one tablet is allowed for use. It must be kept in the mouth until the final resorption. Treatment is carried out according to this scheme: in the first 2 hours you need to take 2 tablets. (one per hour), and then use 1 table. Every 3-4 hours (with this you need to remember that a day you can use a maximum of 5 tab.).
If the manifestations of the disease continue to persist for 24 hours after the start of therapy, you should consult your doctor.
Attention!
To simplify the perception of information, this instruction for use of the drug "Faringhomed" translated and presented in a special form on the basis of the official instructions for medical use of the drug. Before use read the annotation that came directly to medicines.
Description provided for informational purposes and is not a guide to self-healing. The need for this drug, the purpose of the treatment regimen, methods and dose of the drug is determined solely by the attending physician. Self-medication is dangerous for your health.