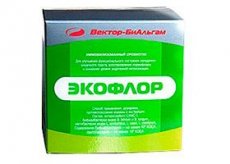 Ecoflor is an effective probiotic agent of the new generation.
Indications of the ecoflora
The medicine is shown at complex elimination and updating of dysbacterial disorders:
infectious processes in the intestines caused by bacteria or viruses (in acute or chronic form);
intestinal dysbiosis;
invasion by parasites (giardiasis, opisthorchiasis and others);
lung diseases in chronic form (such as tuberculosis, bronchitis or pneumonia, etc.);
oncological pathologies;
an allergic reaction to food or medicine;
pathologies of allergic origin (such as bronchial asthma or allergic dermatosis);
chronic form of somatic disease (among them pancreatitis or hepatitis with gastritis, gastric ulcer or ulcer of the duodenal ulcer, and in addition enterocolitis, coronary heart disease or atherosclerosis, as well as a disorder of lipid metabolism);
a syndrome of alcoholic or narcotic abstinence;
consequences of exposure to radiation (among the causes are also therapeutic procedures).
Release form
Available in powder form in packages of 5 g. One package contains 20 such sachets.
Bifidum Trilakt Ecoflor . The course of therapy with probiotics should last no less than 30 days, optimally - 40 days. All medicines from the complex (Bifidum, Trilakt, Ecoflor) must be consumed every day.
Medication Bifidum 791 BAG should be consumed the entire period of the course, daily - days 1-40. Reception takes place once in the evening, at least 1.5 hours after eating. If you use drugs at the maximum dose during the first 10 days, you need to divide the daily dose in half - 2 meals, in the morning (20-30 minutes before breakfast), and in the evening. It is allowed to prescribe a probiotic and newborns, from the first day of life.
Eco-flore is administered in the period of 11-20 days of the course, once a day (on an empty stomach before breakfast, for 30-40 minutes), washing down the powder with liquid. For children, it is allowed to mix the medicine with acid (1 spoon). It is allowed from the age of 3, only a doctor can prescribe it to younger children.
The use of Trilakt occurs during the 21-40th day of the course. Reception once a day - in the morning before breakfast (for 20-30 minutes). If necessary, the drug can be diluted with water. It is allowed to use for children from 1.5 years, but for a child younger than this age Trilakt can be prescribed only by a doctor.
The recommended dosage is set out below.
Bifidum and Trilact:
children younger than 1 year - 1 ml (minimum), 2-3 ml (maximum);
children 1-2 years old - 1.5 ml (minimum), 2-4 ml (maximum);
children 2-3 years old - 2 ml (minimum), 3-5 ml (maximum);
children 3-7 years of age - 2.5 ml (minimum), 5 ml (maximum);
children 7-12 years of age - 3.5 ml (minimum), 5-10 ml (maximum);
adolescents 12-18 years old - 5 ml (minimum), 10 ml (maximum);
adults - 5 ml (minimum), 10 ml (maximum).
Ecoflor: for children under 12 years of age, the dosage is calculated by the ratio of 1 g / year of life. For children from 12 years and adults: the minimum dose is 2 packages of powder (10 g), and the maximum - 4 packages (20 g).
Pharmacodynamics
Ecoflor is a probiotic medicine of a new generation, which consists of a wide range of strains of bifido-, and also lactobacilli (the strains have antagonistic activity). These elements are immobilized on the basis of SUMS-1, which protects bacteria passing through the acidic environment.
As a medicine, SUMS-1 is used to eliminate intoxication processes in the body. It also helps to remove toxins from the intestine along with heavy metal salts.
Enterosorbent SUMS-1 has a powerful bactericidal activity, but it does not absorb intestinal enzymes with hormones, as well as hydrogen sulfide with a transport protein, which is required for peristalsis. In addition, SUMS-1 does not excrete ions that support the process of hemostasis, does not disrupt the balance of water and salt in the body, and does not provoke intestinal atony. As a result, the drug is considered to be an ideal tool for prolonged use. There is also information that Ecoflor can reduce the load on liver function.
It should be noted that dry means, passing through the stomach, lose about 90% of their activity, and under the influence of Ecoflora, the protective properties of bifido- and also lactobacillus, on the contrary, are significantly enhanced. Immobilized form of the drug allows you to perform detoxification and eliminate from the body pathogenic microorganisms and toxins with the products of decay.
Among the properties of Ecoflora are also: stabilization of the function of the gastrointestinal tract, restoration of the intestinal microflora, elimination of the conditionally pathogenic and pathogenic microflora, and with it the reduction of internal and external intoxication of the whole organism in general.
Thanks to bifido- and lactobacilli, the processes of multiplying pathogenic, gas-forming, and at the same time putrefactive microflora are prevented, digestion processes and assimilation of useful vitamins occur. In addition, they help to stabilize the metabolism of trace elements (among them iron and calcium), and in addition the content and exchange of bioactive components.
In the process of treatment of chronic forms of pathologies of internal organs, bifido- and lactobacilli have an immunostimulating effect, positively affecting the body.
Dosing and administration
Eco-flore should be consumed before meals (10 minutes), previously mixed with water. To facilitate the reception, instead of water it is allowed to use jelly. It is also allowed to prescribe medication regardless of eating. Usually, therapy with medication lasts no more than 2 weeks.
Recommended dosage:
children 3-5 years - 3 grams of medication 2 times a day;
children 5-10 years - 5 grams of powder 2 times a day;
age over 10 years - 5 grams of LS 2-3 times per day.
Attention!
To simplify the perception of information, this instruction for use of the drug "Ecoflor" translated and presented in a special form on the basis of the official instructions for medical use of the drug. Before use read the annotation that came directly to medicines.
Description provided for informational purposes and is not a guide to self-healing. The need for this drug, the purpose of the treatment regimen, methods and dose of the drug is determined solely by the attending physician. Self-medication is dangerous for your health.