Chinese ointment for psoriasis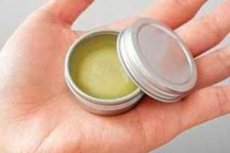 Qing Dai ointment is a Chinese ointment from psoriasis based on herbal raw materials used by traditional medicine and included in the pharmacopoeia of Chinese medicinal plants.
Pharmacodynamics
The therapeutic effect of the Qing Dai ointment is provided by the following plant components: a vanishing dye (Ban Lan Gen or Radix Isatidis), Qing Dai (Indigo Naturalis), an Amur velor bark (Huang Bai or Cortex Phellodendri).
In the annotation to the preparation, the presence of anti-inflammatory effects in indorubin and isatin, which are included in these plants, is noted, which block the tissue immune response and inhibit the proliferation of skin keratinocytes.
Also, the substances of Amur velvet cortex (berberine, β-sitosterol, stigmasterol) have anti-inflammatory, antibacterial, antifungal properties (the mechanism of action is not specified). Fatty base ointment - olive oil - softens the skin and retains moisture.
Medical expert editor
Portnov Alexey Alexandrovich
Education: Kiev National Medical University. A.A. Bogomolets, Specialty - "General Medicine"
Other articles on the topic

Psoriasis (psoriasis) or scaly lichen is a non-infectious dermatosis. The true causes of the disease are not clear. Currently, a provoking factor is a violation of autoimmune processes.

Physiotherapy is considered one of the most effective and relatively safe methods of treating many diseases. There is a wide variety of physiotherapy procedures that affect the human body in different ways.
The latest research relating Chinese ointment for psoriasis

The newest antipsoriatic agent Tildraqizumab has already successfully passed the first clinical trials: it is established that the drug is perfectly tolerated by patients who suffer from a severe and moderate form of psoriasis.

Over the past 10 years, medicine and science have made a huge step forward, there are more and more new effective methods of treatment, diagnostic procedures, drugs.
Attention!
To simplify the perception of information, this instruction for use of the drug "Chinese ointment for psoriasis" translated and presented in a special form on the basis of the official instructions for medical use of the drug. Before use read the annotation that came directly to medicines.
Description provided for informational purposes and is not a guide to self-healing. The need for this drug, the purpose of the treatment regimen, methods and dose of the drug is determined solely by the attending physician. Self-medication is dangerous for your health.