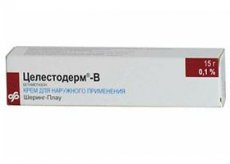 The drug Celestoderm-B is included in the pharmacological group of hormones of the adrenal cortex; code ATC D07AC01 - corticosteroids for topical application in dermatology.
Other trade names are: Celeston valerate, Acriderm, Beloderm, Betliben, Betnoveit, Kuterid.
Pharmacodynamics
The composition of the drug Celestoderm-B includes pharmacologically active substance - synthetic GCS betamethasone (in the form of betamethasone 17-valerate), which reduces the intensity of inflammation, hyperemia and itching of the skin, as well as exudation of all words of the epidermis and dermis.
The therapeutic effect is based on the fact that corticosteroids stimulate intracellular synthesis of lipocortin-1, which decreases the activity of phospholipase A2, inflammatory mediators, COX 1 and COX 2, and leukocytes. In addition, betamethasone reduces the synthesis of histamine and inhibits the release of phagocytes, T-lymphocytes and other immunocompetent cells into the focus of inflammation; helps strengthen the walls of the capillaries.
Pharmacokinetics
In the absence of damage to the skin, no more than 14% of Celestoderm-B is absorbed into the blood (with skin lesions and a large area of inflammation, this proportion is higher).
About half of betamethasone binds to fiery proteins; Biotransformation of the drug occurs in the liver; from the body Tselestoderm-B is excreted in the urine and feces.
Side effects Celestoderm-B
Among the possible side effects of Celestoderm-B are: an allergy in the form of redness, itching and rash on the skin; dryness (in the folds - maceration), burning and depigmentation of the skin in the place of application; the appearance of stretch marks; an inflammation of hair bulbs. Prolonged use of ointment or cream can cause thinning of the epidermis and skin atrophy.
Attention!
To simplify the perception of information, this instruction for use of the drug "Celestoderm-B" translated and presented in a special form on the basis of the official instructions for medical use of the drug. Before use read the annotation that came directly to medicines.
Description provided for informational purposes and is not a guide to self-healing. The need for this drug, the purpose of the treatment regimen, methods and dose of the drug is determined solely by the attending physician. Self-medication is dangerous for your health.